Take a Guided Tour of Robben Ford's Pedalboard
Get an up-close look at Ford's stompboxes, his '52 Gold Top and his beloved Dumble amp.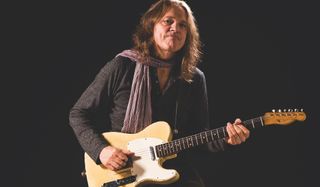 (Image credit: Will Ireland/Future)
Rig and pedalboard tours are always a treat to watch. They're especially fun though, when they involve Robben Ford (holding a '52 Gold Top, to boot!).
Having recently fielded a multitude of questions from fans about his gear, Ford took to Instagram to give viewers a private tour of his pedalboard, which you can check out below.
"It hasn't changed very much in quite some time," Ford says of his nonetheless impressive pedalboard. "In fact, I might say it hasn't changed at all, other than the addition of the [Fulltone] Deja Vibe, which I started using maybe a year ago."
Ford says that his most important effects units are his Strymon TimeLine Multidimensional Delay - of which Ford says "I've found that the TimeLine is the absolute best-sounding foot-pedal delay you can have" - and his TC Electronic Hall of Fame Reverb - which he relies on "because my amps don't have reverb."
Ford's 'board also contains a Vertex Boost, an Electro-Harmonix POG and a Hermida Audio Zendrive - each of which he happily demonstrates. The board also features a TC Electronic PolyTune and an independent footswitch to activate boost and overdrive on his beloved Dumble amp.
Ford, in jest, apologizes for not having a "more interesting pedalboard," but, as he himself has proven, not all of us have to have Kevin Shields-sized boards to make great music now, do we?
For more on Ford and his music, head on over to robbenford.com.
Get the latest news, reviews and product advice straight to your inbox.
Thank you for signing up to GuitarPlayer. You will receive a verification email shortly.
There was a problem. Please refresh the page and try again.