How PRS Channeled Jimi Hendrix's Woodstock Tone to Create the Fire-Breathing HDRX 100 Amp
This formidable amp is a beast unto itself, and a thrilling ride back to an era of guitar amplification when it was all about going big.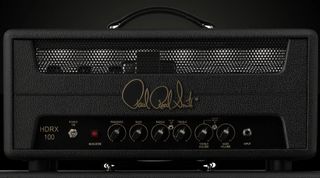 (Image credit: PRS Guitars)
Paul Reed Smith says listening to Jimi Hendrix's Are You Experienced album inspired him to play guitar as a teenager, setting him on a path as a musician and a guitar maker.
In that latter capacity, Smith has devoted himself to investigating all the elements of great electric guitar designs and invented ways to improve them. The PRS record speaks for itself. The same level of commitment extends to guitar amps, which PRS introduced in 2007 after bringing Texas amp builder Doug Sewell onboard to create a line that includes the Archon, DG Custom 30, MT 15, and the new HDRX.
So it's no surprise that Smith would focus his attention on an amplifier that was a mainstay for Hendrix – the circa-1967/68 Marshall Super Lead – and utilize his team's energies into recreating an amp that Hendrix purportedly played at Woodstock and is now housed at the Museum of Pop Culture in Seattle, Washington.
The HDRX project began in 2018 when Smith and Sewell visited the museum to document the amplifier. "Studying Hendrix's amp not only showed us the circuit, which is well documented, but also what had been modified," Smith says. "We had to take what we were seeing and consider the guitars and pedals that were being used with it, as well as the fact that this amp was significantly modified, in part to work on American power without blowing up and in part to further dial-in the sound.
"Still, designing the HDRX was not an exercise in over-engineering," Smith continues. "It's a fairly straightforward build. We kept the historical aspects where it made sense, and we made substitutions where it made sense based on availability, safety, and experience. In the end, I think we created an authentic-sounding amplifier with exceptional build quality and enough power to blow your pant leg when you play it."
Starting in the engine room, the HDRX 100 uses four Electro-Harmonix EL34 power tubes and has three JJ ECC 803S (12AX7) tubes in the preamp. The output transformer is a custom-designed "straight-edge" type (it came loose during shipping on the first amp we received), and the power supply and DC heaters are designed for low noise. Note that for tonal consistency, the 50- and 100-watt models use the same power supply.
Sharp-eyed readers will notice the absence of a standby switch, which PRS says is unnecessary due to the "historically correct high-power value filter caps." The manual recommends pulling the guitar cable slightly out of the input jack when you want to mute the signal.
The plywood cabinet is covered in black Tolex and features screened openings to provide airflow. The front and back panels are black Plexiglas with gold lettering and black pointer knobs. There's also an Authentic Hendrix logo along with Hendrix's signature and a statement that reads, "Based on Jimi Hendrix's amplifier circuit in the permanent collection of Seattle's Museum of Pop Culture."
Circuitry inside the steel chassis is laid out on double-sided, through-hole PCBs, which PRS says improves both consistency and reliability over vintage-style tag-board construction. Still, there's a fair amount of hand wiring involved in connecting the control pots and the output-tube sockets.
To facilitate servicing, there are bias jacks and a screwdriver-adjustable bias pot on the rear panel. There are also five speaker jacks: two 1x4 ohm or 2x8 ohm, two 1x8 ohm or 2x16 ohm, and one 16 ohm. The AC socket permits operation on 100, 120, and 230 volts by simply changing a fuse, and there's also a single H.T. fuse. Weight is a modest 41.5 pounds.
A single input jack replaces the four holes on a vintage Marshall, and the channels are internally jumpered. Controls from right to left are bass volume, treble volume, bass, treble, middle, and presence. There's also a three-way bright switch and a high-mid gain switch that adds a cap to the circuit to enhance upper-midrange response. This was a mod discovered on the Hendrix amp, and PRS put it on a switch to give you a choice of having it in the circuit.
I tested the amp with a PRS HDRX 2x12 cabinet fitted with Celestion G12H-75 16-ohm speakers ($899; a 4x12 with the same speakers runs $1,199). I also used a Universal Audio OX to control the volume, as there's no master on this amp and it's extremely loud. This also allowed playing the HDRX through studio monitors, which is fun with all the rooms and options the OX offers.
The spirit of the HDRX is rooted in an era when volume was the objective and Marshall was king with the stacks it had developed for the world's top rock players. Things like master-volume controls, let alone attenuators or power soaks, weren't even in the picture, as they would have simply gotten in the way of what the Super Lead was designed to do – produce a lot of sound on big stages at a time when P.A. systems weren't up to the task.
The HDRX is an anachronism in that sense, but it sounds killer, and that's all that matters if you're into badass tube tone. With the volume controls set around noon or higher, there's a lot of grind on tap, and it's imbued with awesome dynamic feel and an in-your-face presence.
Obviously, you can't experience the full glory of such an amp without playing it at top volume through a 4x12 (or two), but even through a 2x12 and throttled down, the HDRX is a muscular amplifier that sounds awesome for lead and still delivers a great dirty-rhythm sound when the guitar volume is turned down.
Listen to Hendrix's live playing on "Little Wing" or "Like a Rolling Stone" when he's not using the fuzz, and that's where the HDRX is coming from. As Smith puts it, "The HDRX is designed to push the high end so that it is very clear, but not so much that it's harsh, and it allows for aggression that can be backed off for smooth, sweet tones."
I mostly kept the bright switch off and the tone controls cranked, except for presence, which varied depending on whether a Strat or a Les Paul was used.
Activating the high-mid gain switch subtly increases gain while emphasizing upper-midrange bite. Hendrix must have dug this tweak because West Coast Organ and Amp Service – his Southern California–based amp modder – hardwired it into the Super Lead's circuit. They also replaced the power transformer with what PRS calls a "cherry-picked" unit. A photo in the accompanying brochure shows a paper label on the transformer housing that lists the electrical specs.
It took some four years to get the HDRX up and running according to PRS, which isn't surprising considering the effort required to re-create a particular Marshall Super Lead used by Hendrix, while doing so in a way that enhances just about everything (tube quality notwithstanding) that made these amps so famous more than five decades ago.
The HDRX isn't for everyone, but if you want an amplifier that replicates what Hendrix plugged into at Woodstock, it delivers. It's a beast unto itself and a thrilling ride to an era of guitar amplification when it was all about going big.
CONTACT: prsguitars.com
PRICE: $3,199
All the latest guitar news, interviews, lessons, reviews, deals and more, direct to your inbox!
Art Thompson is Senior Editor of Guitar Player magazine. He has authored stories with numerous guitar greats including B.B. King, Prince and Scotty Moore and interviewed gear innovators such as Paul Reed Smith, Randall Smith and Gary Kramer. He also wrote the first book on vintage effects pedals, Stompbox. Art's busy performance schedule with three stylistically diverse groups provides ample opportunity to test-drive new guitars, amps and effects, many of which are featured in the pages of GP.