An impressive guitar that stands out not only for its low-down sound but also for its ability to wring a ton of tones from its passive pickups while integrating active noise-reduction technology.
Pros
+

Excellent build quality, playability and sound

+

Pushbutton for selecting mono or stereo operation with controls bypassed
You can trust Guitar Player. Our expert reviewers spend hours testing and comparing guitar products so you can choose the best for you. Find out more about how we test.
Designed in collaboration with Dustin Kensrue, Thrice's heavy-hitting guitarist and singer, this latest variant in the revamped StingRay series has several notable features, including being tuned D to D to deliver the gutsy crunch that Kensrue often deploys.
Along with a stealthy, push-button pickup-wiring scheme, it adds up to a unique Artist model in the MM line.
Arriving with a semi-transparent TV Blond satin-polyurethane finish (Dark Satin Tobacco Burst is also available), our review guitar has a double-cutaway body of African okoume, with rounded curves, and it looks sweet with the black-white-black pickguard, chromed control plate, and a hardware complement consisting of a Music Man Modern tremolo with bent-steel saddles and a push-in bar.
Strings are pulled to pitch via a set of Schaller M6-IND locking tuners in a four-plus-two arrangement on the compact headstock that eliminates the need for a string tree.
The comfortable C-shape neck runs from 1 5/8 inches wide at the nut to 2 ¼ inches at the last fret, and is an easy reach there thanks to the sculpted heel.
Riding atop is a rosewood fingerboard with white position dots and 22 medium-wide stainless-steel frets that are mirror polished and worked with a jeweler's precision.
You can hardly detect the tips when sliding along the fretboard, and the white synthetic nut is also polished and perfectly fitted and rounded, so there's nothing to jab your hand when you're riffing around in the open position.
A spot-on factory setup brings everything into focus. The intonation is solid and tuneful, and the low action makes for a playing experience that's about as satisfying as it gets.
The trem also feels light and responsive, and has excellent return-to-pitch performance in stock trim. It's seated flush to the body, with three springs spanning the block and claw. Note that if you decide to tune the guitar to standard pitch (and use lighter-gauge strings), the system will require some re-adjusting.
Going sans amp with this electric guitar is a fun way to get in touch with its deep, muscular vibe, and the Kensrue StingRay is a vibration machine that resonates with authority and sustains beautifully.
With the guitar plugged into a Fender Deluxe Reverb, a vintage Vibro-Champ or a 1996 Matchless C-30 2x12 combo – and with added grind provided by Earthquaker Hizumitas and EHX Ripped Speaker pedals – the Kensrue delivered the goods whether cruising on the neck single-coil for girthy clean tones and fat overdriven textures, or summoning twangier and more open sounds with both pickups selected.
The parallel wiring in the middle position enhances clarity – usually at the cost of some output – but it didn't diminish the sense of mass created by the single-coil and humbucker working in tandem to facilitate everything from bright, shimmering rhythm tones to bare-knuckles grind.
Things get interesting with the bridge setting, as you can dial the stacked controls as usual or press the sly little push button on the lower front of the pickguard to bypass the volume and tone controls and let the 'bucker rip at full output.
This yields an amazingly potent tone that, depending on whether you're running though pedals or cranking the amplifier, cuts like a knife for solos and delivers tight bottom and a super-crisp attack.
It's also very responsive to picking dynamics, which may simply be a benefit of the pickup's direct path to the output jack. At any rate, the "blower" button is a hip feature that allows for instant switching between two distinct lead and rhythm flavors.
Alternately, in button-down mode and with an optional TRS cable plugged in, the circuit taps each pickup individually and sends the signals (also bypassing the controls for beefier tone) to the output in stereo.
It's a handy way to use two amplifiers or channels in a modeling rig, as Kensrue does with a Line 6 Helix.
The Dustin Kensrue StingRay is an impressive guitar that stands out not only for its low-down sound but also for its ability to wring a ton of tones from its passive pickups while integrating active noise-reduction technology to facilitate switching from humbucker to single-coil sounds without an increase in hum.
The Kensrue is definitely deeper than its simple controls would imply, and it presents a unique spin on the StingRay that earns it an Editors' Pick Award.
Specifications:
NUT WIDTH: 1 5 /8"
NECK: Select maple with sculpted heel and five-bolt joint
FRETBOARD: Rosewood, 25 ½" scale, 10" radius (maple also available)
FRETS: 22 high-profile, medium-width stainless steel
TUNERS: Schaller M6-IND locking
BODY: Okoume with TV Blond finish (also available in Dark Satin Tobacco Burst)
BRIDGE: Music Man Modern tremolo with vintage-style bent-steel saddles
PICKUPS: Custom Wound Music Man single-coil (neck) and humbucker (bridge)
CONTROLS: Stacked passive volume and tone, 3-way pickup selector switch. Mode button bypasses the controls when pressed down to output the signal in mono or in stereo when a TRS cable is used
FACTORY STRINGS: RPS Slinky, .011–.058
WEIGHT: 8.10 lbs (as tested)
EXTRAS: Silent Circuit eliminates noise
BUILT: USA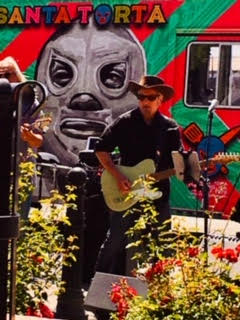 Art Thompson is Senior Editor of Guitar Player magazine. He has authored stories with numerous guitar greats including B.B. King, Prince and Scotty Moore and interviewed gear innovators such as Paul Reed Smith, Randall Smith and Gary Kramer. He also wrote the first book on vintage effects pedals, Stompbox. Art's busy performance schedule with three stylistically diverse groups provides ample opportunity to test-drive new guitars, amps and effects, many of which are featured in the pages of GP.