Armed with a wealth of fuzz flavors, the Ripped Speaker qualifies as a do-it-all fuzz that comes at a surprisingly low price.
Pros
+

A wide range of fuzz tones

+

Effective Rip control

+

Operates on 9VDC battery or adapter
You can trust Guitar Player. Our expert reviewers spend hours testing and comparing guitar products so you can choose the best for you. Find out more about how we test.
Designed to deliver everything from vintage buzz to blistering, shred-metal fuzz, the Ripped Speaker is a four-knob pedal that, along with fuzz, tone and volume controls, has a powerful rip control that adjusts the bias of the circuit to vary the amount of clipping at the top or bottom of the waveform (more on this to come).
It's convenient that the pedal can be powered by a battery or external nine-volt DC adapter (not included), and it has a click-on/click-off mechanical true-bypass foot switch and a small red LED that doesn't blind you when you kick it on.
A glass-epoxy PCB grips the components, which you can see in all their glory by removing the bottom plate.
Tested with a Gibson '59 Historic Les Paul and a Reverend Gristlemaster T-styler (both through either Fender Deluxe Reverb or '66 Vibro-Champ amps), the Ripped Speaker easily made its case for being a great all-rounder that can deliver everything from soft, fuzzy distortion (like a loose or faulty tube – or torn speaker – might make) to '60s-style buzz (think "Spirit in the Sky") to chonking, modern grind.
The aforementioned rip knob is a powerful function that assists in dialing in anything from the heaviest electric guitar tones to the sickest "dying transistor" hash. With the knob set between 11 o' clock and noon, it delivers the smoothest and least compressed response – i.e, the go-to for jacked-up blues or hard rock.
Turn it in either direction and the tones descend into gated and spitty-sounding timbres that are more sound-effecty and fun in their own way.
By setting the fuzz knob low, keeping tone around noon and working the electric guitar volume, you can elicit tones that sound like a small, cranked-up tube amp.
The pedal cleans up well when the guitar is turned down, making it possible to get sweet and slightly gritty clean tones that are so expressive and sensitive to picking dynamics.
Turning up the fuzz control brings on increasing amounts of saturation that can be steered into searing lead or thick, bottom heaviness, depending on how you set the tone control and how hard the Ripped Speaker is driving the amp with its abundant output.
Armed with a wealth of fuzz flavors, the Ripped Speaker qualifies as a do-it-all fuzz that comes at a surprisingly low price for all it does.
Specifications:
CONTROLS Fuzz, rip, tone volume
FOOT SWITCHES Mechanical. true-bypass
POWER SUPPLY 9VDC (adapter not included). Also operates on battery power
EXTRAS Rip control adds versatility
BUILT USA
Visit Electro-Harmonix for more information.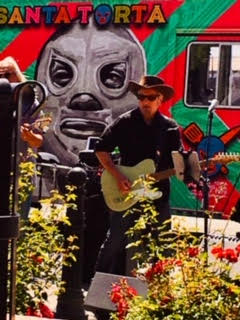 Art Thompson is Senior Editor of Guitar Player magazine. He has authored stories with numerous guitar greats including B.B. King, Prince and Scotty Moore and interviewed gear innovators such as Paul Reed Smith, Randall Smith and Gary Kramer. He also wrote the first book on vintage effects pedals, Stompbox. Art's busy performance schedule with three stylistically diverse groups provides ample opportunity to test-drive new guitars, amps and effects, many of which are featured in the pages of GP.