The Hizumitas is a Godzilla for heavy styles, although it can be deployed for pretty much anything where beefy, dynamic crunch is the order.
Pros
+

Delivers crushing grind and massive low end
Cons
-

No provision for battery power
You can trust Guitar Player. Our expert reviewers spend hours testing and comparing guitar products so you can choose the best for you. Find out more about how we test.
A vintage Japanese Elk BM Sustainar pedal has been the source of the bombastic electric guitar tone that Wata gets in the experimetal band, Boris!, and the new Hizumitas pedal is the result of Earthquaker's efforts to re-create it.
The story goes that after testing different versions of the Elk BM and finding – no surprise – that they all sounded different, Earthquaker's designers realized the only way to reproduce the tones that Wata wields was to get their hands on her actual pedal.
Amazingly, she sent it to them to evaluate, and they discovered that it indeed possessed a special circuit that produced heavy saturation and had a gritty edge and massive bottom. Yet it also had a clear and dynamic presentation, with plenty of mids and top-end bite.
Our review model has a silvery metal enclosure emblazoned with purple jackalopes and lightning bolts, like a coat of arms. The compact pedal has sustain, tone and volume controls, top-mounted jacks and a bypass foot switch that is relay controlled and requires nine volts DC to operate.
The circuitry is laid out on a glass-epoxy PCB, and it's nice that you can see the components when the bottom plate is removed. However, battery power is not an option with this pedal, nor is an adapter provided.
Plugged into Fender Deluxe Reverb and '66 Vibro-Champ tube amplifiers for studio playing – and pummeled with an Epiphone Lazarus Les Paul and a Reverend Gristlemaster T-style guitar – the Hizumitas churned out gritty distortion tones, with gobs of singing sustain available via the knob marked "S".
The tone control delivers everything from huge low end when turned clockwise to skinnier textures when spun the opposite direction. Setting the knob around two o' clock produced a killer tone with rich midrange color and a clear, articulate top end.
Small control adjustments let you home in on slim single-coils or meaty humbuckers, and the pedal is dynamically responsive and cleans up quite well when you lighten up on the attack and/or turn down the guitar volume.
It also has a lot of output so you can easily overdrive amps or pedals and get that combination of juice from the Hizumitas and whatever it's driving into.
A superb grind machine that walks the line between distortion and fuzz, the Hizumitas is a Godzilla for heavy styles, although it can be deployed for pretty much anything where beefy, dynamic crunch is the order. Well done!
Specifications:
CONTROLS: Volume, tone, sustain
FOOT SWITCHES: Relay based true-bypass
POWER SUPPLY: 9VDC (adapter not included)
BUILT: USA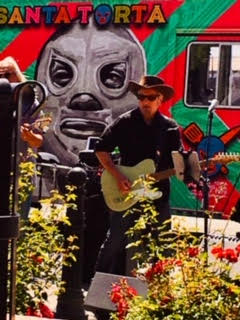 Art Thompson is Senior Editor of Guitar Player magazine. He has authored stories with numerous guitar greats including B.B. King, Prince and Scotty Moore and interviewed gear innovators such as Paul Reed Smith, Randall Smith and Gary Kramer. He also wrote the first book on vintage effects pedals, Stompbox. Art's busy performance schedule with three stylistically diverse groups provides ample opportunity to test-drive new guitars, amps and effects, many of which are featured in the pages of GP.