Whether going for clean, medium grind or highly overdriven tones, this responsive amp has a good feel and straightforward operation
Pros
+

Tube sounding tones with good playing feel

+

Wide variety of onboard Boss effects

+

Easy to configure presets
Cons
-

Foot-switch must be purchased separately

-

No effects loop (available on Katana-100)
You can trust Guitar Player. Our expert reviewers spend hours testing and comparing guitar products so you can choose the best for you. Find out more about how we test.
The Katana series amps from Boss recently expanded with the introduction of three new MkII models: a 50-watt 1x12, a 100-watt head and a 2x12 cabinet with Boss Waza speakers. The Katana-50 Mk II EX on review here features a compact open-back cabinet with corner protectors that carries a 12-inch ceramic-magnet speaker. The top mounted controls are clearly labeled and make for easy viewing when standing above the amp.
Starting on the left side is the amp type knob, with five settings (clean, crunch, lead, brown and acoustic), along with a variation button that provides an alternate tone option for each. Clean becomes brighter and more "American" sounding; crunch goes from Plexi-style grind to a higher-gain JCM 800 response; lead becomes tighter and more modern sounding; brown goes from Plexi-with-Variac, à la EVH, to a tighter, more overdriven 5150 response; and acoustic goes from an open, natural sound to a punchier, small-body tone.
In all, variation is a useful feature that helps get you into the ballpark of the sounds needed, and from there it's easy to dial everything in with the gain and volume knobs and the EQ section's bass, middle and treble controls.
A big reason for the Katana's player friendliness is the Tube Logic amp concept, which takes into account the preamp and power tubes, transformers and other components. Connected to a solid-state Class-A/B power section and speaker to inject an analog component into the mix, it provides realistic emulations of tube amps.
Image 1 of 2
The amp selections all have good feel, and whether going for clean, medium grind or highly overdriven tones, they respond to picking and guitar volume changes in very satisfying ways. The Katana-50 EX is quite loud in full-power mode through its single 12. Although an external speaker jack would definitely be handy in some situations, unfortunately it's only available on the Katana-100 head.
Using a Strat, Tele and a PRS SE McCarty 594, the Katana MkII sounded good for live playing using mainly the clean, crunch and brown models, almost always with reverb on the spring setting and delay on the tape setting. I also liked using the acoustic model with a Takamine TSP 138C, which sounded great with variation activated to give it more punch-through presence onstage.
After landing on a few sounds I wanted to use, the tone setting buttons (labeled Ch1 and Ch2) facilitated saving them as presets. You can store and recall a total of four presets on this amp: two in bank A and two in bank B. The Ch1 and Ch2 buttons capture all the top panel knob/button settings (except master) when you press and hold either one for about a second. Pressing the panel button toggles between banks A and B. Note that "secret" access to Ch3 and Ch4 is available by connecting the optional Boss GA-FC ($124) or GA-FC EX ($149) foot controllers.
The effects section has two concentric controls – booster/mod and FX/delay – and a dedicated reverb knob. The MkII amps all have 60-plus Boss effects onboard, and you can use five types of effects simultaneously. Operation is straightforward: Press the booster, mod, delay, FX or reverb button located above each knob to select the desired effect type, then turn the respective knob to adjust the depth.
Image 1 of 2
The factory effects configurations are as follows: For the six booster selections (blues drive, clean boost, overdrive, mid boost, distortion, treble boost), depth is the outer ring. On the six mod selections (chorus, DC-30, phaser 90E, comp, flanger 117E, limiter), depth is the inner ring. With each press of the button, a corresponding LED changes color, from green to red to orange, to indicate the active effects. From there, pressing the panel button selects bank A or B.
It works the same for the FX selections (tremolo, phaser 90E, T.Wah, flanger 117E, heavy octave, pitch shifter), the delays (digital delay, SDE-3000, analog delay, tape echo, modulated) and the reverbs, which include three plate, two hall and one spring simulation.
Obviously it's helpful to set up a few presets for amp/effects pairings, and it's pretty much essential to have a foot controller to manage things onstage. While it adds significantly to the cost of the Katana, the advantages of the GA-FC EX include instant access to presets via the four lighted channel switches, the ability to adjust effects in real-time and use multiple expression pedals, and more.
It's a worthy investment for an amplifier that has so much to offer in a small, powerful and affordable package.
Specifications
CHANNELS: 4, expandable to 8 channels
CONTROLS: Amplifier section: gain, volume, bass, middle, treble. Effects section: booster button/knob, mod button/knob, FX button/ knob, delay button/knob, reverb button/knob. Master, power control switch. Tone Setting buttons: Ch1-Ch2 (bank A), Ch1-Ch2 (bank B). Panel button for current knob configuration or for switching banks A/B
I/O: ¼" input, ¼" line-out, USB, 1/8" aux-in, ¼" jack for GA-FC EX foot-controller, ¼" jack for optional expression-pedal (to control volume. wah-wah, pitch shift), ¼" headphone jack, ¼" power-amp in
POWER: 50/25/.5 watts
EXTRAS: Handy power-scaling switch allows for power-stage saturation at reduced volume. USB for connecting to a computer to edit effects settings, download effects at bosstonecentral.com or bosstoneexchange.com, use the amp as a USB audio interface for recording, and backup/restore effects and other internal settings
SPEAKER: 12"
DIMENSIONS: 18 9/16" x 15 11/16" x 9 3/8"
WEIGHT: 25.6 lbs
BUILT: Malaysia
Visit the Boss website for more information.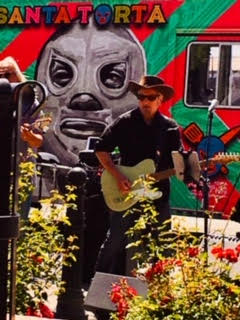 Art Thompson is Senior Editor of Guitar Player magazine. He has authored stories with numerous guitar greats including B.B. King, Prince and Scotty Moore and interviewed gear innovators such as Paul Reed Smith, Randall Smith and Gary Kramer. He also wrote the first book on vintage effects pedals, Stompbox. Art's busy performance schedule with three stylistically diverse groups provides ample opportunity to test-drive new guitars, amps and effects, many of which are featured in the pages of GP.