Re-designed with compact enclosures for extra portability, the phenomenal range of effects and sonic tweakage on offer from these small but mighty stompboxes will take your breath away
Pros
+

Evermore Studio Reverb: Awesome late-'70s Lexicon 224 reverb sounds. Easy-to-master controls and great features in a compact pedal

+

Heavenly Plate Reverb: There's nothing like this pedal if you're after classic EMT 140 plate reverb sounds

+

Orion Tape Echo: An Echoplex EP-III in a box, with great features that include a tape-age switch

+

1176 Studio Compressor: A simple to use and killer-sounding rendition of UAD's 1176 studio compressor. Unique Dual and Sustain modes emulate Jimmy Page and Lowell George 1176 setups
You can trust Guitar Player. Our expert reviewers spend hours testing and comparing guitar products so you can choose the best for you. Find out more about how we test.
The four latest pedals from UAFX are the company's first to feature compact enclosures, and are designed to be both straightforward and easy to use. Nevertheless, they offer the high-grade tones of the more complex UAFX units they're derived from — primarily the Starlight Echo Station, Golden Reverberator, Del-Verb Ambience Companion and Max Preamp and Dual Compressor, all of which have been previously reviewed here.
The Evermore Studio Reverb, Heavenly Plate Reverb, Orion Tape Echo and 1176 Studio Compressor have different control functions, but they share a single on/off foot switch, a status LED (it glows different colors to indicate certain functions), and a complement of jacks that includes mono input and output, a USB-C port for connecting to a computer for firmware updates, and a nine-volt center-negative power-in jack for an adapter of 250mA minimum (not included).
Each pedal also has a pair of recessed slider switches on the front: One selects buffered or true bypass, while the other performs different functions depending on the pedal. All measure 4 ½ by 2 ½ by 1 ½ inches and are manufactured in China.
EVERMORE STUDIO REVERB
Designed to deliver the spacious ambience, grainy trails and mesmerizing modulation of an iconic, late-'70s digital reverb, the Evermore zeros in on the Lexicon 224 algorithm from the Del-Verb Ambience Companion. Evermore's streamlined interface has a mod knob that adjusts reverb tail modulation; a mix knob for setting reverb level; and bass, mid and treble controls that respectively adjust low-, mid and high-frequency decay time.
A toggle switch selects three of what the company says are "bit-for-bit emulations" of classic 224 effects: Room, Small Hall and Large Hall.
On the front there's a bypass switch with trails and true-bypass settings; the former lets the reverb trails play out when bypassed, while the latter stops the trails immediately. The predelay switch adds a slight delay before the onset of reverb when set to on.
A marvel of miniaturization, the Evermore basically gives you the large, 34-pound 224 digital 'verb in a pedal, which is impressive when you consider that the Lexicon unit was behind some great sounds of '80s-era albums, such as Talking Heads' Remain in Light, Pink Floyd's The Final Cut, U2's The Unforgettable Fire and many others.
Evermore's sounds are beautifully spacious and so inspiring, I could just set up a lush spring-sounding reverb pad and play over it, basking in that space and time continuum.
I was also knocked out by how good the reverbs sound through an amp, and wound up using the Room and Small Hall settings a lot with a non-reverb Fender '48 Dual Pro.
The mod knob textures things very nicely with subtly grainy modulation when set around 11 o'clock or so, and the reverb time adjustments afforded by the bass, mid and treble decay controls let you create gorgeous ambient washes that are quite breathtaking.
Obviously, the Evermore is serious overkill if spring reverb is all you need to get your guitar game on, but being able to create dreamy sounds that were once only attainable in a world-class recording studio is a luxury I'll take any day.

CONTROLS: Mod, mix, bass, mid, treble (all EQ controls affect the decay signal). Room/ Small Hall/Large Hall switch
FOOT SWITCH: Reverb on/off
EXTRAS: Bypass switch (buffered/true bypass). Predelay switch

I/O: Input, output, USB-C (for firmware updates), 9V power jack (adapter not included, 250mA minimum)
HEAVENLY PLATE REVERB
The Heavenly Plate Reverb reaches back to the technology that German company EMT introduced in 1957 with its model 140 plate reverb unit, focusing on those emulations as presented in the UAFX Golden Reverberator.
Here we find decay (reverb time) and mix controls across the top; a three-position Plate select switch with settings for Vintage Bright, Vintage Dark and Modern Full; and knobs across the bottom for predelay, EQ (reverb tone cut/ boost; flat at noon) and mod (modulation amount; interacts with the front-mounted mod rate slow/fast switch). An adjacent switch selects trails or true-bypass.
The sounds of the EMT reverb are typically what you're hearing on hit records from the '60s and '70s. In general, a plate reverb is more natural sounding than a spring reverb, but there's also a certain brightness to it that's caused by the fact that higher frequencies travel faster along an eight-foot thin steel plate than the low frequencies.
Heavenly's plate reverb tones can be varied in myriad ways, starting with the Plate switch, which sets the overall response from brighter to darker, and the EQ knob, which controls the frequencies you want to boost or cut. I mostly parked it at noon for a non-boosted response.
Predelay is also useful for adding a bit of delay between the time you hit a note and when reverb is heard, and the mod knob lets you adjust the amount of modulation, which can pulse at your desired rate, depending on the slow/fast switch on the front.
The Heavenly Plate is great for adding vintage-sounding ambience to instrument and vocal tracks, where its smooth, lively reflections make you realize why real plate 'verbs and their digital modeling equivalents (including UAD's own EMT 140 plug-in) remain popular.
I liked the Heavenly's sound with acoustic guitar, and it also sounded great when played into a Fender Princeton with the spring reverb turned off. That spring sound is something I did miss with an overdriven electric guitar through the Fender Dual Pro, but the Heavenly sounded cool running clean, and it delivered a nice studio quality to slower tunes, where the reflections created by the Vintage Bright setting were perfect with predelay off and the mod knob at noon or so on a slow setting.
CONTROLS: Decay, mix, pre delay, EQ (reverb tone cut/boost; flat at noon), mod (modulation amount; interacts with mod slow/fast switch). Plate A/B/C switch
FOOT SWITCH: Reverb on/off
I/O: Input, output, USB-C (for firmware updates), 9V power jack (adapter not included, 250mA minimum)
EXTRAS: Buffered/true-bypass switch. Mod rate switch (interacts with mod knob)
ORION TAPE ECHO
Using algorithms from the Starlight Echo Station, the Orion Tape Echo offers authentic emulations of the vintage Maestro Echoplex EP-III tape delay. The delay knob sets the echo rate, mix adjusts echo level (100 percent wet at maximum), and the three-position Tape (tape-age) switch offers Mint, Worn and Old settings.
There's also a feedback knob for echo repeats, a Wonk knob to adjust wow and flutter (interacts with the Tape setting), and a record level control that varies tape "color" (i.e. distortion), which increases when turned clockwise.
On the front is a bypass switch with trails/true-bypass settings and a preamp on/off switch. In the on position, the preamp is active in either bypass mode, whereas when set to off the preamp is never active when the pedal is bypassed.
The Orion is a colorful and expressive delay that provides a lot of control, but you can set the knobs pretty much anywhere, short of full oscillation, and it just sounds good.
The tape-age switch is useful for getting the tape character that you want, from a clear, smooth response on the Mint setting to progressively more grunginess and lo-fi texture. The Worn mode sounded great as the echo repeats faded into gritty darkness, and the record level control can make things grimier when it's turned up.
The EP-III's coveted preamp stage is a tone enhancer, so I kept it on the dry signal full-time, with bypass in trails mode. I also liked to set the delay, mix and feedback controls to taste and toggle between the tape-age settings.
Orion sounded cool through the Dual Pro with single-coils and humbuckers alike from a Knaggs Severn SSS Trem and a Gibson Memphis '63 ES-335. This pedal sounds so tactile and organic, and having the preamp on even when not using delay definitely adds tone. It's one of a kind, and a keeper.
CONTROLS: Delay (echo rate), mix, feedback (echo repeats; self-oscillating at maximum), Wonk (wow & flutter; interacts with tape-age switch), record level (tape color; turn clockwise for more distortion). Mint/Worn/ Old Tape switch
FOOT SWITCH: Echo on/off
I/O: Input, output, USB-C (for firmware updates), 9V power jack (adapter not included, 250mA minimum)
EXTRAS: Buffered/true-bypass switch. Preamp on/off switch
1176 STUDIO COMPRESSOR
As the name implies, the 1176 focuses on that classic UA studio compressor. Designed by UA founder M.T. "Bill" Putman, it was the first compressor to use solid-state circuitry and ultra-fast FET gain reduction and has been a mainstay of the studio scene for decades.
The UAFX 1176 features a standard set of comp controls — input, output, attack, release and ratio — but things get interesting with the Type switch (only labeled as such in the one-page manual), which has three modes.
Single is classic UA 1176 Rev E compression (all of the selections here are Rev E versions which refers to the early '70s blackface low-noise units designed by Brad Plunkett). Dual is two 1176s in series "L. Zep" style, and Sustain is two 1176s in series "L. Feat" style.
Circling back to the controls, there's also an All function on the six-position ratio knob that provides the response of an 1176 with all of its buttons pushed in, and an off setting that offers circuit color without compression.
On the front is a bypass switch with buffered and true-bypass settings, as well as a parallel switch: Turn it on for blended dry and compressor signals, or leave it off to hear just the comp signal.
The 1176 has that unique quality of making instruments sound juicier and smoother, and the Type switch is all-powerful, as you can simply set it to Single and crank up the input until you get the amount of squeeze needed (the LED glows green, orange or red depending on how much compression is being used), and then tailor the output, attack, release and ratio to suit the playing feel you want.
Toggling to the Dual and Sustain positions often results in having to reduce the input level to prevent distortion (because you're dealing with two comps in series), but the fun really begins when you start exploring the dynamic qualities of these sounds. Dual mode models a Jimmy Page trick of grinding up the input on the first 1176 and using the second to add tube-like sustain and feel.
In contrast, Sustain mode models a setup used by engineer Donn Landee that involves DI-ing the guitar into the first 1176 set for mild compression, and then into the second 1176 set for super squash. From there, setting the attack and release controls in opposite directions yields the clean sustain that Little Feat's Lowell George was after.
The Sustain mode is cool, as it delivers a very clear sound with lots of sustain that's really sweet for slide playing. It also sounds great for lead and rhythm with distortion from a pedal, or you can switch to Dual mode, crank up the input and enjoy that kind of Helios console–style grind. It all points to the 1176 Studio Compressor's great versatility.
CONTROLS: Input, output, attack, release, ratio. All setting is a 1176 with all the buttons pushed in. Off setting is circuit color without compression). Single/Dual/Sustain switch
FOOT SWITCH: Compressor on/off
I/O: Input, output, USB-C (for firmware updates), 9V power jack (adapter not included, 250mA minimum)
EXTRAS: Bypass switch: buffered bypass/ true bypass. Parallel switch: On is dry and compressor signals blended; Off is compressor only signals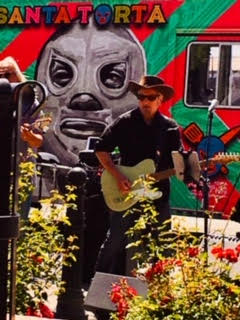 Art Thompson is Senior Editor of Guitar Player magazine. He has authored stories with numerous guitar greats including B.B. King, Prince and Scotty Moore and interviewed gear innovators such as Paul Reed Smith, Randall Smith and Gary Kramer. He also wrote the first book on vintage effects pedals, Stompbox. Art's busy performance schedule with three stylistically diverse groups provides ample opportunity to test-drive new guitars, amps and effects, many of which are featured in the pages of GP.