"We Are Crazy About Riffs": Rebecca and Megan Lovell Reveal the Secrets Behind Larkin Poe's Alchemical Magic
The southern sibling songsters talk turning classic blues riffs into modern fuzzed-out blues-rock hooks on their latest album, 'Blood Harmony'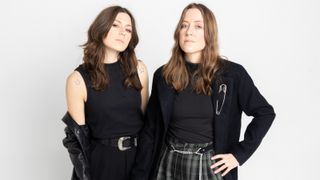 (Image credit: Larkin Poe)
You've got to hand it to southern siblings. From the Everly Brothers to the Allman Brothers to the Black Crowes' Robinson Brothers, those connected by blood and music seem to have a consistent knack for taking bits of the American country, folk and blues traditions and distilling them into their own unique brand of rock and roll.
Twelve years into their career, Calhoun, Georgia natives Rebecca and Megan Lovell, co-leaders of the band Larkin Poe, are well on their way to adding their family name to this storied musical legacy.
Lead vocalist/guitarist/mandolinist Rebecca and lap-steel/Dobro specialist/harmony vocalist Megan began their musical journey with their older sister Jessica, as part of the bluegrass act the Lovell Sisters.
When the trio disbanded in 2009, the two younger siblings renamed themselves after their great-great-great-great grandfather, added a rhythm section, relocated to Nashville, and began exploring a sound that drew more from rock and early blues.
They gained notoriety for their reworkings of Delta blues classics, their driving-yet-hook-laden originals, their incendiary live shows, and their clever use of YouTube and social media to build a following.
The group toured extensively, playing festivals around the world. Along the way they notched up several number one albums on the Billboard Blues chart, earned a Grammy nod for Best Contemporary Blues Album in 2020, and performed and/or recorded with the likes of Elvis Costello, T Bone Burnett and Steven Tyler.
For their latest album, Blood Harmony, the sisters have gone fully independent, tracking in their home studio, enlisting Rebecca's husband, Tyler Bryant (leader of Tyler Bryant and the Shakedown), to co-produce, and releasing it on their own label, Tricki-Woo Records.
Blood Harmony finds the sisters synthesizing early blues influences into modern blues-rock riffs and "bringing them into this century," Megan says, while maintaining "a deep respect for those who have come before."
But if there's another thread that connects the songs on Blood Harmony, it's the duo's engagingly infectious riffs: "Every song has to have a guitar hook," Megan observes. "We are crazy about riffs."
We sat down with the Lovell sisters to gain insight into their creative process, their individual playing approaches, and their strategies for making a friendly sibling rivalry work for the greater artistic good.
Do you generally write songs separately, or is it a joint collaboration?
REBECCA It's a little bit of both. There was more collaboration on Blood Harmony than on past albums, because we allotted more time for pre-production. I felt we were able to get into the trenches more as a team for this album, whereas in the past we tended to write separately.
There's definitely some vulnerability and ego-shelving that's required when collaborating, but it was really great to be able to spend the extra time working together. As a result, I think this album really defines Larkin Poe with more clarity than we've done so far.
MEGAN Our perspective these days is to really take the ego and sibling rivalry out of the writing and editing process and to just let the best idea win. I think it's made us much more effective as songwriters. Sometimes your first idea isn't your best, and you have to be willing to come back around and dig back into your songs to make them stronger.
What are some examples of songs on Blood Harmony that benefitted from this collaborative refinement process that made the effort worthwhile?
REBECCA "Deep Stays Down" is a song that I'd written with my husband, Tyler Bryant. We loved the lyric and we loved certain parts of the melody, but we had to go through four or five substantially different arrangements – and I'm talking different tempos, different grooves and different melodies – before we landed on the version you hear on the record, which was based on a riff Megan had.
Ultimately, by putting that song through the wringer, we wound up with the strongest version of it.
MEGAN "Southern Comfort" is another song that started in a different place than where it wound up. Rebecca completely rewrote the lyrics, and that changed the whole meaning of the song.
REBECCA Also, the original demo for "Kick the Blues" had a totally different lap-steel riff, and I had assumed that's what we'd wind up recording. And then Megan came in the studio one day after having spent the night retooling it in a moment of inspiration and tracked something completely different that ultimately elevated the song and took it to a new level.
MEGAN When I re-wrote that riff, I was consciously trying to channel Duane Allman and think about what he might play on a song like that.
REBECCA It definitely brought some fire to the track.
You've both spoken about the importance of giving every song on Blood Harmony a memorable hook. Did you stockpile any riffs and then try to write the songs around them?
REBECCA No. Actually, my writing process is more the other way around. I don't stockpile riffs nearly as much as I stockpile titles, song ideas and lyric fragments. I tend to be very phrase-driven when I write, and when I enter a writing season I tend to build the melody, lyrics and riffs around these fragments and ideas. I'll sketch out a few basic riffs, but musically, the final product has to be a collaboration between me and Megan in order for it to be a Larkin Poe song.
MEGAN It does seem like when we sit down to write, we'll keep tossing out riff ideas one after another until we find the one that we like. At that point, Rebecca will spin through her lyric Rolodex and find something she thinks is the missing puzzle piece, and we'll kind of go from there.
Do you ever track your parts together in the studio?
REBECCA We do like to play off of each other, but the necessity of having isolation for mixing means we often wind up tracking separately. Some of [the Blood Harmony track] "Bolt Cutters and the Family Name" was tracked together, though.
MEGAN Historically, we've always worked in very small studios and needed to work with the space that we've had. This time we recorded in our home studio, but because we're essentially self-producing, it's good to have one of us in the control room supervising and overseeing how everything is going. We essentially exchange roles and become each other's producer.
REBECCA It's beneficial, because as a performer sometimes you'll perceive what's coming off of your hands much differently than others will. You may be in a bad headspace and think you bombed a take, but an empathetic outsider might have a more accurate perspective on what you did and help guide you.
You've spoken about working to authentically incorporate blues influences into your music. Can you talk about what that means to each of you?
REBECCA We call ourselves "students of the blues" because I think it's best to approach it with a student's mindset. I'm especially drawn to hill country and Delta blues artists like Son House, Mississippi John Hurt, Mississippi Fred McDowell, Skip James and Magic Sam. These are artists with a deep connection and intertwining between the guitar and the vocal.
My approach has been to sit down and try to learn the recordings as closely as I can – to master their specific nuances and idiosyncrasies. Paying attention to those details is what will really push your playing. I think you can hear the influence most on [Blood Harmony's] "Lips as Cold as Diamond." I was listening to Skip James and really wanted to write a blues ballad that captured the feeling I get from his music.
MEGAN There's so much more to playing than just the note choices. To me, learning a Delta blues classic is a master class in how to put emotion into music. The way the different artists chose to use vibrato, glissando and bending is where their unique voice and individual humanity came in.
Rebecca, you wrote "Bad Spell" as an homage to Screamin' Jay Hawkins' "I Put a Spell on You." What are some techniques you use to touch on the original without copying it?
REBECCA In terms of form and construction, the songs are very different, but we tried to capture the same energy in the recording. I wrote the lyrics from the same vantage point and tried to create the same kind of unsettling mystery. By using the imagery of spell in the title, I was able to tell a story from where I imagined Hawkins was coming from.
I also wanted to write a ballsy guitar riff, so I programmed a drum loop, slapped on some fuzz and just recorded myself playing over it for 20 minutes at a go, until I was able to construct a riff that had the right amount of "hookiness."
Again, it was that refinement process where I kept trying different permutations until I found the right one.
Do either of you have any specific practice routines or approaches that you use to expand your playing?
REBECCA I came to guitar later in life. I always felt confident in my chops vocally but didn't think of the guitar as anything other than a writing tool until I was around 20 or 21. When I started wanting more out of my playing – when I wanted to be able to improvise more fluently and with a wider vocabulary – I actually took advantage of the unlimited resources on YouTube. I would learn songs, licks and solos by other artists, then I'd search out backing tracks in all different keys and just go for it.
Learning vocabulary is important, but I feel that the only way to take that next step as a player is to put yourself in an environment where you can just jam, work on stitching together all the little bits that you've mastered, and be able to make as many mistakes as you need and learn from this process.
If you can play with a buddy or get to an open jam, great, but just playing along with backing tracks on YouTube can be a valuable tool to help you find your voice.
MEGAN I think for most musicians, the practice routine for when we're first starting to play is very different from when we're really deep into it. After I first started playing lap steel and Dobro, I spent about a year learning every single Jerry Douglas solo I could. Now I find it's easier for me to get stuck in a rut and plateau, and when that happens it means I have to devote more time to learning new things from other people.
Learning means often putting yourself in situations where you feel uncomfortable, whether it's jamming with someone who's better than you or learning a piece of music that's just beyond your ability. It's situations where you feel pushed that often help you get better.
Actually, my next goal as a musician is to learn a different instrument, because I feel that will help navigate me in a new directions on my main ones.
Megan, can you give us the info on your signature lap-steel that just hit the market?
MEGAN It's called the Electro-Liege, and it's a collaborative effort with Paul Beard. For many years, I toured with my Rickenbacker, which is retro-fitted with a special holder so I could stand and play. Unfortunately, it's very heavy.
The Electro-Liege incorporates the shape of the holder, so its body is essentially half-Dobro shape and half lap-steel shape, and it's meant to be played standing, so it's very light. It has a custom Lollar horseshoe pickup, and it sounds amazing. It's really full and resonant.
What other gear did you both use on Blood Harmony?
REBECCA I played a Fender Custom Shop Stratocaster, a Tele and my 1969 Gibson SG. We both like to play through Fender Deluxe or Fender Bassman tube amps, and we both use the same overdrive pedal, the Rodenberg TB Drive, which is the signature pedal my husband designed. It's sort of like two stacked Tube Screamers in one. You'll also hear the Beetronics Royal Jelly Overdrive/Fuzz Blender a lot, which is really versatile, super-inspiring and fun!
MEGAN I also used a Gamechanger Audio Light Pedal, which is an optical spring reverb system. It has a small spring in it, and if you jostle the pedal it gives you really cool sounds and artifacts. The lap-steel already has a lyrical, almost operatic-like sound, and combined with the right reverb, it's otherworldly.
Mostly, though, I keep my setup pretty straightforward. When you think about it, the first slide was literally someone breaking the neck off a bottle and deciding to play with it, so you don't necessarily need all that much to be creative.
Rebecca, can you detail some of the nuances of your playing technique?
REBECCA Sure. I originally started as a bluegrass rhythm player, and when I first started playing electric guitar I broke a lot of strings because I was used to strumming hard and pulling the sound out of an acoustic. I've had to dial back that intensity, even with my fretting hand. I was used to really gripping the chords. Electric requires a much lighter touch.
Part of my pre-show warm-up is to just play through scales lightly and remind myself to not wear my hands out by digging in too much. As a result, I feel I have much more control over my vibrato and slides, because my hand has space to concentrate on articulation.
For my picking hand, I'm kind of locked into a three-finger [thumb-index-middle] approach, which is a holdover from having first learned to play banjo, although I don't use fingerpicks. I'd like to dig in to incorporate my ring finger more, because there's so much more you can do by adding that extra finger.
When I started writing, I used to use a lot of different tunings. We often toured without a guitar tech though, and having to constantly retune between songs grew tiring, so I eventually pared everything down to standard tuning or drop D.
You're self-releasing your music now. Do you have any advice for people who want to start their own record label?
REBECCA We highly encourage people to take the independent route, but it's challenging and it requires you to be crafty to get ahead of the curve. Social media is a double-edged sword, but if you really lean in to the opportunities it presents, it can help connect you with new fans.
Ultimately, you have to be okay with being business-minded, because aside from being artists we're small business owners. We're selling music, and hopefully a joyful experience.
MEGAN If you're comfortable with the idea of tasking yourself and holding the reins, it's a great way to go because you have much more control of every aspect of the content you release. It can be very fulfilling as an artist when you get to play by your own set of rules.
Order Blood Harmony here.
All the latest guitar news, interviews, lessons, reviews, deals and more, direct to your inbox!