"We Went from Nobody Giving a Shit About the Band to Selling Six Million Records": Chris and Rich Robinson Talk 'Shake Your Money Maker'
The famously feuding Black Crowes brothers reveal the craft of their landmark 1990 debut album.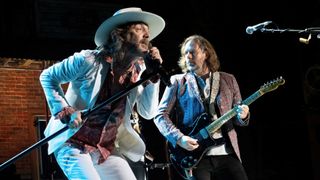 (Image credit: SUZANNE CORDEIRO/AFP via Getty Images)
Rich and Chris Robinson have put aside their ongoing feud for a Black Crowes tour and at long last, they're shaking their money maker once again.
The show finally got back on track this summer with a national tour commemorating the 30th anniversary of Shake Your Money Maker, their landmark 1990 debut album and a record that kept roots rock relevant in the Monsters of Rock era.
The album's expanded deluxe anniversary edition features the rollicking single "Charming Mess," a hot take on Humble Pie's "30 Days in the Hole," and acoustic and original demo versions of the hit "She Talks to Angels," as well as an incendiary live set recorded in the Crowes' original stomping grounds of Atlanta, Georgia, at the height of Money Maker mania.
For the anniversary tour, they're playing the original record in its entirety, from Rich's instantly recognizable slide riff that kicks off "Twice as Hard" straight ahead through standouts such as "Jealous Again" and their rough-and-tumble cover of the great Otis Redding's "Hard to Handle."
Tuning up for the big Money Maker tour, the Robinsons revamped their Brothers of a Feather acoustic show and did a short run of intimate venues last spring. Guitar Player caught up with them at the Chapel in San Francisco before reconnecting with Rich more recently on the phone for a quick update...
Is the essence of your Black Crowes dynamic the way the vocal and guitar parts come from two completely different rhythmic angles, creating a unique push and pull no one could come up with strumming and singing simultaneously?
RICH ROBINSON Yes. That makes it what it is, absolutely. It's funny when people who've tried to cover our songs ask, "What's the deal? Did he mean to sing it that way?" Yes, of course. There are melodies and counter melodies, rhythms and counter rhythms that all contribute to our thing.
CHRIS ROBINSON Great songwriting partnerships happen when two disparate entities come together. When I write with Rich, I don't know what the song is going to be. I may have a long poem of lyrics, or one word on a piece of paper. Take "Horsehead," for example. That's a tough riff. Considering the chemical choices I was making at the time, of course I would come up with lyrics like "Horsehead got you bug-eyed."
But both of those things have to happen at the same time. The emotional connection with Rich's writing totally dictates not just the imagery but also the delivery. I've always done most of the arranging. Take "Jealous Again," for example. Rich would come up with parts, saying, "This is the verse and this is the chorus." And I would say, "No, that's the verse and this is the chorus."
How about your own guitar playing, Chris?
CHRIS I've always been around such accomplished guitar players that I really wouldn't call myself a guitar player. I write songs on guitar. I wrote "High Head Blues" in the early days of the Black Crowes, and then in the later era I wrote "Appaloosa," "The Last Place That Love Lives," "Roll Old Jeremiah," and "We Who See the Deep." But Rich is a rock and roll guitar player, whereas I play folky things. Even in the most psychedelic parts of the CRB [Chris Robinson Brotherhood], my whole thing was about trying to be expressive without having years of learning guitar.
My guitar playing got better from New Earth Mud [his 2002 solo debut album] to CRB, but I'm still fairly limited. Coming back after all these years, I get it. I can see the Black Crowes from such a different perspective now. After all of my frustrations and wanting to incorporate my music into the Black Crowes – which is something I don't think Rich wanted to do – we've come full circle.
If you listen to the Rolling Stones, there's a difference between a Mick Jagger ballad like "If You Really Want to Be My Friend" and a rock song like "Bitch." You're not going to do that kind of thing by yourself. The whole point of the CRB was not to do that. Coming from a band with the sound and the success of the Black Crowes, why would I?
It sounds as if the music for every Black Crowes song was rendered on a guitar.
RICH Yeah, with the one exception of "Lay It All On Me." I wrote that on piano, which I can play enough to write a song but not actually perform it. I even wrote "Descending" on guitar and then transposed it to the piano. We've been playing "Descending" on this run of acoustic shows the way it was originally written. Chris and I have always felt that a good song holds up in its most basic form, with just an acoustic and a voice.
There are some cool acoustics onstage tonight, especially the one with the heart-shaped sound hole. Is that an original by Tony Zemaitis or one of the recent ones made under agreement with Lowden?
RICH That's a Lowden. Tony's acoustics were never that good. They looked great, but they were really heavy and didn't resonate. I've checked out about 10 of them over the years and they were all duds. I never played a great one until Lowden made that guitar from the original schematics. It's a prototype from one of the first three, and it is like the George Harrison model.
There's a jumbo element, but it has more bottom end. It's got something that, say, a Gibson J-200 doesn't, and I'm not sure why. Maybe it's a little deeper, and perhaps the heart-shaped sound hole is a bit bigger. I've always felt that jumbos hold onto their tone, maybe because the sound gets lost in the cavernous body, whereas this tends to project a bit more.
What's the story on the cool little Martin?
RICH I lost a ton of acoustics in the flood [Hurricane Sandy] and one of them was my great Martin D-18 from the late '50s or early '60s. My OMC was also destroyed. I went to Gruhn Guitars, looking for replacements, and I got a couple of guitars that George [Gruhn] had ordered to specifications based on two he had from the '40s. One is a 0000, and the other is that parlor guitar.
I still have my 1953 D-28 that my dad gave me as well. I've written more songs on that than any other guitar. The other would be my Guild, which has needed a lot of repairs but now seems pretty solid. The last time I was in Nashville, I went to Gruhn looking for a replacement D-18 from the same era as the one I lost. I tried 20 of them, and this seems impossible, but they were all duds.
Isn't the variance among vintage guitars bizarre?
RICH Right. It's like Duane Allman's goldtop. I played it, and it was a dud. I mean, he made it sound great, but from an objective standpoint evaluating a Les Paul, it was heavy and just didn't project. It was really weird.
What opened your ears to altered tunings?
RICH Before I knew what open tunings were, I was always drawn to the songs. My first memories are of the way Stephen Stills played things like "Carry On" or "Suite: Judy Blue Eyes." Hearing Nick Drake for the first time sent me further into it. I appreciated everything about what he was doing, from the way he picked to the timbre of the strings, and the sound of his Guild that was dark and bassy, but present.
When you're in songwriter mode, do you keep guitars in various tunings lying around your house?
RICH I only keep a couple of guitars at the house, and I just kind of see what works. I'll throw on a capo and try different keys and tunings. One time when I was messing around, I tuned to a C chord, and then I dropped the low E down to a low C to create a second octave in the lower register. I wound up writing about 20 songs with that tuning [low to high, C C E G C E] including "Walk Believer Walk."
What was the collaborative songwriting process like in the early days?
RICH For at least the first three records, we would be in the same room most of the time. I was living at home because I was 18 or 19 when we started writing Shake Your Money Maker. We'd record on a little boom box and send the songs to George Drakoulias. We started writing new songs the minute we finished the first album. It's like we ran away from Shake Your Money Maker. We never played the record in its entirety.
Can you share a thought on the tracks, starting with "Twice as Hard"?
RICH I remember writing the opening riff in open G tuning and thinking it was cool. And I remember getting into the studio and working out the guitar parts, with me doing the slide bit and Jeff answering.
What happened with him?
CHRIS I think he's in some Nashville groups. [He's in Eric Church's band.] You'd have to ask him about what happened. I'll say that it's hard enough to figure out life in your early 20s working a normal job. We went from nobody giving a shit about the band to selling six million records, and life was flying past fast.
RICH We stepped into a new place on "Jealous Again." We were going for a "Tumbling Dice" thing. I remember writing the intro, putting the song together with Chris, and bringing it to rehearsal, where everyone got it. The first time we played it live was opening for Drivin' N Cryin' in Nashville.
CHRIS "Jealous Again" was important because it was the first song that catapulted us from being an indie-rock band that sounded like a mix between R.E.M and the Gun Club.
RICH It was the springboard for the rest of the record, the first piece of the puzzle. Songs like "Twice as Hard" just started coming in.
And were you writing those riffs on your famous Money Maker Telecaster?
RICH Most of it was written on my Martin acoustic, but I did have my Tele. I bought it about six months before we made Shake Your Money Maker.
You still had that Tele when we featured the Black Crowes on the cover of the August 2008 issue. How about now?
RICH I did have it then, but I don't anymore. I got rid of it and a lot of other stuff from a divorce and the flood, so it was two different kinds of floods. [laughs] Things hold energy. Some of those guitars had a lot of negative energy wrapped up in them. Sometimes I would pick up a guitar, and it would just feel gross. It got to that point and I didn't want it anymore. Although I lost something like 70 guitars and all of my amps when that flood came, there was something about it that felt cleansing. But I do still have the goldtop Les Paul that was my other main guitar on Shake Your Money Maker. It was rebuilt. I played through Marshall Silver Jubilees for basically the whole thing.
Can you share some insights on "Sister Luck" and "Could I've Been So Blind"?
RICH "Sister Luck" sort of wrote itself and came together quickly. We were going for a Mick Taylor ending, and I remember feeling very excited about where we were able to go with it on the recording. "Could I've Been So Blind" is a pretty straightforward song that we didn't play for a long time before coming back to it. We're staying true to the original arrangements on the Money Maker tour.
How did "Seeing Things" happen?
RICH We were trying to create a Stax type of song at George's suggestion. For my part, I was going for something like "I Got the Blues" from the Stones album Sticky Fingers, and I tried to cop a feeling like Steve Cropper.
Speaking of Cropper, it's interesting to listen to his playing on the original Otis Redding recording of "Hard to Handle" and compare it to your version on Money Maker.
RICH Chris wanted to do the song, but we're not a soul band. George came up with the idea to liken it to Aerosmith's "Walk This Way," so we totally credit him for turning it into a more rock and roll version that worked for us.
Is "She Talks to Angels" the oldest song on the first record?
CHRIS That's one of the first real songs that we wrote, and it took about 20 to 25 minutes. The chords didn't even matter so much, just that melancholy little intro was enough to serve as a launching point for the whole narrative.
RICH I was about 17 when I wrote that, but until recently, when George brought it up, I'd forgotten that it didn't have a bridge. He mentioned that it needed one, and we went to a park in Atlanta where there was an old train track we used to go to all the time when we were kids. George remembered that we went there and came up with it right then and there in about 10 minutes. We found the original demo, and sure enough, there was no bridge.
CHRIS We didn't write much in the studio. George instilled that in us: Come in prepared. Songs are work. Songs are craft. Leave no stone unturned in terms of ideas, tempos, keys, trying a rocker as a ballad or vice versa. If Rich would play something that stumped me, I'd probably say, "What else do you have?" It's a two-way street, and we'd move right along. That's the one time we wouldn't fight. We'd fight onstage, on the bus, at the airport and in the studio, but we never fought when we were writing songs together.
How about the rest of the tracks?
RICH For "Struttin' Blues" we were going for something along the lines of "Hot 'n Nasty," the first song on Humble Pie's album Smokin'. I tuned to open G, slapped a capo on at the second fret, and I wrote it on the spot. To me, the most amazing bit of "Stare It Cold" was the ending, the coda out. There was something about the way the rhythms were going back and forth between Chis and I – the way he sings against what I'm doing on the guitar, like you were talking about at the beginning of the interview. On the vinyl record, if you let it play for a while, there was a little minute-long blues thing that was unlisted called "Live Too Fast Blues/ Mercy Sweet Moan." It's just me playing my dad's D-28 and Chris singing.
What's your gear strategy for the Money Maker tour?
RICH I bought a pair of 1961 Fender Twins – the brownface ones with blonde cabinets – and combine those with the same Marshall Silver Jubilee head I played on our first couple of tours. It had been in my warehouse untouched for years, and I was amazed how great it sounded when I pulled it out. It still has that special magic, and that's what's so cool about analog gear. Some of it is crap, and some is brilliant, and that brilliance is the gift that you don't get with digital. I'm going to run the Marshall through a pair of 2x12 cabinets.
How about guitars?
RICH I'm touring with about 30 guitars and driving my tech crazy. He has his own company called Bonneville guitars and he made me a cool custom guitar that's like a [Gibson Les Paul] TV Junior. I have my goldtop and another Les Paul that's really cool. I got a Pelham Blue Firebird from the Gibson Custom Shop, which is amazing, as well as a couple of 335s. I have the Zemaitis [by Lowden] acoustic, my Gretsches, including the White Falcon. I've been playing a couple of Strats, and I have three or four Teles, including a black custom Tele and a B-Bender.
What does new guitarist Isaiah Mitchell bring to the Crowes table compared to some of the band's previous guitar players?
RICH Well, there have been a lot of guitar players. Marc [Ford] and I have this musical connection that can't be explained.
CHRIS The cool thing about the era of Southern Harmony and the subsequent records with him was that, using the Stones analogy, if Rich was Keith, then Marc was Mick Taylor. Marc was really fluid and more of a conventional guitarist.
RICH Luther brought his own thing, and it was cool. But ultimately, Chris and I wanted a whole new band. We auditioned a ton of musicians. Isaiah is such a gifted guitarist. He's coming from a different place musically, so he brings different things to the table, but he grew up listening to the Black Crowes too, so he has an understanding. I appreciate his note choices, and he has a great tone.
CHRIS Hard-rock fans will know Isaiah from Earthless, but he's truly a guitar player's guitar player. I've seen him play jazz and all manner of guitar styles. I met him when he played lead guitar in Howlin' Rain.
RICH We wanted a whole new band because we didn't want to deal with any bullshit. Chris and I can sit in a room and deal with our own shit, but we can't account for anyone else's agenda. Bringing in the same old people with their same old bullshit to sort of break this up and to try to vie for everything – which is what Steve [Gorman, drums] and a lot of people around us did – wasn't going to work.
Chris and I needed a whole new attitude, and the best way to do that was to bring around a new energy and take back control of the band. It's always been our vision and our songs. It started with us before Steve or anyone else was in the band. We're truly happy to be back in a positive place where we get along and have a shared commitment to making this work, because this is bigger than the band. It's about being brothers, too.
CHRIS You have to have each other's back. There has to be something else – some sort of mystic cosmic thing. Rich knows no one is going to sing our songs the way I sing them. And I know no one's going to play that open-G shit like Rich.
Click here to buy Shake Your Money Maker.
Visit the Black Crowes website to check out the Shake Your Money Maker 30th Anniversary Box Set and keep up to date on forthcoming shows.
All the latest guitar news, interviews, lessons, reviews, deals and more, direct to your inbox!
Jimmy Leslie has been Frets editor since 2016. See many Guitar Player- and Frets-related videos on his YouTube channel, and learn about his acoustic/electric rock group at spirithustler.com.