Larkin Poe's Megan and Rebecca Lovell on Imagining a Bold and Exciting Future for American Roots Music
Larkin Poe have taken the path from classical to bluegrass, blues to southern rock, building a sound that is all their own.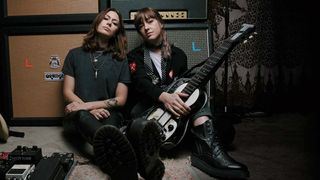 (Image credit: Future / David McClister)
As rock and roll provenance goes, it's pretty hard to top Megan and Rebecca Lovell, the sisters behind the folk duo Larkin Poe. The Lovells are fourth-generation descendants of the master of macabre, Edgar Allan Poe.
"We grew up reading his work, and we found out in our teens that we were related to him," Megan explains. "We were huge fans, so it was a revelation."
"And it does play into the band name," sister Rebecca adds. "Larkin Poe was our four-greats grandfather, and he was a cousin of Edgar Allan. So we thought the name was a good way to harken back to southern gothic roots - and also to family."
On the sullen, grey March afternoon that we meet the sisters at the east Nashville house Rebecca shares with her husband, guitarist Tyler Bryant, the sisters are dressed, appropriately, in black skinny jeans, black tops and multiple silver chains with pendants.
Two of Rebecca's arm tattoos make further accents - la mort and memento mori - while the then-still-looming coronavirus pandemic also cast a Poe-esque pall into the air.
Among the pandemic's victims was Larkin Poe's tour in support of their new, fifth album, Self Made Man (Tricki-Woo Records). The record's fierce southern-rock vibe is married to uplifting, spiritually themed lyrics. Songs like "Holy Ghost Fire," "Tears of Blue to Gold" and "Every Bird That Flies" feel like both a reflection and an antidote to these still-uncertain times.
"People can weather immeasurable sorrow and hard times," Rebecca says, "and yet we can still come out on the other side, pull ourselves together and thrive. This record reflects some of the joy and positivity that we feel and appreciate."
Sitting in a home studio full of vintage guitars, effects pedals and framed tour posters, the duo are stoically upbeat about releasing an album at a time when promoting it in the usual fashion is impossible.
"I think some stuff will get canceled, but we'll find a way to go out," Megan says. "Rising above the fear and panic is important. We don't want anyone to get sick because of our shows, of course, and a lot is at play in these decisions. But I think that music plays such an important part. Songs are there for us in all different moments of life."
Songs and music have been there for the Lovell sisters from the beginning. Born and raised in Atlanta, Rebecca, Megan and their elder sister, Jessica, were home-schooled. All three also started playing classical violin in youth orchestras at a young age.
In 2005, they formed the Lovell Sisters. Their high, lonesome harmony blend and bluegrass style made them hits on the Grand Ole Opry and the festival circuit. Then, in 2009, Jessica went off to college and got married. "That left the two of us to decide if we were going to move forward," Megan says. "It was the moment we decided we were committing to this. We're lifers."
As the duo dug toward a rootsier sound, they felt drawn to Delta blues and the gritty soul of Muscle Shoals.
"We feel a great pride for the culture of the South," Rebecca says. "There are still stigmas attached to southernness and it being hillbilly, but we are part of that fringe movement where it's okay to embrace modern values, have different political views and love who you love. That can still go hand in hand with loving cornbread and the Allman Brothers and saying 'y'all.'"
For Megan, who plays a mean slide, the lap-steel playing of Union Station's Jerry Douglas was life changing. "I really fell in love with slide guitar after listening to him," she says. "It's such an emotive, vocal instrument. I love to sing harmony with Rebecca, but where I really feel at home is singing through my slide."
Early on, the world wasn't always receptive to Larkin Poe's sound. "We had a lot of 'get the shit kicked out of you' moments where we wanted to quit," Rebecca admits.
"Everything from playing shows to the bar staff to having beer bottles thrown at the stage," Megan adds with a chuckle. "We've had to grind it out a bit more. And now there's such a groundswell of support, so it feels like it was worth it."
In 2011, they found a mentor in Elvis Costello, who took them on tour as an opening act. "I don't think we'd be the musicians we are today without his influence in our life," Rebecca says.
"The reverence for music history that he's passed along has inspired us not just to look into the bands we love but to instead go one layer deeper: 'Okay, who were Led Zeppelin referencing?' Also, his gravitas as a songwriter and his infinite energy in pursuing his art is so instructive."
"To be beside him onstage, too, we see how he leaves it all out there," Megan says. "He works to a frenzy. I think we've always aspired to be like that."
Building on the momentum of 2018's Grammy-nominated album, Venom & Faith, and non-stop touring, Self Made Man has a mature, panoramic sound that seems poised for a breakout, even if the breakout may be temporarily delayed by circumstances beyond anyone's control.
"When we wrote this album, we were thinking of the kinds of songs that we could sing not just for but with people," Megan says, "and how beautiful that could be, with the sense of joy of a room full of people so connected."
"Someone asked, 'Isn't that a little bit manipulative, just giving people what they want?'" Rebecca says. "'It's your art. Shouldn't it just be for you?' I can see the merit in that. But I was watching an interview with Dolly Parton, and she said, 'Of course, I want to give my fans what they want from me.'
"It feels good to inspire that sense of community, that idea of it being a shared conversation. The connection between us and our fans, that's the most important thing. We're looking forward to more of that."
All the latest guitar news, interviews, lessons, reviews, deals and more, direct to your inbox!