Phil Collen Names His Top Five Career-Defining Tracks
The guitarist reveals the tales behind his deepest cuts, from the U.K. glam-metal scene to Def Leppard's blockbuster hits.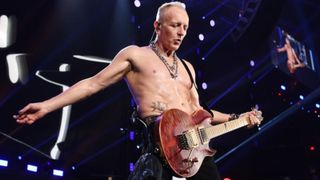 (Image credit: Denise Truscello/Getty Images for iHeartMedia)
Def Leppard dominated the airwaves with "Photograph" in 1983, establishing the template for much of what was to follow in hair metal: catchy riffs, monumental choruses and short, to-the-point, shred-guitar solos.
While many of the era's bands could be blamed for the genre's descent into mediocrity, Def Leppard were constantly finding ways to reinvigorate the limitations of the four-minute rock song.
Phil Collen joined the group as it was recording Pyromania, the album from which "Photograph" was lifted.
Consisting of singer Joe Elliott, guitarists Steve Clark and Pete Willis, bassist Rick Savage and drummer Rick Allen, Def Leppard had nearly finished the album when they let Willis go for excessive alcohol abuse.
"I was initially brought in to play some solos Pete didn't finish," Collen tells Guitar Player. "I thought I was just helping out. I didn't realize that I was actually in the band until after I'd done some recording and they told me they'd booked a major tour."
A huge part of Pyromania's success was Mutt Lange's production.
"We were really blessed when we hooked up with Mutt," Collen says. But the album paled in comparison to Hysteria, which went 12 times Platinum, giving Def Leppard its first Diamond award, for record sales in excess of 10 million.
The album took more than three years to record, due to the loss of Allen's left arm and delays with Lange's schedule, and it cost somewhere in the region of three million dollars.
"But the results totally justified the time and money," Collen says. "The songs still resonate now."
A fantastically inventive and devastatingly effective guitarist, Collen has a few unique wrinkles in his arsenal, including the string gauges on his signature Jackson PC1s (.013–.054) and Fender Telecasters (.014–.056).
Even allowing for his habit of tuning down one half-step, that's some seriously heavy metal.
Collen also uses brass picks, having abandoned steel picks due to their habit of breaking strings.
"Now that I use brass picks, the string wins out and there is brass dust everywhere," he says. "I'm really lazy with strings, I don't really change them often because I don't ever break a string. Some of the guitars I have at home have had the same strings on for four years."
1. "Hollywood Tease" by Girl from Sheer Greed (1980)
"I was in Girl prior to Def Leppard. We were a London-based post-punk, post-glam, hard-rock band. We were trying to merge everything together. We didn't have anyone to guide us, so we were kind of flying blind.
"The real tragedy for Girl is that we didn't meet someone like Mutt Lange, because he could have brought a lot to what we did. I really believe we could have been a lot bigger if that had happened.
"My solo in this was really the first recording I'd done that sounded like what I was trying to achieve. It combined all of my rock influences and made it work in my own context: a little bit of Blackmore, Schenker, Ronson and some Al Di Meola thrown in, right down to the Les Paul with DiMarzios and the shred/burn lick on the neck pickup.
"I also think I based the solo's format on a Mick Box [Uriah Heep] solo from '73. I used my Wine Red '76 Gibson Les Paul Custom with a DiMarzio Super Distortion bridge pickup into a Marshall 100-watt master-volume head through an angled 4x12 cab."
2. "Photograph" by Def Leppard from Pyromania (1983)
"Pyromania kick started the hair-metal thing with the big choruses and killer guitar solos. Ironically, I recorded this in the same room as I'd recorded 'Hollywood Tease' three years before.
"Def Leppard were actually very much a blend of the same influences as we had in Girl: some Bowie and T.Rex, some AC/DC and the Sex Pistols, glam and Led Zeppelin.
"'Photograph' was the song that broke us into multi-Platinum status, with everything lining up perfectly: We had MTV, we were a top-20 band that could still be a hard-rock band, and we knew how to get an eight-bar solo in a song without alienating our listeners.
"That's why I usually work my solos out. Mutt always said you have to be able to hum the solo, because if you haven't got something memorable there, then you're just doing the song a disservice.
"Musicianship is finding what works and supports the song, creates some kind of emotion and takes it somewhere else from the vocal melody. If you can double-track your solo, it shows that you know what you just played. [laughs]
"Mutt had me double-track my solo to give it a creamier sound. I used my '80–'81 Ibanez Destroyer Custom with a DiMarzio Super Distortion in the bridge position and a Kahler trem system. This guitar is on display at the Rock & Roll Hall of Fame museum in Cleveland.
"I used my amazing Marshall 50-watt head, that has since been stolen, into a Marshall 4x12."
3. "Pour Some Sugar on Me" by Def Leppard from Hysteria (1987)
"This was from our biggest album. We had a completely different approach to the songs, songwriting and sounds. I used my '78 Fender Stratocaster, named Felix, with a cream DiMarzio Super Distortion colored black with a Sharpie in the bridge position and a Kahler trem, later changed to a Floyd Rose.
"On the intro I played my black crackle-finish Jackson Dinky, which is also on display at the Rock & Roll Hall of Fame museum.
"All of this song, and in fact the album, was played through a Tom Scholtz Rockman. Ironically, given how long we spent recording Hysteria, this song was cut in only 10 days, and it was the very last thing we recorded.
"It was actually a last-minute addition. Mutt heard Joe singing the chorus while playing an acoustic guitar and spotted the potential. It added something to the album that it really needed, with the power and the gaps between riffs to let the snare speak.
"Mutt was really instrumental in how we structured the arrangement for the dynamics – the light and shade.
"Part of the Mutt Lange magic is that there are so many parts on Leppard songs, but there is still a lot of space."
4. "Paper Sun" by Def Leppard from Euphoria (1999)
"There is a different feel on this album, and this is one of my favorite solos from our catalog. It goes through a couple of key changes and is longer than the usual eight bars.
"My solo is the end solo on the song. Viv [Vivian Campbell, who replaced Steve Clark after his 1991 death] does the one in the middle.
"I used my Jackson PC1 [Kermit] with a DiMarzio Super 3 on the bridge position and a Floyd Rose trem. I played it through a Marshall JMP-1 rackmount [tube preamp] through a Palmer speaker simulator direct into the desk.
"I spent some time working on the solo, because of the key changes. I wanted to have a different theme for each part.
"There was a lot of scope on this one to mix things up – the freedom to take the song somewhere else. I did spend some time thinking about how it should go, and I tried a few different approaches."
5. "Mistreated" by Delta Deep from Delta Deep (2015)
"The first concert I ever went to was Deep Purple at the Brixton Sundown, now the Brixton Academy, in 1972. It's the reason I started playing guitar and the reason I play on that side of the stage.
"And Blackmore is the reason I played a black Strat [Felix] with a maple neck, so it's kind of a full-circle appreciation thing.
"Delta Deep was a blues band that I put together. I played my red Jackson PC1 [Redrum] with a DiMarzio Super 3 in the bridge position and a Floyd Rose trem with FU-Tone titanium block and saddles.
"I recorded straight into my laptop via a Focusrite iTrack Solo and Native Instruments Guitar Rig 5, and, interestingly, I used a preset that was based on a Marshall head.
"I think part of what gives our version a heavier, denser sound is the heavy strings that I use, and the brass pick. They really let you dig in. A lot of players I love have a very light touch, but I have a really heavy approach, which can be tricky at times, but when you get it right, it really sings.
"There were so many great players that influenced me from the '60s and '70s. My all-time favorite is Hendrix, but there are so many – Ronson, Akkerman, Di Meola, Beck, Page – and they all gave me a lot."
Browse the Def Leppard catalog here.
All the latest guitar news, interviews, lessons, reviews, deals and more, direct to your inbox!
Mark is a freelance writer with particular expertise in the fields of '70s glam, punk, rockabilly and classic '50s rock and roll. He sings and plays guitar in his own musical project, Star Studded Sham, which has been described as sounding like the hits of T. Rex and Slade as played by Johnny Thunders. He had several indie hits with his band, Private Sector and has worked with a host of UK punk luminaries. Mark also presents themed radio shows for Generating Steam Heat. He has just completed his first novel, The Bulletproof Truth, and is currently working on the sequel.