"You Have to Be Intuitive and Flexible": Chris Cornell, Courtney Love and Pink Session Guitarist Pete Thorn Reveals His Go-To Gear
"It all starts with the tuner," says the tone-obsessed YouTube star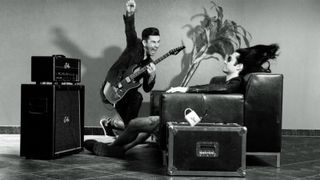 (Image credit: Suhr)
***The following appeared in the February 2018 issue of Guitar Player***
If you've patrolled YouTube for cool gear demos, you've likely come across Pete Thorn, who is one of the video-sharing website's most prolific product reviewers.
But the tone-obsessed guitarist has also done studio sessions and/or worked stages with Chris Cornell, Courtney Love, Pink, Alicia Keys, Melissa Etheridge, and others.
If anyone knows how to "give good tone" it's Thorn, and here he reveals his must-have session gear…
Which guitars and amps typically see duty during a Thorn session?
My signature Suhr guitar covers many bases, and my other favorites include a '63 ES-335, a '64 Strat, a' 66 Tele, and a Gil Yaron Bone.
Sometimes, I like to use Floyd Rose-equipped guitars, and I'll reach for my EVH Wolfgang or Suhr Classic S when I need a locking trem.
My favorite acoustics are a Martin D-28 that Chris Cornell gave me, and a Taylor 12-string.
I always have a capo (Planet Waves), a slide (Dunlop Joe Perry), and different picks on hand.
My Suhr PT100 amp covers Fender and Marshall tones very well, and my Vox AC15HW gets those unique, glassy Vox tones. I think of those as the three main amp food groups.
The Suhr Reactive Load has transformed the way I work. It loads the amp down to line level, so you can safely use it without a speaker cabinet. I take the line out to a mic preamp or recording interface, and I mainly use Impulse Responses from Celestion and Ownhammer to add speaker and mic simulations in my computer. Not having to deal with blaring loud cabs, and getting quality miked sounds immediately and repeatably is a huge help.
I also have a Line 6 Helix hooked up to a Kemper Profiler so I can run the Helix effects in front of, and after, the Kemper amp profiles. Additionally, I can choose the Helix amps if I like one of those for a part.
It's really a pretty slick setup. I just got a Fractal AX8, and I've been messing with it a bit, too.
I see all of these things as tools, and they all have their advantages and strengths. I love amps, and I always will, but sometimes the practical thing to do is to use a modeler, and the results can be quite good.
What about pedals?
It all starts with the tuner, and I've used the TC Electronic Polytune for a number of years. I love a good compressor for clean sounds, and the Suhr Koji, Cali 76, and Wampler Ego are my favorites.
The J. Rockett Archer and Rockaway Archer are my main lead boosts, and I really like the Vemuram Jan Ray for a light overdrive, as well as the Analog Man KOT.
Lately, the BAE Hot Fuzz – a treble booster and silicon fuzz in one box – has seen a lot of use. The Strymon Mobius and Timeline, and the Eventide H9 are my main time-based boxes.
What mindset should you bring to the studio to help artists achieve their creative goals?
You have to be intuitive and flexible. Be confident, but don't let your ego get in the way.
Always be ready to try something else, both musically and tonally. Don't get flustered if the artist doesn't like something you suggest or play. Just try something else. They'll appreciate your flexibility and easy-going attitude.
What sorts of challenges should a session guitarist be on the lookout for in the studio?
Air conditioning or heaters turning on and off can be a pain, because they create tuning instability. If you feel the temperature change, always retune.
Ground loops and noises can be issues, so it's good to have at least one guitar with noiseless pickups, as well as an Ebtech Hum Eliminator or a Palmer Isolation Transformer on hand.
All the latest guitar news, interviews, lessons, reviews, deals and more, direct to your inbox!