The Songwriting and Guitar Playing Genius of Chris Cornell
As Soundgarden's 'Badmotorfinger' turn 30 this year we take a close look at the inspirational guitar techniques of one of alternative rock's leading talents.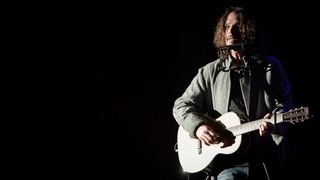 (Image credit: Giuseppe Maffia/NurPhoto via Getty Images)
May 17, 2017. It was one of the most tragic days in popular music history. In the middle of a reunion tour with Soundgarden, the groundbreaking Seattle-based band he had founded more than 30 years earlier, guitarist-vocalist-songwriter Chris Cornell was discovered dead in his hotel room from what was ruled a suicide. He was 52 years old.
Throughout his life, Cornell had struggled with substance abuse and depression, but the talented composer and lyricist managed to channel his inner demons into one of the most expressive and influential artistic voices of the modern rock era.
Though mostly recognized as lead vocalist, rhythm guitarist and frontman of the Grammy-winning multi-Platinum-selling band, the extremely prolific Cornell left behind a remarkable body of work. He was the driving force behind Temple of the Dog – a side-project that included members of Pearl Jam – had recorded five solo albums, including the posthumously released No One Sings Like You Anymore, and made another three with Audioslave, the supergroup he co-founded with former members of Rage Against the Machine.
Onstage, Cornell often concentrated on singing, leaving lead guitar duties to talented cohorts like Kim Thayil, Tom Morello and Mike McCready, but it was in his songwriting that his guitar genius really shone through.
Cornell's music, although often categorized as simply "grunge" by the press, was a potent and diverse mix of Sabbath-inspired heavy riffage, Hendrix-infused psychedelic funk, L.A. hardcore insurgency, Celtic folk and Beatles-worthy melodicism. Let's celebrate the 30th anniversary of Soundgarden's major-label breakthrough, 1991's Badmotorfinger, with an examination of Cornell's innovative songwriting approach and influential six-string work.
Cornell was a big fan of alternate and dropped tunings, and one move he used to great effect was slackening his guitar's low E string down a perfect 4th, to B (low to high, B A D G B E), what some players refer to as drop-B tuning, not to be confused with drop-D tuning (transposed) down a minor 3rd," which is very different (low to high, B F# B E G# C# ). Aside from producing a seismic, rumbling growl with single-note lines, Cornell's tuning transformed a standard two-string power-chord grip into an octave shape, as illustrated in Ex. 1.
Drawing inspiration from Soundgarden's "Searching With My Good Eye Closed," Ex. 2 features the same drop-B tuning and majestically driving groove that defined much of the band's early work.
Another drop-B bombshell, Ex. 3 recalls the sinewy single-note riffs and sinister blue notes that propel "Rusty Cage." Be sure to incorporate the indicated 1st-finger slide in the first beat of each bar, to help the phrasing flow smoothly.
Although regular drop-D tuning (low to high, D A D G B E) has become a staple of heavy rock music, it was still a fairly novel sound when Cornell began incorporating it into his songwriting more than three decades ago. For those unfamiliar with the territory, drop-D conveniently facilitates single barre-finger root-5th-octave power chord voicings across the bottom three strings, like the one shown in Ex. 4. This allows for nimble power-chord shifting to be performed with nearly the same ease and fluidity as single-note lines.
A stellar example of this technique in action can be found on the Soundgarden track "Outshined," the essence of which is distilled in Ex. 5. You'll notice that the music contains alternating bars of 7 8 and 4 4 meter, creating a slightly disjointed but nonetheless grooving pulse. Like Led Zeppelin, the Beatles and Rush, Cornell had a strong penchant and knack for incorporating odd-length phrases into his songwriting without making his riffs sound stilted or academic. Apply a light pick-hand palm mute (P.M.) throughout, with the fret hand staying mainly in 2nd position, as indicated by the fingerings.
If someone were to pick the quintessential '90s rock album, they'd be hard-pressed to find a more worthy candidate than Soundgarden's 1994 release Superunknown. The Grammy-nominated album sold close to 10 million units worldwide and catapulted Cornell and his bandmates to mega-stardom without compromising their sonic manifesto. In fact, Superunknown proved to be a musical quantum leap forward for the group, drawing on a diverse palette of influences and redefining what mainstream heavy rock could encompass.
The album's pièce de résistance – and arguably Cornell's signature song – is "Black Hole Sun," an anthemic masterpiece that combines the band's rhapsodic grandeur with a keen Beatlesque melodicism. Performed in drop-D tuning, Ex. 6 echoes the song's winsome intro and chorus sections. Be sure to hold down the chord shapes throughout each bar.
By contrast, Ex. 7 is templated on the verse's high-voiced triads. To catch the "Lucy in the Sky" vibe of the original, add a fast and heavy chorus or Leslie (rotary speaker) effect. Again, hold down the chord shapes to let the arpeggiated notes ring out.
Following Superunknown's success, Cornell penned two hit songs for Soundgarden's follow-up album, Down on the Upside, using an unusual variation on open C tuning, for which the B string goes down to G – forming a unison with the 3rd string – as opposed to going up to C. The resulting tuning is, low to high, C G C G G E. The quasi– Middle Eastern opening riff of "Pretty Noose" is the inspiration for Ex. 8 and the folky Celtic strum of the intro to "Burden in My Hand" is suggested by Ex. 9. Although the latter tune blossoms into a full-on electric guitar rager, the part still manages to sound mighty heavy banged out on an acoustic guitar.
Soundgarden broke up in 1997 and reunited in 2012. In the interim period, Cornell worked with Audioslave while maintaining a solo career that very often found him writing and performing in acoustic settings. Our final example (Ex. 10) is in standard tuning and pays homage to "The Keeper," a Golden Globe–nominated solo ballad that Cornell composed for the soundtrack to the 2011 film Machine Gun Preacher. Like the original, our example is based on a Travis-picking pattern and features a Beatle-y minor iv chord – the Dm(add9)/A – again emulating Cornell's harmonic sophistication and genius for assimilating his myriad influences into a singularly unique artistic voice.
Although he may have not made his name playing nimble-fingered solos or flaunting refined technical chops, Chris Cornell was truly one of the guitar greats of our time. His legacy will outshine his tragic death.
All the latest guitar news, interviews, lessons, reviews, deals and more, direct to your inbox!