"I Remember Hearing 'Heroes' for the First Time… 18 Months Later, I Was Playing It Live With David": Adrian Belew, Todd Rundgren and Scrote Salute David Bowie
The guitarists discuss their epic 'Celebrating David Bowie' show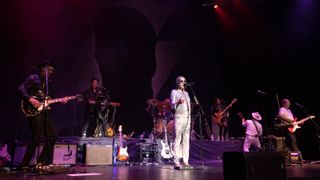 (Image credit: Scott Dudelson/Getty Images)
The purpose of the Celebrating David Bowie show is simply that – to praise Bowie's music and rejoice in the joy of listening to some of his greatest songs in the rock canon.
The band is assembled from fans and former Bowie band members, who play with passion and verse as they aim to capture the essence of what made his music so iconic and influential.
The show has been put together by music business veteran Miles Copeland and guitarist Scrote, who has a long track record of producing shows celebrating landmark artists, including the Beatles and Miles Davis.
While the Bowie show has toured sporadically since 2015, this year sees the first full tour of North America and features the unique talents of Adrian Belew, who not only played on Bowie's 1979 album, Lodger, but also toured extensively with him, acting as musical director for his global run in 1990.
Longtime Bowie admirer Todd Rundgren also features in the show, which covers material from the artist's earliest days to the end of his career.
While all three guitarists are about to release new albums – Scrote's Magnificent Bastard, Rundgren's Space Force and Belew's Elevator – and commence on intensive rehearsals for the Bowie tour (see clip below) they were happy to speak to Guitar Player about the project's background and what audiences can expect from the upcoming shows.
What was the initial spark behind the idea of doing shows to celebrate the work of David Bowie?
SCROTE: I've been putting shows together for many years, working out of L.A. as a musical director.
Back in 2015, I was doing some dates on my own with some of the guys who played on David's last album, Blackstar, and we actually heard that he'd died when we were in the break between sets at a show.
The next day I started talking to people about David's passing, and they were suggesting that, given how much of a fan I was of his work, maybe I could put some kind of show together.
I reached out to a few people who'd worked with David, and the first show started to evolve, which ran at four hours with 70 performers. [laughs]
That project was so successful that I realized there was a lot of interest from Bowie fans for us to do more.
We did another really long show a few months later, and then I came up with a plan for 2016 to take the show on the road to seven cities around the world that were significant to Bowie.
In 2018, we lined up more dates around the world, including Iceland. Adrian came onboard after the second show, and Todd joined us when we went to Iceland.
TODD RUNDGREN: Yeah, the trip to Iceland was my first involvement, but originally it was only supposed to be that one event.
After that, I didn't carry on with the rest of the tour, so I guess I wasn't a permanent member of the entourage. But then, with the project kicking off again post lockdown, I've got back onboard.
ADRIAN BELEW: I first worked with Scrote on an event celebrating the Beatles. I watched the way that he put everything together, which seemed kind of haphazard at the time, but then it turned out to be really well planned, and I really enjoyed being a part of it.
When he told me about the Celebrating David Bowie idea, I knew he'd be able to put a great show together, so I really wanted to be a part of it.
Todd, I know you didn't work with Bowie, but did you cross paths with him much over the years?
RUNDGREN: Yes, a few times. I actually met him on his very first American tour with the Spiders and then on various occasions over the years.
Ironically, just at the time that I moved from upstate New York to California, he moved to about a mile from where I'd been living, so I guess we'd have seen a lot more of each other if I'd stayed in New York.
I never really ever thought seriously about us working together. I know he had a core of people that he spent a lot of time working with.
I actually had a lot more contact with Mick Ronson, who also moved to upstate New York at the same time that I was living there, and I still see his wife, Suzi, occasionally.
BELEW: When I first met David, he was very different from all of the preconceptions that I had about him. I thought of him as an untouchable superstar. I was surprised to find that he was real down to earth and a fun person, with a great self-deprecating sense of humor.
He was always so interested in so many different things, not just rock music. We got on like a house on fire.
Todd, you and David both had very theatrical stage shows in the '70s. Was there an influence going on there in either direction?
RUNDGREN: I had a permanent costume designer who traveled with me who would come up with weird ideas all the time, and I think his inspiration was what informed the theatrical things that I was doing to a degree. I know he was looking at things that David was doing and re-interpreting some of them for me.
I have no independent correlation of the fact that people David worked with may have taken some ideas from things I did, but it's a possibility when you're working with stylists and designers.
Adrian, were you already familiar with Bowie's work before you first toured with him in 1978?
BELEW: Very much so. I'd been in a lot of cover bands, and I'd played a lot of his material.
A funny story is that I remember hearing "Heroes" for the first time when I was driving my broken-down Volkswagen. And then 18 months later, I was playing it live with David.
Given how many great guitar parts there are on Bowie's records, is there much competition for who gets to play what?
SCROTE: Before Todd came onboard in Iceland, it was divided between Adrian and me, and things seemed to work themselves out naturally.
When Todd joined us, it was interesting, as I'd never worked with him before. He just naturally gravitated toward certain songs, but there was no ego from him or anyone else.
The whole set list is deliberately very guitar-centric. I think that Todd is kind of Mick Ronson meets Earl Slick, I'm kind of Reeves [Gabrels] with maybe a little Ronson and some Adrian.
And Adrian is Adrian too. [laughs]
Who's Robert Fripp?
SCROTE: That's a tough one. Maybe somewhere between me and Adrian.
RUNDGREN: Mick Ronson was such a great guitar player. I love to play some of the things that he did, and he was a really skilled arranger too. I think he's always been very underrated.
I don't think I'll be doing a whole lot of shredding with Adrian in the show. [laughs]
David was a connoisseur of guitar players, so there's certainly no shortage of great guitar parts.
BELEW: I really liked Mick's playing too. I always thought David's material was great for guitar players.
Are there any particular songs that you earmarked for yourselves?
RUNDGREN: I got turned onto David a little earlier than a lot of people, who probably picked up on him when Ziggy Stardust broke, but I'd been spending a lot of time in England before that and was already very familiar with Hunky Dory and "Changes" being on the charts in England.
That means that my leanings are very much toward the earlier stuff, and I get to do a lot of that, like "Life on Mars" and "Changes."
I do some of the later songs as well, but I definitely have a soft spot for the earlier material. I really enjoyed the way he would change his sound from song to song.
SCROTE: I try to think of the show as a package and who suits what songs best. I don't have songs that I have earmarked for myself as such, but I do like a lot of the material from the "Heroes" era.
RUNDGREN: I could take a pretty good stab at the Stevie Ray stuff. I started out as a blues guitarist, so I might make my case for "Let's Dance," although I'm not sure it's in the set yet. [laughs]
BELEW: I tend to play a lot of the things that I was involved with when they were recorded, but Scrote will often make suggestions that turn out really well.
We have a lot of different singers and instrumentalists in the show, and we're all very happy to share vocal duties or different parts.
How do you come up with the set list when there are so many great songs to choose from?
RUNDGREN: I think we're not far from the set we did in Iceland. Scrote seems to have his finger on the pulse of what the fans want to hear.
It's not like we're going out there to deliver a college lecture or be comprehensive. We just want to do the stuff people want to hear, which is the guiding principle. There are songs that you know you have to play, so a good two-thirds of the set is pretty obvious.
BELEW: Scrote has a vision as the producer, and I have a lot of faith in his ideas. We work together quite closely, and we'll suggest things to each other.
We have done some obscure things on previous shows, but I think we're sticking to the more well-known songs for this tour.
What guitars are you using on the tour?
RUNDGREN: Things have been in a tizzy for me because my favorite guitar, Foamy, has disappeared. I'd just finished a Beatles tribute tour and was about to start rehearsals with Daryl Hall and the guitar just vanished somewhere between Missouri and Connecticut.
FedEx traced it and said it should have been delivered, but I haven't found it. I suppose I can assume that it was stolen, but I can't definitively say that. Maybe it will turn up at some point.
I was supposed to start rehearsals in Chicago, and I had to go to the store and make an emergency purchase of a new guitar. I ended up with a Schecter, which was laid out in the same way that Foamy was, which was one of my primary considerations.
Foamy was made by P-Project and given to me by the company in Japan many years ago. The Schecter has become my main guitar, but I think I might also take a vintage Telecaster that I spent a lot of money on as well.
I'll probably also take my replica of the SG that I used to have called The Fool that I auctioned off because I owed the IRS a lot of money. [laughs]
SCROTE: I think we're all thinking of traveling kind of light when it comes to gear. I'll be taking a custom-made thinline Tele, a Les Paul with P-90s for the Slick/Ronson territory, a 12-string acoustic guitar and maybe a Strat, although Adrian has the Strat thing covered.
BELEW: I've had three new Stratocasters built for me by the [Fender] Custom Shop, so I'll be taking those.
My live rig is very simple and fits in one case. It's the first Axe-Fx built by Fractal. I'm not sure what the model's name is. Other than that, it's a couple of pedals and a Mastermind MIDI controller.
For a tour like this, where I'm playing the early music before I had the more complex equipment, I think it makes sense to try to use similar things.
What were your favorite albums from Bowie's catalog?
RUNDGREN: Hunky Dory was the first record that I knew and one that I still really love, but there are so many great albums.
SCROTE: That's a tough one. I guess I've always kind of leaned toward "Heroes", but I also really love Hunky Dory.
BELEW: I really like Young Americans and "Heroes".
There are going to be songs that Bowie never actually played live himself in the show, aren't there?
SCROTE: Right. I don't think he even toured for many years before his death. To do Bowie's songs justice live, I think we need to bring everything to the table and cover as many bases as possible, to replicate things that happened in the studio.
There are no backing tracks anywhere; everything is live. We have a real pool of talent in the show, and everyone is really at the top of their game.
There's a certain relaxed camaraderie, both personally and musically, with Adrian, Todd and the rest of the band that I've rarely found in anything that I've ever done before. It's a real great fun hang when we're together.
There's a beautiful spirit about the show, and to be able to celebrate the genius of David's work in such great company is a genuine gift.
BELEW: Everything is done on a much bigger scale than the tours I did with David, particularly in 1990. Whereas back then, we had to find ways to cover parts and even leave some things out, now we have the ability to reproduce everything.
It's a lot easier for me these days, that's for sure. I no longer have to try to sound like a saxophone or something. [laughs]"
Browse the David Bowie catalog here.
Visit the Celebrating David Bowie website for tour dates and tickets.
All the latest guitar news, interviews, lessons, reviews, deals and more, direct to your inbox!
Mark is a freelance writer with particular expertise in the fields of '70s glam, punk, rockabilly and classic '50s rock and roll. He sings and plays guitar in his own musical project, Star Studded Sham, which has been described as sounding like the hits of T. Rex and Slade as played by Johnny Thunders. He had several indie hits with his band, Private Sector and has worked with a host of UK punk luminaries. Mark also presents themed radio shows for Generating Steam Heat. He has just completed his first novel, The Bulletproof Truth, and is currently working on the sequel.