"It's Still a Record That Stands up Today, Very, Very Well:" Adrian Belew and Jerry Harrison Talk 'Remain in Light'
The pair celebrate the Talking Heads' 1980 milestone with a special live performance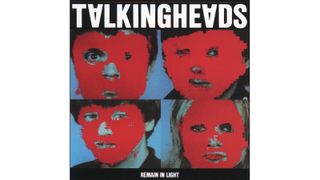 (Image credit: Sire Records)
The recording of the Talking Heads' epochal 1980 album Remain in Light marked a dramatic difference from how the band had previously operated.
On prior long-players, singer-guitarist David Byrne, guitarist-keyboardist Jerry Harrison, bassist Tina Weymouth and drummer Chris Franz began album sessions with fully or mostly finished songs.
This time, the quartet, with producer Brian Eno, spent weeks in Compass Point in the Bahamas creating loops out of improvisations without knowing what the arrangements would ultimately become.
"It presented challenges for David when he wrote melodies and lyrics," Harrison says, "because there weren't many chord changes to help him go somewhere. It really was a new way for us to record. And for any band, I think."
When the Heads returned to New York City to finish the album, they reached out to a new friend, guitarist Adrian Belew, and asked him to play on the tracks. "All of my parts were done in one day," Belew recalls.
"They basically said, 'Go into the studio and wait around till you think there should be a guitar solo.' I played and I could see everybody all excited in the control room. So I thought, What the heck? I'll play a second one. All in all, it turned out quite well."
Over the past four decades, Remain in Light has been hailed as not only the Talking Heads' definitive musical statement but also a groundbreaker in terms of its fusion of African polyrhythms, funk, art rock and new wave.
It's been nearly 25 years since Harrison played live on stage with Belew, when the guitarist was part of the Talking Heads' expanded 1980-'81 Remain in Light live lineup.
But on September 29, the two musicians reunited for the Remain in Light celebration concert at the Wiltern in Los Angeles, where they performed music from the album and discussed the Talking Heads' legacy.
Joining Harrison and Belew were members of the Brooklyn-based funk band Turkuaz, along with Julie Slick on bass and Yahuba Garcia-Torres on percussion.
"Jerry and I would run into each other over the years, and we would talk about how great the Remain in Light tour was," says Belew.
"Finally, we talked about it enough 'til we said, 'That's it, we've got to do this.' Jerry was producing Turkuaz and found them to be the perfect band for this. Otherwise, it might not have happened."
When you hatched the idea for this show, did you consider Chris and Tina?
JERRY HARRISON: I talked to them about it, but they just couldn't do it. They get offers to do Tom Tom Club shows, and there were some other conflicts.
Besides, once we had started going with Turkuaz, we realized half of that band wouldn't work. And the great thing about Turkuaz is that they already did a number of Talking Heads songs in their set. We were one of their big inspirations.
Let's talk about the recording of Remain in Light. Jerry, you play both guitar and keyboards. What specifically did you play on those original tracks?
HARRISON: Because these weren't initially songs in the traditional sense, I would play a part for four or five minutes, and then the next person would go out and do something. The record was basically composed by using mute buttons on the console.
At what point was the decision made to bring Adrian in?
ADRIAN BELEW: I'd met Talking Heads on the Fear of Music tour. You guys played three shows in Illinois. I went to all of them.
I was just jumping around backstage when you were about to do your encore, and you guys said, "Come on out with us and play 'Psycho Killer.'" I said I didn't know the chords, and you guys said, "That's okay. Just come out at the end and freak out like you do."
HARRISON: Which you did. And then, when we got back from recording at Compass Point, I remember going to a club in New York, and I saw you there.
BELEW: Yes. I remember we were in a stairwell, and you were with David, and you both asked me to come play on the record. I had to tell my band they would be hanging out in New York an extra day.
But yeah, I went to Sigma Sound and jumped right in. I was super excited by the music. I was like, Wow, this is great. I can't wait to play on this!
Let's talk about some songs. "Born Under Punches" has a bonkers solo.
HARRISON: That's David. He's using a Lexicon Prime Time delay and working the hold button. You could record little bits and mess with how fast it played back. It was done piece by piece. But Adrian could pull it off live.
BELEW: Well, I didn't do it exactly like the record, but I did similar things while playing it live. I used a similar effect on one of my songs, "Three of a Perfect Pair," with a synthesizer guitar. You push this button and trap a tiny portion of the sound, and then you manipulate it.
You do play the solo on "The Great Curve" though.
BELEW: Oh, yeah. That's me.
HARRISON: I consider that to be one of Adrian's finest solos on any record.
Were you using a Roland guitar synth?
BELEW: Oh, no. I didn't have one yet. I got one soon after, when the Talking Heads toured Japan. I came back from that tour with a GR300. I think I was the first person in America who owned one. Then we formed the new King Crimson, and Robert [Fripp] got his own guitar synth, and away we went.
But on "The Great Curve," I'm using my battered old Strat through a Roland Jazz Chorus 120. I had three or four pedals. I think it was a Big Muff and an equalizer that I used to boost the midrange.
Also, my Stratocaster had a Strat-o-Blaster that really upped the output. I had an Electric Mistress, too, so when it starts doing all the crazy, weird sounds, that's just me stepping on that and introducing it into the chain.
What's going on in "The Overload"? The whole song is a sustained series of growling guitar atmospherics.
BELEW: That sounds like something I would do. It was so improvised. I remember when we were putting the live set together, we said, "This one won't work so well because we're trying to keep everything so upbeat."
Adrian, beyond your solos, did you play any rhythm parts on the record?
BELEW: I don't think so. I didn't do anything on "Once in a Lifetime." I think I played on "Crosseyed and Painless," and I did some solo stuff on "Listening Wind."
I used the Electric Mistress and bent the sound up and down while working a delay and the volume control on my guitar to make certain notes drift up and down. It's a very interesting sound.
Adrian, seeing as your parts took one day to record, were you surprised when you listened to the final album?
BELEW: Oh, of course! You know, I considered myself a sideman at the time, so I had no idea how the record would turn out. Same thing with Lodger by David Bowie – I was very surprised at how he used my guitar.
Both of those things, of course, are connected to Brian Eno. He had his own taste and liked to use what I did. He was a big supporter.
The album was seen as being revolutionary. How do you two rate it within the band's body of work?
HARRISON: Of course, I love them all, but I would say I take Fear of Music and Remain in Light, if I had to pick two.
Fear of Music is the culmination of the four-piece, and Remain in Light is the switch to when we thought about having an expanded format, and all of the influences that had begun with "I Zimbra" on Fear of Music came in. So I don't quite go to one album; I go to those two.
BELEW: I agree with Jerry about those two. I've been fortunate to do a few albums in my career that have been called groundbreaking – Discipline, Graceland, The Downwards Spiral – and I put Remain in Light high up in there. I loved making it. I loved playing it live, and it's still a record that stands up today, very, very well.
Browse the Talking Heads catalog here.
All the latest guitar news, interviews, lessons, reviews, deals and more, direct to your inbox!
Joe is a freelance journalist who has, over the past few decades, interviewed hundreds of guitarists for Guitar World, Guitar Player, MusicRadar and Classic Rock. He is also a former editor of Guitar World, contributing writer for Guitar Aficionado and VP of A&R for Island Records. He's an enthusiastic guitarist, but he's nowhere near the likes of the people he interviews. Surprisingly, his skills are more suited to the drums. If you need a drummer for your Beatles tribute band, look him up.