Classic Tones: Adrian Belew on The Great Curve by Talking Heads
How Adrian Belew got his classic tone on Talking Heads' The Great Curve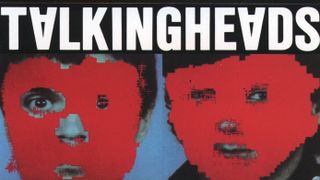 (Image credit: Talking Heads)
Adrian Belew's two solos on this Talking Heads epic from Remain in Light are some of his wildest guitar moments on record, in a career filled with wild guitar moments.
Belew's reputation began in the late 70s when he was poached by Frank Zappa after the moustachioed guitar god spotted him playing in a covers band in Nashville. He contributed rhythm and lead guitar to the 1979 Zappa classic Sheik Yerbouti, before David Bowie lured him into his band.
(Belew tells a great story about how Bowie met the guitarist at a restaurant but hadn't counted on Zappa also being there and Bowie's attempts at small talk were met with a swift, "Fuck you, Captain Tom," from an understandably protective Zappa).
Belew then appeared on The Thin White Duke's avant-pop album Lodger, and his career was set. He became the go-to guy for the eccentric and the super-musical: King Crimson, Herbie Hancock, Ryuichi Sakamoto, Paul Simon, Nine Inch Nails and, er, William Shatner, to name just a few.
Like we say: wild.
Back in 1980 he he was drafted in to work with rising stars Talking Heads. Like Bowie, the band had previously collaborated with producer Brian Eno, and their arty, imaginative edge called out for Belew's highly experimental guitar playing style.
The solos on The Great Curve (at 1:53 and 5:28) are characterized by a searing fuzz tone, huge intervallic skips, and end-of-the-world dive bombs. On top of a frenetic funky afrobeat track, Belew's six-string work changed people's views of how a guitar could sound in a non-rock context.
So where did that sound come from? Back in the early 80s, Belew's bag of tricks included a Fender Stratocaster, a Roland JC-120 amp – the "king of clean" – and an effects palette that featured an Electro-Harmonix Electric Mistress flanger, Graphic Fuzz and Big Muff distortion, a Foxx Tone Machine fuzz, and an MXR Dyna Comp compressor.
Buy Talking Heads' Remain In Light Adrian Belew's new album Elevate is out now.
All the latest guitar news, interviews, lessons, reviews, deals and more, direct to your inbox!
Guitar Player is the world's most comprehensive, trusted and insightful guitar publication for passionate guitarists and active musicians of all ages. Guitar Player magazine is published 13 times a year in print and digital formats. The magazine was established in 1967 and is the world's oldest guitar magazine.
When "Guitar Player Staff" is credited as the author, it's usually because more than one author on the team has created the story.