Adrian Belew's Electric Guitar Collection
GP takes a look at the Frank Zappa, David Bowie, Talking Heads and Nine Inch Nails (to name a few) veteran's sprawling collection.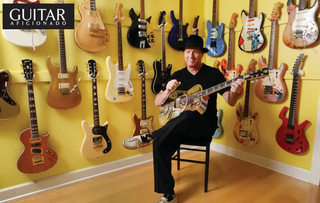 (Image credit: Jeff Fasano)
"I just love guitars," says Adrian Belew. "Every one of them has its own temperament and personality."
Best known for the wildly innovative guitar work he has done alongside Frank Zappa, David Bowie, Talking Heads, Nine Inch Nails, and many others; his role as the frontperson of prog-rockers extraordinaire King Crimson from the '80s to the '00s; and for his 18 eclectic solo albums, Belew has also acquired more than a few guitars over the years. His collection, which numbers about 60 instruments altogether, is as eclectic, unpredictable, and extraordinary as his musical career.
"I own way too many guitars," he notes. "I'm going to thin the herd pretty soon. I still have almost all the guitars I've used in my career, and a lot of manufacturers have given me stuff—which I'm very grateful for. But I own about ten guitars that I've basically never played, and it would really be best to pass those along to someone else."
Belew's guitar collection resides in two climate-controlled rooms in his Nashville home—acoustics in one, electrics in another. Nearby is the so-called "magic closet," which contains pretty much every amplifier and effects device he has gathered over nearly five decades of playing—all of them connected to a single patch bay for easy recording in his home studio.
"I've got my original Roland JC-120s in there, Fender Twins, Supros, Johnsons, and the Foxx Tone Machine fuzz box that I used to make the first sound you hear on Lone Rhino [his 1982 solo debut]."
When Belew goes on the road with Gizmodrome—a newly formed "supergroup" consisting of drummer/lead vocalist Stewart Copeland, bassist extraordinaire Mark King, and keyboardist Vittorio Cosma—he'll be leaving most of his guitars at home as the band tours in support of its self-titled debut album. All he'll be bringing are a few of the Adrian Belew Signature Parker Fly models he has played for the last decade—which are equipped with DiMarzio and Sustainiac pickups, Sperzel locking tuners, Line 6 Variax modeling components, and MIDI outputs.
"Parker made 50 of them during their first run in 2009," he explains. "I have three production models, plus the prototype. They're all amazing, but my original Adrian Belew model is the Ferrari of guitars. It stays in tune, it's light, it resonates properly, and the neck is so thin you'd think it might break off the guitar, but it doesn't. In fact, I'm told you could stand on that neck and it wouldn't come off. I get pretty physical with my guitars, but I haven't tried that!"
The fact that Belew will be playing onstage as a member of Gizmodrome is still something of a shock to him.
"I'm honest when I say that I was tricked into this project," he says. "I thought I was coming in as a session guitarist to lay parts down for maybe four songs that Stewart and Vittorio had written together. Then, I got into the studio in Italy, and I noticed it was set up with all the players in the same room—not what you usually do for overdubbing. It turned out they had a whole cookie jar full of songs, and they wanted me to be in the band."
Gizmodrome will be touring the world for a good part of 2018, whenever Belew isn't playing with his own power trio. In addition, Belew will be continuing his work with the Celebrating David Bowie band—a group of former Bowie sidemen led by keyboardist Mike Garson that pays tribute to their late employer. It all adds up to an extraordinarily busy life, which makes it that much more refreshing when Belew returns home to his family and his dozens of guitars.
[Editor's Note: Belew has recently been posting his own photos of selected instruments in his collection on his Facebook page, along with lengthy commentary. If you want to know more about any of the guitars pictured here (as well as many others), check out facebook.com/adrianbelew].
1969 Fender Stratocaster
"I beat this guitar to heck, and Seymour Duncan did the rest," says Belew. "It was originally brown sunburst. This is what I used on Zappa's Sheik Yerbouti, Bowie's Lodger, Talking Heads' Remain in Light, and in my early days with King Crimson. I'm holding it on the cover of Lone Rhino."
1966 "Twang Bar King" Fender Mustang
"I switched from Strats to Mustangs in the early '80s. I wanted something different, and I always loved Mustangs because they were very light and had a really springy tremolo arm. They're hard to keep in tune, though, so eventually that tremolo arm became a Kahler. This is the first of two Mustangs that were painted by Mike Getz to match the cover paintings he did for Twang Bar King. I sold the other one to the Hard Rock Café about 20 years ago."
Late-'80S Fender Custom Shop Strat
"Although I loved the Mustangs, they weren't going to hold up for live work. So I had the Fender Custom Shop make me three identical Strats with Kahler trems, Sperzel locking tuners, Lace Sensor and Sustainiac pickups, and a big ugly plug for the Roland GR guitar synths. I repainted them in different colors for every tour I did—Crimson, Bowie, solo—and they were my main live guitars until the Fly came along."
2004 Parker Adrian Belew Fly Prototype
"Here's the very first signature guitar that Parker made to my specifications. One thing that sets it apart from the original production run of the Adrian Belew model is that the three knobs are spaced out differently, and the one in the middle—for the Variax—is silver. It's in great shape, because it hasn't been played all that much. Ken Parker isn't just a luthier—he's also a scientist. The Fly was the most revolutionary development since Teles, Strats, and Les Pauls."
1985 "Lightning Bolt" Fender Mustang
"Fender made two custom Mustangs for Laurie Anderson's 1986 concert film, Home of the Brave, and sent them to her so that she could hand-paint them. This one has some of the lyrics to her song 'Blue Lagoon' on the back. The other one is brown with a telephone painted on it. I sold it—along with the Mexican sombrero I wore in the movie—to a museum in Florida that's putting together a collection of Laurie-related memorabilia."
Late-'80s Dobro with 33S Body/Round Neck with 45S Inlays
"This was brand-new when I got it in the '80s. I call it the '1967' Dobro, because I wrote the song '1967' on it. Dewey Bowen of Freedom Guitars in California gave it to me as a gift for playing a show there. I tuned it to D-A-D-D-A-D, with two strings in unison in the middle, and I played it like a regular guitar—no slide. I wrote so much material on this guitar in that tuning. It has a resonance that makes me think of an upright piano in a little rehearsal room."
1962 Gretsch 6120
"I bought this old Gretsch from a dealer—Dewey Bowen again—and it's in perfect shape. When I opened the case for the first time and tuned the guitar up, I started playing what became 'Six-String' on Op Zop Too Wah [1997]. It was like that song was just waiting inside it."
1991 Taylor 412
"I have several Taylor acoustics, but this is my favorite. In fact, it's my favorite acoustic guitar overall. Since I first purchased it in 1991, I've written most of my songs on it. It has a beautiful mahogany back with a dash of spilt candle wax to keep it real."
1965 Galanti Grand Prix
"One of my latest obsessions is Italian-made electric guitars from the '60s. They don't sound much like the typical American guitar. Besides this one, I also have a 1964 Crucianelli PANoramic, which was given to me a few months ago by one of my Facebook followers. What a gift!"
All the latest guitar news, interviews, lessons, reviews, deals and more, direct to your inbox!