Progressive Rock's Most Pioneering Guitarists – In Their Own Words
Robert Fripp, John McLaughlin, Steve Howe, and many more share insights into their craft.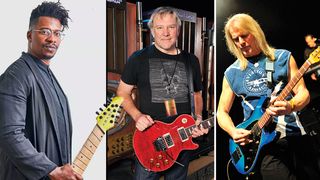 (Image credit: (Tosin Abasi) Jen Rosenstein: (Alex Lifeson) Gavin Roberts/Future : (Steve Morse) Rob Monk/Future)
For more than five decades, prog rock has been the cradle from which guitar virtuosity has crawled forth.
Here, in their own words, more than 20 pioneering prog-rock guitarists share insights into their craft.
Frank Zappa
"The history of pop music has a habit of telling us who we really are – 'cause if we weren't that way, we wouldn't have spent billions of dollars on those records, would we?
"After careful training by media and merchandising people, the entire population (even guitar players) has been transmuted into a reasonably well-groomed, odor-free, consumer-amoeba which is kept alive only to service manufacturers and lives its life by the motto: 'Biggest, fastest, loudest is most and best.'"
Listen To: "Watermelon in Easter Hay"
Robert Fripp (King Crimson)
"Originally, the [Frippertronics] system was introduced to me by Brian Eno. I worked with him on it for the piece of music that became No Pussyfooting. I began working on it on my own in June and July 1977, when I was living in New York. Frippertronics as such went public for the first time in February 1978 at the Kitchen [a New York City arts and performance gallery], where I was giving a solo concert.
"I needed a name for it, so I came up with 'Frippertronics' because it was silly. Then it went very, very public in 1979 with a four-month solo tour – two months in Europe and two in America. And it was there, actually in front of people – in record shops, pizza parlors, record offices, small cinemas, museums, all matter of places – that I began to learn to work with it pretty well.
"I would run the tape back and improvise on top of it. The original form was with two Revox tape recorders, but now I'm working with the Electro-Harmonix 16 Second Digital Delay. It was advertised as a Fripp in the Box. It's far smaller, quicker, and easier to set up than two Revoxes, although the sounds one gets are quite different."
Listen To: Let the Power Fall (Robert Fripp)
Martin Barre (Jethro Tull)
"I learnt my lesson in 1967. I was in a studio doing a session for Eric Burdon and we were doing the backing track. Jeff Beck wandered in. We were in awe. When we finished the track, he picked up an old amp and guitar in the corner of the studio, plugged in and sounded amazing.
"And it was Jeff Beck that produced that sound, not a particular amp or pedals. It was purely him. He was totally in control. He could've reproduced that anywhere in the world in any circumstances. That's what I'm always aiming for."
Listen To: "Aqualung"
John McLaughlin (Mahavishnu Orchestra)
"Sometimes I can't actually sit down and write music. I have to wait until I hear something. That's why I like my iPhone: I get an idea and I can sing it directly into my phone, and it's archived.
"It might be just a melody, or it might be an idea I have for a particular chord progression, or it might just be a rhythmical idea. So I actually do so much with my iPhone and my voice. Who knows where I might be? I'm not necessarily going to be home when I get an idea, and if I don't record it, it's gone."
Listen To: "Birds of Fire"
Jan Akkerman (Focus)
"Focus is for me one of the few groups who know how to catalyze love for music and voice. We get into the theatrics strictly through the music, like with 'Hocus Pocus.' I want to reach the people with pure beauty. I want to make pure music."
Listen To: "Sylvia"
Todd Rundgren (Utopia)
"Mahavishnu Orchestra was a revelation to us, so we started composing long, polymodal polyrhythmic marathons with bits of vocal and occasionally something that sounded like a song….
"We were comparing ourselves individually to our various heroes as well as to each other, and I developed a whole new relationship with the guitar. The material was structured in a way that left long passages without vocals and an uninterrupted focus on the instrument. For fleeting moments, I could channel the inner mounting flame."
Listen To: "The Ikon"
Steve Hackett (Genesis, GTR)
"In Genesis, I was always writing solos. There were a few improvised ones, but there were not that many because there was always such an emphasis on writing with the Genesis team. I think I probably erred more on the side of blues than any of the other guys in the band.
"I did always have the ability to be able to go into a blues. And I still do. It's something you can share onstage with somebody else's band, and I often have, where I don't know the tune but I just wing it as a blues player. It's stood me in very good stead."
Listen To: "Fifty Miles from the North Pole"
Mike Oldfield
"When I listen back to Tubular Bells and Hergest Ridge, it sounds like yesterday. For a start, I use all five fingernails on my right hand, not a plectrum, so I get a very pure sound. That's why people don't seem to see me as a guitar player.
"When there's a video of me, I don't look like I'm doing very much. I use violin vibrato. I can only think of Robert Fripp, who also uses that. And I often play just one note with a lot of power to start a melody."
Listen To: "Ommadawn"
Steve Howe (Yes, GTR, Asia)
"I've always put [prog-rock] down to a post-psychedelia reinvention of rock music, because it had already got churned up quite a lot in psychedelic times, but I think it got broader then, and orchestral spirits came into it. I think what was great about [Yes, Pink Floyd, Genesis, King Crimson, and Led Zeppelin] was that each one of its members had a different story that they wanted to bring into the group.
"I wanted to bring my writing into the band – my guitar ideas, my chordal ideas and songs. Bill [Bruford] wasn't going to play 4/4, you know? He always knew what was appropriate, but he also knew what Bill Bruford would do with it."
Listen To: "Siberian Khatru" (Yes)
Steve Hillage (Khang, Gong, System 7)
"I was nine when I got my first guitar – a little acoustic with steel strings. I learned to play with a pick, and by the time I was 12 I'd got quite good. My first electric guitar was a Watkins Rapier, then finally I managed to get a Fender Stratocaster – my first pro guitar – in '67. I think it was either a '62 or a '63.
"I gradually found my own thing through a long series of experimentations with tape recorders, and later on I started getting into tape echo and various echo boxes. That's how I really developed my personal sound and style."
Listen To: "The Glorious Om Riff" (Steve Hillage)
Alex Lifeson (Rush)
"I feel [my vibrato] is one of the more outstanding characteristics of my playing. I'm heavily influenced by Jimmy Page, and he has a fantastic vibrato. It's so loose and so emotional. So as vibrato bars got better, I really wanted to create a subtlety in the right hand with the bar that matched my left hand.
"I would push the left hand a little more, and I would ease off on the right hand. Of course, I did a lot of dive-bomb stuff in the '80s, but I always wanted to have a very subtle vibrato on the whammy bar. It takes time, but it's a very emotional thing. And very effective."
Listen To: "La Villa Strangiato"
Allan Holdsworth
"I'll just experiment with different voicings. What I usually do is just try to find the kind of voicings of particular chords that I like, and turn them around. I don't like the sound of conventional guitar voicings. I love listening to jazz guitar – I listened to it a lot when I was younger, because my father introduced me to it.
"But I very quickly tired of the sound of the chord voicings. I just decided that if I was going to get some chord things together that I might as well play some other voicings, instead of the kind of Jazz Book One or Jazz Book Two or Jazz Book Ten types of chords."
Listen To: "Metal Fatigue"
Tosin Abasi (Animals As Leaders)
"I would say the pure definition of progressive is to create new things. So advancing the scope of a genre – or the expression within a genre – is to be progressive. The minute you try to define what you're doing is when you put limitations on yourself. I'm looking outside metal for my inspiration right now. That's not to say that I don't love my influences, because I do. But I want to keep moving."
Listen To: "Tempting Time"
Steven Wilson (Porcupine Tree)
"This idea of being 'progressive' is misleading. I don't like the word, anyway. I certainly don't like the word prog. There's nothing on anyone's record that you cannot relate back to something from the past. I am aware of that, and I kinda embrace it.
"What we're doing is trying to invest that musical vocabulary with enough musical personality that it still sounds fresh. For [Wilson's 2015 solo album Hand.Cannot.Erase.], I would say it's conceptual rock music, with all the implications that may or may not have."
Listen To: "The Raven That Refused to Sing"
Steve Morse (Dixie Dregs, Kansas, Deep Purple)
"To become a good guitarist, you have to be open to things. When I first played with Al Di Meola, I asked how he sounded so percussive. We switched picks and there was a difference, so I changed from nylon to celluloid for the rest of the tour.
"I'd love to get to know Jeff Beck and see if he really is pulling it out of nowhere, which is how it seems. It feels like he's really improvising and making art through his guitar."
Listen To: "Tumeni Notes"
Steve Rothery (Marillion)
"I fell in love with Genesis after I heard 'The Knife' on Alan Freeman's Saturday Rock Show. After that, I discovered Camel, Yes, King Crimson.... For me, there's only good and bad in music. Labels are meaningless.
"The true meaning of progressive is music without any self-imposed boundaries. It's having the freedom to work outside the constraints of conventional song structure, almost like a soundtrack-type approach to creating songs."
Listen To: "Grendel"
Dweezil Zappa
"I love the sound of microtonal instruments. On Via Zammata, I played the oud and a Godin Glissentar. I'm inspired by a variety of Eastern styles, including Indian, Turkish, Arabic, and Bulgarian.
"I even recorded some music by the Bulgarian Women's Choir. The tunes I chose have resonated with me since my dad took me to one of their concerts. I orchestrated them for guitar in a way that pays homage to Brian May."
Listen To: "Funky 15"
Alan Morse (Spock's Beard)
"When I saw Yes, I felt like they incorporated everything I loved about music into one thing. I saw them play live when I was 12, opening up for Black Sabbath in Los Angeles, and they really changed my mind. I was raised with all this classical music and some jazz, and I loved the power of rock and felt like Yes particularly embodied everything that I loved about music."
Listen To: "The Man Behind the Curtain"
Omar Rodríguez-López (The Mars Volta)
"From a fretboard perspective, I work with shapes rather than patterns. I'm useless at running through scales, but I'm good at arranging my thoughts into geometric shapes and creating chords and melodies out of them. Thoughts have shapes, just like tones – they have waveforms.
"You can translate the shapes of thoughts and emotions through your hands onto the fretboard. With experience, you start relating the shape of your hand on the fretboard to certain geometric shapes that enter your mind when you're hearing those sounds or having those feelings. You hear people use shapes to describe things all the time, such as, 'That guy is a square,' or 'This sound is really round.'"
Listen To: "Eriatarka"
Mike Keneally
"I decided a good discipline exercise would be to learn all the guitar parts on all the Gentle Giant albums. It turned out to be very valuable. But even more valuable was the time spent learning from Zappa's discs.
"I managed to develop a pretty good memory by playing stuff off of them. One of Frank's names for me was Evelyn Wood [of speed-reading course fame], because of my unusual amount of comprehension and fast recognition of patterns. I can read music, but I don't sightread it."
Listen To: "Lightnin' Roy"
Guthrie Govan
"I think the best way to become comfortable with odd time signatures is to not think of them as odd. You just have to develop a natural feel for the contour of the bar in any given time signature, so you can sense when the 'one' will return without having to do any literal counting.
"However daunting the top number in the time signature may appear, there's generally an underlying framework, so it's helpful to focus on finding the most prominent pulses within each bar, which are generally separated by smaller, more manageable numbers, like 3 and 4."
Listen To: "Sevens"
All the latest guitar news, interviews, lessons, reviews, deals and more, direct to your inbox!
Guitar Player is the world's most comprehensive, trusted and insightful guitar publication for passionate guitarists and active musicians of all ages. Guitar Player magazine is published 13 times a year in print and digital formats. The magazine was established in 1967 and is the world's oldest guitar magazine.
When "Guitar Player Staff" is credited as the author, it's usually because more than one author on the team has created the story.