Adrian Belew on Alternate Tuning Inspirations, 35-voice Strats, and Why His DigiTech iStomp Remains a Pedalboard Staple
Prog-rock's perennial superpower makes a feel-good album for hard-luck times.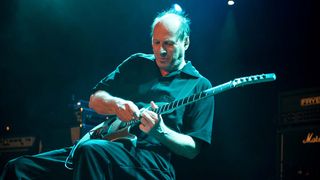 (Image credit: Jordi Vidal/Redferns)
When GP spoke to progressive guitarist Adrian Belew in February 2020, he was gearing up for a tour – literally. He planned to play summer festivals with Jerry Harrison, performing the music of Talking Heads, and to that end was putting together a simple pedal-based system to replace the computer-based rig he used with his trio.
Then Covid intervened, canceling the tour and laying Belew low. Fortunately, the guitarist beat the bug and employed his new pedals to record his new self-released album, Elevator.
Was the new record conceived pre-Covid?
Yes, in terms of writing, but then Covid came along and put in a long gap before I could get my engineer safely back in the studio. During that time, I was able to write 12 new songs.
Did you take a different approach to songwriting for this album?
For example, often you'll retune your guitars. There are two tunings: standard, and a tuning I don't have a name for. Starting with the low E, it's D, A, D, E, D, E. It makes for some very interesting chord shapes. I would say half the record was written with that tuning, because it really inspired me.
Any new guitar sounds?
The guitar sounds are coming mostly through two miked Boss MG-10s amps with five-inch speakers. Those speakers cut out everything that a guitar doesn't need. It's different than my MIDI computer rig, but it records really well.
Which pedals made the cut from the live rig you were putting together?
The guitar goes into the Keeley Compressor, my go-to forever. On my pedalboard is an Eventide H9. I still have the [discontinued] DigiTech iStomp box. You download whatever program you want and it becomes any pedal they have. One version I call the Impossible Pedal: Every time I step on the iStomp, it shifts the note back and forth between a third and a fifth.
When I'm soloing and want to play something that sounds fast, I throw in some extra notes with my foot. I'm also using the Echosystem delay and Heavy distortion pedals by Empress, with the Xotic SL for less-distorted overdrive. The Strymon Deco splits my signal stereo. I move its pitch around a bit with an expression pedal.
Which guitars did you use?
I used a new Fender Strat and an old red Parker Fly given to me in Tokyo when they first came out. It doesn't have a MIDI pickup or sustainer, but I used it quite a lot. I also used a Strat that has a built-in switch to allow 35 guitar sounds. It can do some interesting out-of-phase sounds. I also employed an Epiphone Wilshire with a five-way switch for a variety of sounds, and, of course, my favorite Taylor acoustic guitar.
Was it easier for you in this circumstance because you can play all the instruments?
I don't use other players anymore unless it's something I can't do. I've played all the instruments and done the production on my 24 records. I've even done the artwork; Elevator will have five new paintings. I like my music to represent me and not have many other hands in it.
Were the song themes influenced by the craziness of 2020?
A bit. It's called Elevator because I hope the music elevates the listener. Over 2020, it got harder and harder to be hopeful and positive, but I steered away from any big statements. One song says, "If I never see a mask again, it'll be too soon," but I felt this is the time people need to get back to music that makes them feel good. These are 12 feel-good songs.
All the latest guitar news, interviews, lessons, reviews, deals and more, direct to your inbox!