"He Conjures Up a Surreal Sonic Landscape": Reeves Gabrels on Todd Rundgren and More
The Cure and David Bowie guitar maverick reveals his inspirations.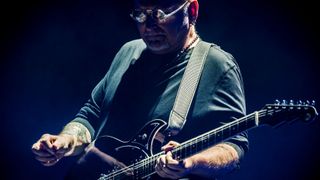 (Image credit: Juan Naharro Gimenez/Redferns)
We recently we asked some of the world's top guitar players to choose their favorite solos. With one catch: They had to refrain from the obvious. No Hendrix. No Clapton. No Gilmour, et cetera.
Here's what Reeves Gabrels – guitarist for David Bowie and the Cure – had to say…
1) Derringer | "Drivin' Sideways"
From Sweet Evil (1977)
GUITARIST: Danny Johnson
"When I first heard Danny Johnson, in 1975, I felt like I had found a kindred spirit, someone like myself who, at 19, was standing on the corner at the intersection of Mahavishnu and Mountain. On this track, Rick Derringer generously pushes Danny out front in the dual role of lead guitarist and vocalist. Danny fearlessly tears at the seams of conventional rock harmony during his solos."
2) Boxer | "More Than Meets the Eye" live radio broadcast
GUITARIST: Ollie Halsall
"Many of us first heard the late Ollie Halsall in the band Patto. With singer Mike Patto, he formed Boxer in 1975. As is the case with most of the guitar players I like, Ollie is at his best live, where he plays with the songs like a cat with a ball of string. It's all here: Curtis Mayfield double-string slides, Tal Farlow-like arpeggios, blues guitar bends and chromatic runs."
3) James Taylor | "Someone"
From One Man Dog (1972)
GUITARIST: John McLaughlin
"I heard this song for the first time in 1972, when the only guitar I owned was a Harmony H-162 acoustic. This largely acoustic guitar recording blew my mind and exposed me to a level of communication and technique to which I still aspire. For years, I wondered what effect was on the guitar, until one day I was struck by the stupiphany that there was none – just John McLaughlin's massive technique and deep soul that, for me, conjured up the sound of the flutter of dragonfly wings and the rolling of waves."
4) Billy Joe Shaver | "Georgia On a Fast Train"
From Unshaven: Shaver Live at Smith's Olde Bar
GUITARIST: Eddy Shaver
"The late Eddy Shaver kicked out the roadhouse jams Texas-style in 1995 with a Boogie combo, a '50s Strat and some serious seat-of-the-pants high-level playing. Live at Smith's Olde Bar is a good record to shake of the dust with, and this track can never be too loud."
5) Todd Rundgren | "No. 1 Lowest Common Denominator"
From Todd (1974)
GUITARIST: Todd Rundgren
"Todd is strangely underappreciated as a guitarist. This is one of my favorite Rundgren guitar songs. He conjures up a surreal sonic landscape whose visual corollary, for me, would be Dali's The Persistence of Memory. Are psychedelics bad? Let Todd offer his opinion.
All the latest guitar news, interviews, lessons, reviews, deals and more, direct to your inbox!
Guitar Player is the world's most comprehensive, trusted and insightful guitar publication for passionate guitarists and active musicians of all ages. Guitar Player magazine is published 13 times a year in print and digital formats. The magazine was established in 1967 and is the world's oldest guitar magazine.
When "Guitar Player Staff" is credited as the author, it's usually because more than one author on the team has created the story.