"I Always Like to Be Surrounded by Vintage Gear": Kurt Vile Talks Vintage Guitars, Custom-Made Acoustics, Tweed Fender Amps and Rare Effects
"When I get a new guitar it feels weird. I almost want to throw it against the wall, just to make it look normal," says the indie-rocker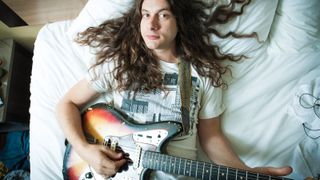 (Image credit: MARINA CHAVEZ)
***The following interview extract originally appeared in the December 2018 issue of Guitar Player***
Recording artists tend to get locked in a cycle. An album is followed by a tour, which is succeeded by a break that leads to another stint in the studio. And on and on it goes.
Kurt Vile has found his own way out of that rut.
The guitarist and songwriter cut his 2018 studio album, Bottle It In (Matador), at various studios in between road dates with his band, the Violators, travelling with his wife and daughters.
During those more than two years on the road, the Philadelphia native also recorded an album of duets with Courtney Barnett (2017's Lotta Sea Lice), opened for Neil Young and saw his single "Pretty Pimpin" (from 2015's B'lieve I'm Goin Down…) go to number one on Billboard's Adult Alternative chart.
If life has been busy for Vile, it hasn't hampered his productivity.
---
---
"Touring is a big part of why you end up anywhere in the world," Vile explains. "So it's fun to utilize that moment. You play a gig in a random place where they booked you, and then you could start your adventure from there and travel a little bit."
The guitarist has become something of an indie-rock god in recent years. Following a brief stint in the War on Drugs, which he cofounded in 2005 with Adam Granduciel, Vile went solo in 2008, signed with Matador Records and began releasing a string of ever-better-selling albums.
Through discs like 2011's Smoke Ring for My Halo and 2013's Wakin on a Pretty Daze, he became known for his droll vocal delivery, riff-oriented songwriting, and a musical range that stretches from lo-fi folk to sprawling electric guitar jams.
Back in 2018, the guitarist took time out from a European excursion to talk with Guitar Player about the making of his eighth studio album, Bottle It In, his deep love of acoustic guitar tones and his longing for simpler times.
What's the appeal of mixing studio dates in with your touring schedule?
You know, even if I play just one show and go into the studio, it feels more natural to me.
In what way?
When you play live, it's the most in tune with the music you can be. When you record while you're on the road, you can carry that energy into the studio.
Obviously, most artists cut records between tours.
There's no way I could do that. I do everything all in together. I like to go into the studio even for a day or so, in between things. I think you can get just as much done that way as you can if you stay in there for two weeks and work on the same song.
The more time you have, the more you waste. I just figure if I go in and out of the studio while I'm touring, it makes it more natural.
I imagine that also gives you time to listen to what you've done and tweak things if you want.
We would definitely tweak the recordings later on and add some things. But ultimately what I wanted was for it to be as live in the studio as possible – get the basics down and then figure the rest out later, if I had to, if it wasn't, indeed, already figured out.
Your way of touring and recording makes me think about Jackson Browne's album Running on Empty, which he recorded live, at soundchecks, in hotel rooms and even on the bus while he was on tour.
Wow! I respect Jackson Browne, for sure. That'd be cool to actually record on the stage at soundcheck.
In some ways, when you're traveling, you're more relaxed. Somebody can just put a microphone on you at any point, and you're more comfortable with it. For me, it's a constant battle of trying to make things feel as laid-back as possible, even in the studio for this record.
Things like, if you can get away with not wearing headphones, don't wear 'em – sing live while the band's playing. There are all kinds of ways to make it feel more natural.
Todd Rundgren has recorded his vocals from behind the mixing console for years. He's like, "I can do it right from here while listening off the monitors."
Yeah, I did that for "Bottle It In," while my buddy Stella [Mozgawa], the drummer from Warpaint, was playing drums in the next room.
That's what this record's all about, just interacting when I'm with somebody or, when I'm by myself, just getting the part down, like an organic moment captured. That's what I shoot for.
It's about knowing your town like the back of your hand. And I really do things like that in my hometown, where I can pull up to the record store and there's a loading zone across the street, one of many in the city where I know I can just run in, get what I'm looking for and get out before I get a ticket. [laughs]
You have your own way of doing things. The leadoff song, "Loading Zone," seems to be about that – about making the system work in your favor. What inspired that tune?
And that's a way of life, in general. It's like getting by on the backstreets. It's like you're just sticking it to the man a little bit – 'cause, obviously, the man's always sticking it to you anyway.
Why did you choose to name this album after "Bottle It In"?
"Bottle It In" is definitely the album's centerpiece. I'm definitely proud of it, and it's like some kind of new territory that I stumbled onto.
When I name my albums – like Smoke Ring for My Halo was named for my favorite song on that record. I had a feeling it needed to be highlighted, otherwise it would just be a song passing by. It's an important song.
And you know, if you get back to the heart of the matter with artists you respect, usually their classic albums are named for a song on the album. Like Neil Young: Everybody Knows This Is Nowhere, After the Gold Rush, On the Beach. And those songs are such classics in themselves that you don't forget them, because they're each like a statement on their own.
So "Bottle It In" – I just had to roll with it, and I just didn't want the song to go unnoticed.
Your songs are almost inevitably built on catchy riffs that could stand on their own, without vocals. Do you think in terms of riffs when you're writing?
Yeah, I like blues licks and melodic folk-tinged riffs. They've got to be melodic, a little bit pretty, but like with the blues in there. I like to make them as hypnotic and as melodic as possible. I get lost in most of the riffs that I find myself coming back to.
On a lot of your songs, acoustic guitars provides the structure while heavily effected electric guitar adds sonic interest. Do you prefer one instrument over the other?
Well, if I had to pick a main tool, it would be the acoustic guitar. In fact, certain electric guitars that I fall in love with – and even new electric guitars that I buy – I won't even plug them in for days sometimes after I get them. I'll just sit on the couch and listen to how they sound acoustically and how they feel.
I kind of like the idea of sitting on a couch and hearing all the nuances. Acoustically, you can't beat that. But then, in the studio, you can put it through an amp and all these effects – filters, phasers, delay or any kind of weirdness. Or just a punchy amp sound. It's just an option to the guitar itself.
What are some of the effect pedals that you used on this album?
I'm not as particular with effects as I used to be, but I tend to just like to put some kind of filter or phaser on there if I can get away with it. One pedal I used was the Moog MIDI MuRF. It's kind of an envelope filter, but a little more than that.
And the amps are really important too. These days I'm into these little brown '50s Fender Champs. Just crank those up.
What effect are you using to make that strange vocal-like guitar sound on "Loading Zones"?
It's a Ludwig [Phase II] guitar synth. It's the same one used on "The Diamond Sea," which is one of my favorite Sonic Youth songs.
Do you own that or did you borrow it from Kim Gordon?
No, I'm pretty sure their's got stolen back in the day. I bought one. It wasn't cheap.
What's your main acoustic guitar on this album?
I used these little custom-made 00 Martins that Vintage Instruments in Philadelphia had made. They're based on their favorite vintage guitars of the day, but they're made really well.
The first one I had, I've been using since "Wakin on a Pretty Day" [from Wakin on a Pretty Daze]. I used it on that song, in fact. It's a Philadelphia Folk Festival 50th Anniversary guitar. And then I have another custom 00 from later.
You have some great electric guitar tones on the record as well, like those solos on "Skinny Mini."
That was the last song I wrote for this album. I was on tour with Courtney Barnett for Lotta Sea Lice and I developed a real sound with my pedalboard.
I was using the Moog Minifooger Chorus pedal, which I really love, and there's something about that with my most recent white 1966 Fender Jaguar. But I'm also getting some really good sounds out of just an old green Big Muff and another crazy pedal called the [Wren and Cuff] Box of War.
For "Skinny Mini," I played that setup through a 1950s Fender Bassman that we borrowed from a guy. He said it was an original speaker, so be really careful, and we just completely cranked it. So that's basically just a loud 1950s Fender Bassman with a Big Muff.
You seem to have a fondness for the past. The cover photo for Bottle It In looks vintage, and you even have ringwear on it. In "Mutinies" you sing, "I think things were way easier with a regular telephone." Other songs describe a fear of flying, and the video for "Loading Zones" is full of old cars. Do you have issues with the modern world?
Yeah, I yearn for simpler times. I'm a victim of my psyche being shocked by a million things at once. I definitely remember, in the old days, we could memorize things, like phone numbers and everything. Now my mind is much more scattered.
I always like to be surrounded by vintage gear with multicolored buttons. And I like the way guitars look when they're old and used. When I get a new guitar it feels weird. I almost want to throw it against the wall, just to make it look normal.
I like old amps, and I have a lot of old Korg synthesizers from the '70s. They all look so good, and they all sound good. "They don't make 'em like they used to" is certainly true in a lot of ways. I like things to be a little worn.
Kurt Vile's latest album, 2022's Watch My Moves, is out now on Verve.
All the latest guitar news, interviews, lessons, reviews, deals and more, direct to your inbox!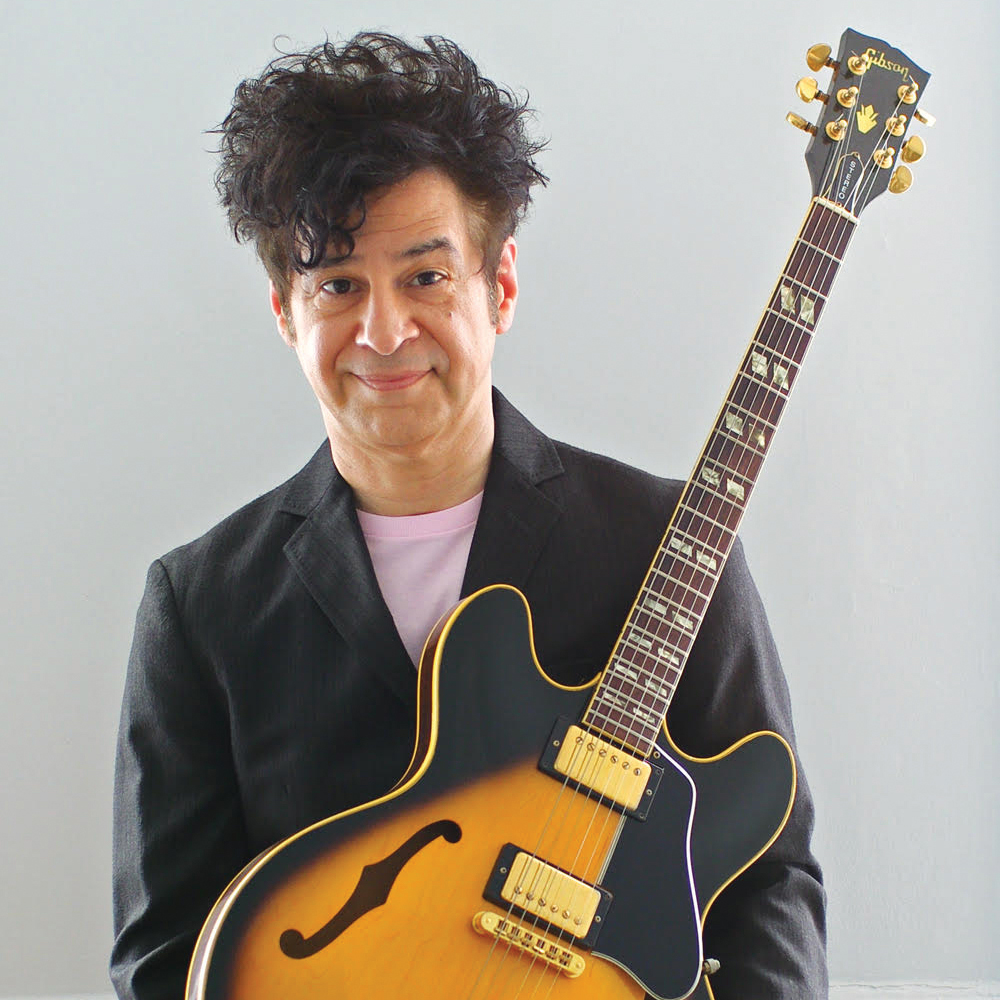 Guitar Player editor-in-chief
Christopher Scapelliti is editor-in-chief of Guitar Player magazine, the world's longest-running guitar magazine, founded in 1967. In his extensive career, he has authored in-depth interviews with such guitarists as Pete Townshend, Slash, Billy Corgan, Jack White, Elvis Costello and Todd Rundgren, and audio professionals including Beatles engineers Geoff Emerick and Ken Scott. He is the co-author of Guitar Aficionado: The Collections: The Most Famous, Rare, and Valuable Guitars in the World, a founding editor of Guitar Aficionado magazine, and a former editor with Guitar World, Guitar for the Practicing Musician and Maximum Guitar. Apart from guitars, he maintains a collection of more than 30 vintage analog synthesizers.