"I'm Excited to Keep Honing the Tone": Warpaint's Theresa Wayman On Her Ever-Evolving Live Sound
GP catches up with the guitarist on tour following the release of new album, 'Radiate Like This.'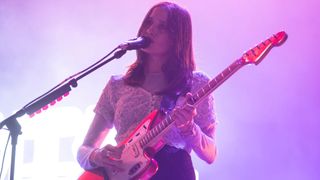 (Image credit: Xavi Torrent/WireImage)
Along with an abundance of hooky grooves and catchy vocal lines Warpaint's signature sound is defined by six-string twins Emily Kokal and Theresa Wayman, whose ethereal guitar tones render the band immediately identifiable.
The pair are known for using mainly Fender offset electric guitars – Kokal a '66 Olympic White Jaguar gifted to her by John Frusciante, and Wayman a '66 Dakota Red Mustang.
Recently, however, Wayman has also taken to using a Jaguar, something she says she hopes will expand her sound even further.
Earlier this month, Guitar Player caught up with the co-frontwoman while the band was on the road in Europe promoting their new album, Radiate Like This.
Here, Wayman gives us the scoop on her current touring rig as she continues to evolve her unique sound…
Guitars
Usually, I'd play with my Fender Mustang, but I started playing this Jaguar and it's been really interesting. There's just so much you can do with the different pickup options and the tone switch.
I basically decided to go with a Jaguar because I have a lot of single note lines and I was thinking it would have a more rounded sound than the Mustang, but also the ability to get a stronger attack in the high end.
I miss the Mustang, so maybe I'll bring that out as well for the next tour.
I want to try experimenting with thicker strings on the Jaguar. Maybe a set of .011s would be a really good way to go. We got it set up, but this one doesn't have the Mastery Bridge [Kokal's has been fitted with a Mastery Bridge.]
I've realized I don't like having the whammy bar there because if I want to jump around the thing just starts moving about and it's really annoying.
Also, there were a few dead frets that needed sorting out. Emily said she had the same thing with her Jaguar.
Amps
I'm splitting my signal using a Radial unit into two different amps to try and broaden the tones. There's been a lot to wrangle but it's been really fun.
Having that versatility is great because there's more I can do, although I feel like I'm just scratching the surface. At first it took more concentration to be dialed in but once I got into the flow of it it's been so much more satisfying.
I'm excited to keep honing the tone. I've been finessing the combination of the amps. I wanted to create a really thick sound that has a lot of layers of character, but also definition.
The idea was to have a decent attack along with some length with the reverb, and a little bit of a delay too, so it almost sounds like there are two guitar players playing the same part.
I wanted to use a Fender Princeton Reverb as my second amp along with a Vox AC30, but I ended up with a Deluxe Reverb instead. And it's actually really nice. I've always liked the tone of those Fender amps and I'm really enjoying what's happening there. I have more effects hitting that amp. It seems to handle the pedals really well.
Pedals
I have a couple of pedals – a compressor and a distortion – that hit both of the amps (placed before I split the signal.) It's an old peach colored Ibanez compressor. I was looking for something to help with sustain and I found that in a shop in Manchester [U.K.]
That Ibanez compressor pedal works really well in combination with the [Electro-Harmonix] Holy Grail reverb, which I love. Right now, I'm thinking I might want one on both sides, but I don't want to be too reverbed out.
My Boss [DS-1] Distortion pedal is really, really cool. I use that with the Jaguar bridge pickup to get a cool kind of wiry sound.
I'm also using an EarthQuaker Devices Dispatch Master. You can use it in a subtle way or you can go really extreme with it but it always sounds good.
I've also got a couple of Boss Digital Delay pedals – a DD-6 and a DD-7. One I use to extend the sound and the other [the DD-6] I use for a reverse effect.
One of my favorite pedals at the moment is a hand-built fuzz called the Classy Jen [by GlenCo] that was made by a guy from L.A. I use that on "Hips." It's so powerful. But I use it in a subtle way because Warpaint's not really a crazy fuzz pedal band. [laughs]
Order Warpaint's latest album, Radiate Like This, here.
All the latest guitar news, interviews, lessons, reviews, deals and more, direct to your inbox!
Rod Brakes is a music journalist with an expertise in guitars. Having spent many years at the coalface as a guitar dealer and tech, Rod's more recent work as a writer covering artists, industry pros and gear includes contributions for leading publications and websites such as Guitarist, Total Guitar, Guitar World, Guitar Player and MusicRadar in addition to specialist music books, blogs and social media. He is also a lifelong musician.