"I Like to Feel the Least Amount of Resistance When it Comes to Writing Music": Emily Kokal Talks Songwriting and Early Inspirations
Cop some handy tips from the Warpaint maestro and watch the band's new "Champion" music video.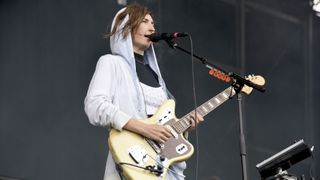 (Image credit: Tim Mosenfelder/Getty Images)
With their long-awaited new album – Radiate Like This – due to land in May, Warpaint are currently warming up to hit the road again.
It's been a while. The quartet's latest long-player follows up 2016's Heads Up and, like so many other lockdown records, was tracked with band members in separate locations.
"It's the first time we've ever made an album like that," said founding guitarist and vocalist Emily Kokal. "But in a weird way, it made us take our time with everything. The process felt more meditative, less rushed."
And while the music world eagerly awaits the release of Warpaint's most recent studio effort, here Kokal takes time to reminisce about some of her earliest musical memories.
What are some of your earliest memories of music?
My parents had the Police album Ghost in the Machine and I remember "Spirits in the Material World" being one of my favorites. But the first thing I sang along to was the song "De Do Do Do, De Da Da Da" [from Zenyatta Mondatta.]
My mom says they were some of my first words. [laughs] After a few weeks of hearing it, one day I just started singing along!
Also, she used to sing "Sweet Baby James" by James Taylor to me every night. She would sing five or six songs to me every night and I think that's a big part of why I became a musician.
What made you want to write songs?
When I was about 6 or 7 years old, I remember listening to the War album by U2, being struck by the seriousness of the lyrics, and asking my mom, "What does it mean, 'We eat and drink while tomorrow they die?'"
To me, as a kid, it was a powerful image. As was the album cover. I was just so transfixed by it as a child. I was attracted to how much it made me feel a little bit afraid.
That was a turning point. I realized then that music can be rebellious, but also something people can use to help and educate each other.
What was the first song you learned to play?
I come from a pretty musical family and my grandmother had a piano. There were all sorts of books in the bench – stuff like Frank Sinatra and Engelbert Humperdinck – so I learned a little bit about music from that.
As far as guitar goes, my mom had a Beatles book and I learned "I Will." That was the first time I taught myself guitar chords.
What was your first band, and did you do any covers?
When I was 20, I was in a band called Little Two's in Eugene, Oregon. And if you listen to the record, I sung a little moment of "Strawberry Fields Forever" on the song "Shabasta."
The first song that I ever covered properly was "Looking for You" [by Nino Ferrer.] Theresa [Wayman, Warpaint guitarist and vocalist] and I played it together when we were teenagers in high school. That was the first thing we ever did together. We learned it together, played the same chords and sang in harmony.
Which of your songs would you play to someone who's never heard your music before?
"Burgundy." I think it's one of the most live-sounding recordings we have. The vocal was recorded at the same time as the music. I think it lands close to our vibe.
Is there an electric guitar solo you'd hold up as one of the best there is?
"Maggot Brain." George Clinton told [Eddie Hazel] to think of the saddest thing he could – that his mother had died. I get emotional even thinking about it. It's so powerful. It has such a primal voice.
Is there a riff you wish you'd written?
"1983... (A Merman I Should Turn to Be)" by Jimi Hendrix. I didn't know he wrote riffs like that. I always thought Hendrix was cool, but when I heard that song it instantly became my favorite.
Is there a song that reminds you of home when you're out on the road?
My mom is a huge fan of Joni Mitchell, Neil Young and Jackson Browne so I grew up with a lot of really emotional, heavy folk music, and the Bonnie Raitt cover of Joni Mitchell's "That Song About the Midway" gets me every time. I can't even remember a time in my life without that song.
Bonnie Raitt nailed it in a bluesy fashion. It's beautiful. I have a soft spot for the musical sincerity of that time. I miss the sincerity of that era, but I think it's coming round again. It'll be less cool to be cool as the political climate gets a little bit darker.
Have you got any songwriting tips?
To any aspiring songwriters, I would recommend trying to have your lyrics ready as soon as possible because once you have the melody it can be really hard to go back and try to plug in phonetically. Try to come with your purpose right away.
I often write in rhyme naturally, so that happens almost of its own accord. But I think trying to come in with an emotion later is tricky. I personally try to capture the feeling of the lyrical content, but I have made things very difficult for myself in the past trying to figure out lyrics later. I can change a melody easily if the lyrics are already there.
Are there any Warpaint songs you had to really fight to get finished?
"New Song" nearly didn't make it. It was one of the last songs to be included [on Heads Up.]
Jen [Lee Lindberg, Warpaint bassist] gave me her demo which was mostly the whole song, and I was trying to work things out lyrically, but I got a little intimidated by it. I changed it a lot and I kind of gave up on it. But then I played it to Jake [Bercovici] our producer and he was like, 'Are you kidding me? This song is done!'
Ultimately, I like to feel the least amount of resistance when it comes to writing music. Otherwise, I feel like I'm getting in my own way. I just want to be a conduit for whatever's coming through me.
Pre-order the new Warpaint album Radiate Like This here.
All the latest guitar news, interviews, lessons, reviews, deals and more, direct to your inbox!
Rod Brakes is a music journalist with an expertise in guitars. Having spent many years at the coalface as a guitar dealer and tech, Rod's more recent work as a writer covering artists, industry pros and gear includes contributions for leading publications and websites such as Guitarist, Total Guitar, Guitar World, Guitar Player and MusicRadar in addition to specialist music books, blogs and social media. He is also a lifelong musician.