James Taylor Discusses His Greatest Hits, Adapting the Classics and Inventing His Own Chord Shapes
On American Standard, the acoustic legend journeys back to the pre-rock era to reimagine jazz and pop classics in his style.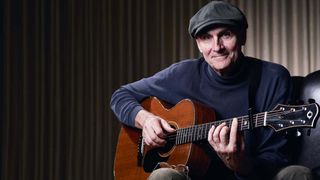 (Image credit: Future / Joby Sessions)
James Taylor is one of the most influential acoustic guitar players of all time, period. The iconic tunesmith is the first to admit that his "primitive" fingerstyle may not be fancy, but as he explains in the following interview, he invented his own approach, and it has certainly worked for him.
Taylor has sold more than 100 million albums — pause to let that sink in for a moment — and yet, 2015's Before This World was his first to reach Number One.
His easygoing style practically defined the sound of the sensitive singer-songwriter in the '70s, but his music has always had a timeless quality.
Classic compositions like "Fire and Rain" and "Country Road," and signature covers such as Carole King's "You've Got a Friend" will undoubtedly live in the troubadour lexicon far into the future.
As true fans will know, Taylor was the first non-British artist signed to the Beatles' Apple Records, in 1968, and he recorded the first versions of "Something in the Way She Moves" and "Carolina in My Mind" for his self-titled debut over scattered downtime sessions while the Fab Four were creating the White Album.
For his latest release, American Standard (Fantasy), Taylor reached way back into the family record collection to revive pop and jazz standards from the pre-rock era.
Taylor re-imagines music from a more sophisticated time with the help of master jazz guitarist John Pizzarelli, and their guitar duo is the foundation upon which American Standard is built.
Special guests include upright-bass guru Victor Krauss and fiddle extraordinaire Stuart Duncan, whose playful licks sound absolutely lovely on "My Blue Heaven," as well as Dobro king Jerry Douglas, whose expressive phrasing lifts "God Bless the Child" to the heavens.
Meeting the challenge of playing such time-honored tunes has put the 72-year-old Taylor at the top of his guitar game.
"I've been playing a lot these past couple of years to get this material ready to record with John, and also in preparation for a tour with Jackson Browne, with the strongest advanced sales I've had since the '70s," he declares. "Plus, I've been teaching my son Henry aspects of my style while sequestered with the family in Rhode Island. He's got my vocabulary down, and my chops are up."
The May 1984 Guitar Player cover story said you played a Gibson J-50 until your early 20s. Was that the guitar used on your debut?
Yes. I bought it in 1964, and I brought it to England in 1968. I recorded my first few albums with that guitar, not including the sort of legal bootleg James Taylor and the Original Flying Machine, from 1967, which is a rip-off resulting from a desperate business deal that came back to haunt me.
I don't count that one, and besides it was before I went acoustic. I was playing a Fender electric. The guitar for the first three albums was the J-50, and then Mark Whitebook made me a beautifully executed acoustic patterned on a Martin dreadnought.
I used that guitar for a number of albums until I lost it in a divorce. After that I played a Takamine for a year or two, and then I used a guitar from the custom shop at Yamaha for a couple of years.
I eventually did a benefit in Minneapolis to help return wolves to Yellowstone National Park that was put together by Jim Brandenburg [the environmentalist whose wolf photo graces Taylor's 1988 album, Never Die Young], and when I arrived at the hotel, the Olson guitar that I play to this day was in my room. James Olson had gotten it in there, and as soon as I played that, I never looked back.
Your guitar style is well realized on your debut album, but it's a bit overshadowed on "Something in the Way She Moves" by a 35-second harpsichord intro, while "Carolina in My Mind" features full-on '60s psychedelic pop production. What's it like for you to hear those versions?
It's painful. I was just finding my way as a recording artist, and so was [manager/producer] Peter Asher. It was a bit cobbled together. We were recording at Trident Studios, because the Beatles were recording the White Album there.
Peter had made a deal with them to tag along and record when they weren't. Trident was the only studio in England using an eight-track machine at the time. Abbey Road had one, but they were still testing it.
The only session I remember the Beatles recording at Abbey Road during that time period was for "Revolution". John [Lennon] wanted to recut it, and I was invited to come and sit in the room while they recorded that day. I'm not sure which version was actually released.
Can you share the stories about those two songs and how they wound up re-recorded on Greatest Hits in 1976?
I would play guitar constantly and come up with musical phrases, and those ideas would be accompanied by a germ of a lyric.
With all of that in my head, and a melody that fit the changes, I would wander the streets or sit in my flat thinking about the rest of the lyrics and where to go for a bridge. But the song would start with some musical wheels or passages, like etudes.
The melody attaches itself to that and the lyric, and then the rest develops from there. That was the case with both of those songs. I wrote "Something in the Way She Moves" on Martha's Vineyard.
It starts on an open A fingering with a capo at the third fret, so it's actually a C chord, which then moves to a G minor 9. That's the signature introduction, which we actually used again for the introduction on "Moon River" from the new album, but it's in 3/4 rather than 4/4 time.
I recut those two songs in 1976 because Warner Brothers wanted a greatest-hits album when I left the label, and Apple wouldn't allow us to use the originals after Allen Klein, who was sort of a music-business pirate of the day, had taken over.
The Apple album was primitive anyway, compared to the sound we developed when I moved to Warner Brothers for the second album, Sweet Baby James. Back in America, I reconnected with Danny Kortchmar [who had played with Taylor in Flying Machine].
Kootch had a strong influence on Sweet Baby James, and he brought in Carole King to play piano. With Russ Kunkel on drums and Lee Sklar on bass, we had a rhythm section that worked well. It wasn't until the tracking for [1977's] JT that I recut "Something in the Way She Moves" and "Carolina in My Mind".
"Your Smiling Face" from JT stands out for using an electric band playing in a Motown style, with lots of chord changes and little, if any, acoustic guitar. What's the story behind it?
That was a reiteration of the descending line I'd used for "Blossom" [from Sweet Baby James], but with a different rhythm. It sounds like Motown because of the similarity to the Jackson 5 tune "I Want You Back." It was another instance of starting with one of those musical wheels and the lyric coming along with it very quickly.
I did play the guitar on the original track, and I shift the capo position for every verse, modulating up a whole tone by going to the V of the new key [hitting that chord to set up the modulation]. I'm always playing out of a D fingering and sliding the capo up for every new verse [starting with capo 2, then 4 and 6].
That's right. E, A, D and G are my go-to positions, and I shift them around depending on what inversion of the chord the melody line is in and what my vocal range will accommodate. I can sing from G to about an F, so I've got almost two octaves. People are surprised at how low my range is because it sounds like I'm singing in a higher range.
Perhaps the chimey sound of the capo of a full-sized acoustic contributes?
That may be true. My main Olson is a medium size that's larger than a parlor guitar but smaller than a dreadnought [the Olson SJ is a "small jumbo"]. My guitar style is based on plucking a bass line with my thumb.
I do a sort of seesaw between the fingers and the thumb to give the music somewhat of a Latin feel, or like a baritone sax with the tenor and trumpet above. But I like to have a guitar that will speak in the bass range because I want to hear that bass line come out.
I always play the 3rd on my A- and D-shape chords with my index finger, so it's inverted in a way that allows me to hammer off and sort of pick with the left hand in the style I'm known for, like on "Country Road".
I invented those chord shapes. I didn't get my fingering from anyone. I created my own chord constructions when I was learning to play. It's a primitive style, but when I play in A, and sometimes in D, I can make my way through some pretty sophisticated chord changes.
That's what American Standard is all about. It's a folk player with a background in Protestant church hymns stretching out into jazz standards that I've known since I was a kid listening to the family's record collection of Broadway musical soundtracks.
Is there a particular track or two that you chose specifically because of the guitar part?
Every song on the album is a guitar song. I sat down with Pizzarelli and played him what I had, but in many cases that was just a verse and a bridge and maybe an ending. He helped find brilliant musical routes through the arrangements using chord substitutions or subtle key changes. Listen to the chord changes on "Moon River."
It starts in A fingering [capo 1, key of Bb], but modulates to C [Db] for the instrumental release where Larry Goldings plays a melodica solo. That's my guitar arrangement, and John accompanies me, but it doesn't have drums or bass. John plays an acoustic with seven nylon strings on a lot of the album.
He basically played bass on a number of the songs just by having that extra low string, which is usually tuned down to B, C or D. He's a master. John carries his father Bucky Pizzarelli's guitar style and vocabulary into the future. It's a beautiful thing to see. [Pizzarelli died of the coronavirus on April 1.]
Will John be with you when the band gets back on the road?
That's a good question, and the answer depends on how many tunes from the new album wind up in the set next year. I've got a repertoire of around 200 songs, about 150 of which I've written myself.
There's always a tug of war between the new material, the hits and the deep-listening material that I love to play with my amazing band that includes master guitarist Michael Landau, who can play anything.
Playing for years with the likes of Landau, Steve Gadd on drums, Jimmy Johnson on bass, Jeff Babko on piano and truly incredible musicians and singers at every position is the ultimate high. So there's always a tendency for me to want to write and record with all of them.
Recording with John on this album was a way to get back to the core, and also to offer my iterations of these songs that I had been playing for many years. The tour with Jackson Browne is rescheduled for next May, a year later than originally planned.
It's pleasantly surprising that a vast majority of folks are holding onto their tickets and sales continue to be strong. One year is sort of a hiccup. But if we have to jump the tracks again, it's going to be a very different world and a very unknown resolution.
James Taylor's new album, American Standard, is out now via Fantasy.
All the latest guitar news, interviews, lessons, reviews, deals and more, direct to your inbox!
Jimmy Leslie has been Frets editor since 2016. See many Guitar Player- and Frets-related videos on his YouTube channel, and learn about his acoustic/electric rock group at spirithustler.com.