10 of George Harrison's Best Tracks
These deep cuts showcase a confident artist at their creative peak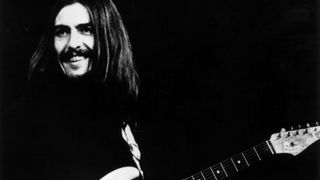 (Image credit: Keystone/Getty Images)
In 1966, while the Beatles were global superstars, George Harrison stopped playing the guitar.
Then, in the summer of 1968, as abruptly as he'd abandoned the instrument, Harrison recommitted to it.
It was impossible not to notice a transformation not only in Harrison's songwriting but also in his guitar playing.
Here are ten of his best from the late '60s and beyond…
1. "Not Guilty" from 'Anthology 3' (1996)
Recorded in early August 1968, "Not Guilty" is the first of Harrison's tracks attempted following his recommitment to the guitar, and his revived interest in the instrument was evident during the sessions.
The song is distinguished by his aggressive lead work, performed on Lucy, the 1957 Gibson Les Paul that Eric Clapton gave to him.
Harrison devoted six and a half hours to his second lead guitar overdub, experimenting to get exactly the sound he wanted. He performed in the control room of Abbey Road's Studio Two, with his amp placed at one end of the facility's echo chamber and a microphone at the other to pick up the signal.
Despite the time and effort spent, "Not Guilty" was not included on the White Album and was not officially released until it appeared on the compilation Anthology 3 in 1996.
2. "While My Guitar Gently Weeps" from 'The Beatles' (1968)
One of the White Album's standout tracks, and among the most celebrated songs in Harrison's catalog, "While My Guitar Gently Weeps" is notable in part for Eric Clapton's uncredited lead guitar performance.
Harrison recorded a solo acoustic guitar demo of the song, and the Beatles then recorded a version of it, but Harrison, unhappy with the results and the group's lack of interest in the song, scrapped the recording.
A new version was begun, but Harrison was still dissatisfied with his bandmates' lackluster performance. Shortly afterward, he asked Clapton to perform on the song, knowing his presence would make the others try harder. Clapton contributed the searing lead lines and solos using Lucy, the cherry-red 1957 Gibson Les Paul he'd gifted to Harrison earlier that year.
"While My Guitar Gently Weeps" has the further distinction of being the first Beatles song recorded on Abbey Road Studios' brand-new eight-track tape deck.
3. "Savoy Truffle" from 'The Beatles' (1968)
Harrison wrote this soul-inflected rocker in tribute to Clapton's love of chocolate. "He was over at my house and I had a box of Good News chocolates [made by British confectioner Mackintosh's] on the table and wrote the song from the names inside the lid," Harrison explained in his 1980 autobiography, I Me Mine.
Among the treats mentioned are Creme Tangerine, Montelimar, Ginger Sling and the diamond-shaped Savoy Truffle. Clapton's chocolate consumption was so great that he developed numerous cavities, prompting the song's taunting refrain, "You'll have to have them all pulled out after the Savoy Truffle."
Harrison wanted the song's brass overdubs to sound distorted and had their signal passed through a pair of high-gain amplifiers. The effect didn't go unnoticed by producer George Martin, who complained that it sounded rather bright. "Yeah," Harrison said, "and I like it."
After years of suffering his musical partners' lack of interest in his songs, Harrison had finally decided to start doing things his way.
4. "Old Brown Shoe" B-Side to "The Ballad of John and Yoko" (1969)
Harrison's riches as a songwriter were showing more and more in the Beatles' final years, and "Old Brown Shoe" is among the finest examples. Its rollicking rhythm was certainly a fresh new groove for the group, and his guitar solo, in particular, is a stunning display of expressive melody and potent tone.
Harrison wrote the song on piano, "and then began writing ideas for the words from various opposites," he wrote in I Me Mine. "Again, it's the duality of things – yes no, up down, left right, right wrong, et cetera."
On the whole, the lyrics seem to be an expression of love for his wife Patti, with perhaps references to his disillusionment with the Beatles, particularly after the troubled White Album and Let It Be sessions.
Harrison handles guitar, organ and bass duties on the song, while McCartney plays piano and sings backing vocals with the otherwise absent Lennon.
5. "Something" from 'Abbey Road' (1969)
Considered one of the finest songs in Harrison's catalog, "Something" was written in 1968 during the White Album sessions. As with "Old Brown Shoe," he wrote it on piano. "There was a period during that album when we were all in different studios doing different things trying to get it finished, and I used to take some time out," he recalled. "So I went into an empty studio and wrote 'Something.'"
The song's opening line comes from the James Taylor song, "Something in the Way She Moves," one of the tracks on his 1968 Apple Records debut album. Harrison presented "Something" to the Beatles in January 1969 during the making of Let It Be. As usual, the others weren't interested in the song, and Martin considered it "too weak and derivative," according to writer Mikal Gilmore.
Harrison proved everyone wrong when he revived it during the making of Abbey Road.
6. "Here Comes the Sun" from 'Abbey Road' (1969)
Harrison's wrote "Here Comes the Sun" while relaxing in Eric Clapton's garden, having decided to take the day off from dealing with the growing financial problems at the Beatles' Apple Corps.
"We were walking around the garden with our guitars," Clapton recalled. "And I don't do that! This is what George brought to the situation. He was just a magical guy." Looking out over the garden, they began to sing, "Here comes the sun." Says Clapton, "And I just watched this thing come to life."
While on the surface a folk-rock song, "Here Comes the Sun" uses mixed and asymmetrical meters, common in Indian classical music, in the descending arpeggio passages that conclude the verses and serve as the song's middle break.
The timing shifts were complex enough that Harrison warned Starr ahead of time. "He comes in to me – he'd been to India again, I think – and he says, 'I've got this song. It's like seven-and-a-half time,'" Starr recalled. "I had to find some way that I could physically do it, and do it every time so it came off on time."
The recording also features Harrison's Moog synthesizer, at the time a new instrument. Like the sitar, it was yet another unusual sound he helped introduce to rock music.
Harrison's slide guitar riff on his chart-topping debut solo single is as memorable as his vocal melody. It's here that his legend as a slide guitarist begins, and with good reason: Those swooping lines, played on Rocky, his 1961 Stratocaster, are one of rock and roll's most identifiable riffs.
Producer Phil Spector recalled that Harrison overdubbed his slide guitar part to distraction. "It must have taken him about 12 hours to overdub the [slide] guitar solos," Spector said. "He had nine harmonies working. He must have had that in triplicate six-part harmony before we decided on two-part harmony."
Harrison's perfectionism paid off. "My Sweet Lord" went to the top of the charts around the world, became the best-selling single of 1971 in the U.K., and was the first number-one single by any former Beatle.
Remarkably, Harrison was successfully sued for copyright infringement in 1976, when a judge determined that he had subconsciously based his song on "He's So Fine," a 1963 hit for the Chiffons, composed by Ronnie Mack.
Harrison's gorgeous slide work is all over this gothic ballad, like glimmers of light amid the dark imagery. Taking inspiration from the philosophy of the Radha Krishna Temple, the U.K. headquarters for the Hari Krishna movement, Harrison wrote the song as a warning to reject the forces that distract one's attention from spiritual concerns. The corrupting influences he mentions include "thoughts that linger," "sadness," "soft-shoe shufflers" (con artists), "greedy leaders" (politicians) and "maya," or illusion.
Like many of Harrison's compositions, "Beware of Darkness" draws its enigmatic power from harmonic complexity. The key center shifts between E major, G major and D major, suggesting the opposing forces that cause, as Harrison sings in the middle eight, "each unconscious sufferer" to "wander aimlessly."
In addition to Harrison's own performance of it at his 1971 Concert for Bangladesh, with vocal assistance from Leon Russell, "Beware of Darkness" has been recorded by Russell, Marianne Faithfull, Joe Cocker, Matthew Sweet and Susanna Hoffs, and Sheryl Crow.
Jim Price and Bobby Keys' majestic horns combine with the lilting pedal-steel work of Nashville session musician Pete Drake on this spiritually uplifting track. Composed after Harrison's stay with Dylan and the Band in November 1968, "All Things Must Pass" is about the transient nature of existence and the need to remain optimistic in the face of futility.
Harrison told the late Billboard editor Timothy White in 1987 that the song was itself influenced by Robbie Robertson's "The Weight," and that Harrison was aiming to create a song that, similarly, had "a religious and a country feeling to it."
He introduced the song on the first day of the Beatles' rehearsals for Let It Be, January 2, 1969. The group worked on the song later that month and even discussed Harrison performing it on his own for the album.
He eventually recorded a solo version of it on February 25, 1969, his 26th birthday, at Abbey Road Studios, along with demos of "Old Brown Shoe" and "Something." That version of "All Things Must Pass" was released on the 1996 Beatles collection Anthology 3.
Harrison wrote "What Is Life" in the spring or summer of 1969 while driving from his home to London to produce Billy Preston's Apple Records debut album. He thought it would be a "catchy pop song" for Preston to record but ultimately decided to keep it for himself.
Although the Beatles were recording Abbey Road, Harrison chose to add the song to his growing stockpile of tunes destined for All Things Must Pass.
Kicking off with a descending fuzz-tone riff played by Harrison, "What Is Life" blends elements of funk, Motown, gospel and symphonic pop in Phil Spector's dense Wall of Sound production.
Clapton, bassist Carl Radle and drummer Jim Gordon hold down a steady beat on the verses and kick into a galloping rhythm on the chorus, while Harrison adds slide guitar flourishes on the final verse that brings the song to a rousing climax.
The recording – which reportedly features the entire Delaney & Bonnie group and the four members of Badfinger – is nothing less than the sound of pure, unadulterated joy.
All the latest guitar news, interviews, lessons, reviews, deals and more, direct to your inbox!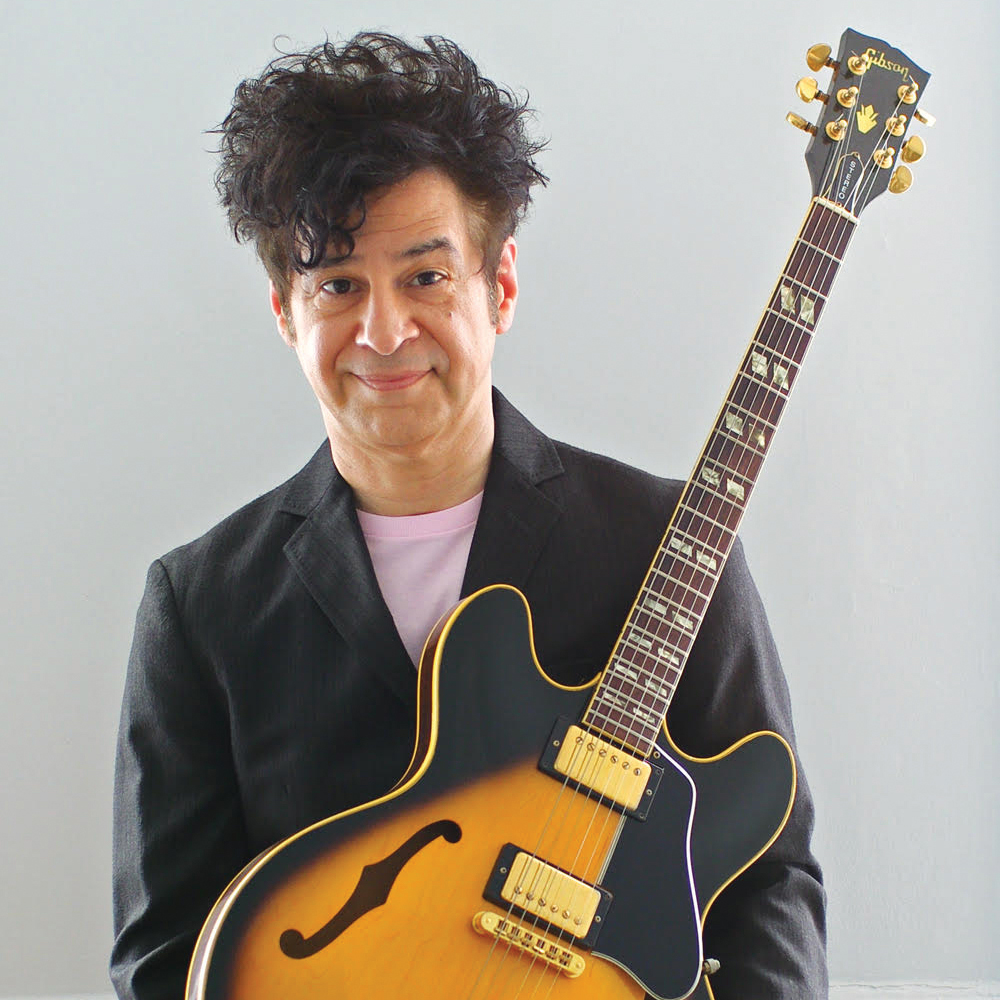 Guitar Player editor-in-chief
Christopher Scapelliti is editor-in-chief of Guitar Player magazine, the world's longest-running guitar magazine, founded in 1967. In his extensive career, he has authored in-depth interviews with such guitarists as Pete Townshend, Slash, Billy Corgan, Jack White, Elvis Costello and Todd Rundgren, and audio professionals including Beatles engineers Geoff Emerick and Ken Scott. He is the co-author of Guitar Aficionado: The Collections: The Most Famous, Rare, and Valuable Guitars in the World, a founding editor of Guitar Aficionado magazine, and a former editor with Guitar World, Guitar for the Practicing Musician and Maximum Guitar. Apart from guitars, he maintains a collection of more than 30 vintage analog synthesizers.