"I Can't Do That. Nobody Ever Plays On the Beatles Records": Here's Why Eric Clapton Nearly Didn't Record His Epic "While My Guitar Gently Weeps" Guitar Solo
George Harrison recounts the events in this classic interview from the GP archive.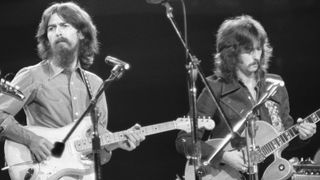 (Image credit: Getty)
Recorded in 1968 for the Beatles' self-titled White Album released later that year, the George Harrison-penned "While My Guitar Gently Weeps" famously features a weeping guitar solo by his friend Eric Clapton.
Originally written by Harrison on acoustic guitar, "While My Guitar Gently Weeps" gathered momentum as the Beatles attempted, and reattempted, to record the song.
Though Harrison had recorded a backwards guitar solo in the same vein as the 1966 Revolver track "I'm Only Sleeping" he was dissatisfied with the results.
Later on, Clapton was persuaded to step in. However, as Harrison states in this classic GP interview he was initially reluctant to join the legendary group in the studio.
The following interview extract originally appeared in the November 1987 issue of Guitar Player featuring Harrison on the cover…
Clapton has mentioned you as an influence, and there was that period where you both sounded very similar. "Something" [Abbey Road] is not all that far removed from, say, "Wonderful Tonight" [Slowhand].
Yeah, I love Eric. I love the touch he has on his guitar. When he comes over to play on my songs, he doesn't bring an amplifier or a guitar; he says, "Oh, you've got a good Stratocaster."
He knows I've got one because he gave it to me. [Laughs] He plugs in, and just his vibrato and everything… he makes that guitar sound like Eric.
That's the beauty of all the different players that there are. There are players who are better than each other, or not as good, but everybody's got their own thing.
It's like a 12-bar blues. You can't do a 12-bar the same way twice, so they say. There's things that Eric can do where it would take me all night to get it right – he can knock it off in one take. Because he plays all the time.
But then again, when we're listening to some of my slide bits, he'll look at me, and I know he likes it. And that, for me, if Eric gives me the thumbs up on a slide solo, it means more than half the population.
It seems odd that the one real guitar-solo vehicle you wrote with the Beatles, "While My Guitar Gently Weeps," was the only Beatles song where you had Eric Clapton play the solo. From a producer's point of view, that's a perfect move. But as an artist with an ego, didn't you want your own stamp on that solo?
No, my ego would rather have Eric play on it.
I'll tell you, I worked on that song with John, Paul and Ringo one day, and they were not interested in it at all. And I knew inside of me that it was a nice song.
The next day, I was with Eric, and I was going into the session, and I said, "We're going to do this song. Come on and play on it."
He said, "Oh, no. I can't do that. Nobody ever plays on the Beatles records."
I said, "Look, it's my song, and I want you to play on it."
So Eric came in and the other guys were as good as gold – because he was there. Also, it left me free to just play the rhythm and do the vocal.
So Eric played that, and I thought it was really good. Then we listened to it back and he said, "Ah, there's a problem though. It's not a Beatle-y enough" – so we put it through the ADT [automatic double tracker] to wobble it a bit.
Were many of the guitar solos cut live?
Yeah, in those days, we only had, like, four tracks. On that album - the White Album – I think we had an eight-track by then. So some things were overdubs or we had our own tracks.
I would say the drums would probably all be on one track, bass on another, the acoustic on another, piano on another, Eric on another and the vocal on another, and then whatever else.
But when we laid that track down, I sang it with the acoustic guitar with Paul on piano, and Eric and Ringo – that's how we laid the track down. Later, Paul overdubbed the bass on it.
Browse the Beatles' catalog here.
All the latest guitar news, interviews, lessons, reviews, deals and more, direct to your inbox!