Five Storied Guitars from George Harrison's 'Concert for Bangladesh'
Featuring Bob Dylan's Martin D-28, a rare Gibson Explorer, a mystery Fender Stratocaster and more...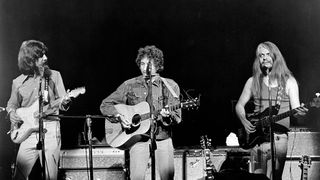 (Image credit: Michael Ochs Archives/Getty Images)
As Peter Frampton noted, there was no shortage of guitarists at the Concert for Bangladesh. And while some of the electric guitars that were played at one or both shows are famous – consider Eric Clapton's "Brownie" Strat, which he used for the second show after abandoning the Gibson Byrdland he played in the first set – others remain mired in mystery.
Here's a guide to the main examples wielded at the concerts.
1. George Harrison's Mystery Strat
Harrison spent much of the show playing a stripped Fender Strat with a '50s maple neck, a guitar whose background has baffled many. Its only known appearances were at the Concert for Bangladesh and on The Dick Cavett Show two months later, when Harrison sat in on slide guitar with Gary Wright and the Wonder Wheel.
Some believe he rented it from Manny's Music in Manhattan, but it's unlikely he would have had the same guitar twice. And as Molland says, "I don't think he would've rented a guitar for a show like that."
Perhaps it was a gift from Clapton, who had purchased six mid-'50s Strats for a bargain price at the Sho-Bud guitar shop in Nashville, and given three of them to Pete Townshend, Steve Winwood and Harrison.
Another theory is that the Bangladesh Strat is a late '50s-early '60s transitional model that featured a maple neck and three-ply pickguard, and that Harrison had simply stripped it of its finish, just as he and Lennon had done with their Epiphone Casinos around the time of the White Album.
"There was a phase in England, where everybody wanted their Fender guitars stripped," Frampton says, "including me, [Humble Pie bassist] Greg Ridley and [Small Faces/Faces multi-instrumentalist] Ian McLagan. Ian and I were pretty handy, so we got a paint stripper, got all the paint off and put polyurethane varnish on. None of us realized at the time how we were destroying the value of those guitars."
Of course, many players of the time simply gave their now-priceless guitars – like Harrison's rosewood Telecaster – away to friends. Harrison related the story of how he gave this particular Strat to Spike Milligan: "He was at my house one day with Peter Sellers.
Peter was playing the drums, Spike was playing the piano, and I was playing guitar. Then Spike got off the piano and wanted to play the guitar, so I plugged him in to this Strat through a little Champ amplifier.
He said, 'Oh, I haven't played for 30 years,' but he just picked it up and it sounded like Django Reinhardt or something. And I thought, Well, that's good. So when he left, I put it in the case, and put it and the Champ in Peter Sellers' boot and told him, 'When you drop Spike off give him this. It's the Strat from the Concert for Bangladesh.'"
2. 1963 Martin D-28
Bob Dylan bought this Martin in the late '60s and used it for 10 years, according to his repairman, Larry Cragg, who bought the guitar from him in 1977 for $500. Cragg, who nicknamed it Bob, kept the guitar unplayed in its original case and in a humidity- and temperature-controlled environment until he sold it at auction in 2017 for $396,500.
3. Harptone L-6NC
This six-string acoustic guitar, with its zero-fret design and unique headstock shape and double-neck truss rod, is currently on display at the Hard Rock Cafe in New York City. It's said to have been a gift to Harrison from Peter Drake, the pedal-steel master who played on All Things Must Pass.
Harptone asked Drake to give a few guitars to the Beatles to try out, and Ringo Starr liked his so much that the company made him a signature model. Harrison owned and used at least four, including this guitar and an L-12NC 12-string that he purchased for approximately $150 prior to recording the White Album.
Badfinger members used the 12-string on the sessions for All Things Must Pass and Badfinger bassist Tom Evans played it at the Concert for Bangladesh. Harrison played the L-12 when he guested on Splinter's 1974 debut album, The Place I Love, and gave it to member Bobby Purvis. The guitar was auctioned in 2005 and sold to a private collector. It appeared at the Rock & Roll Hall of Fame Museum's Concert for Bangladesh exhibit in 2005–2006.
4. 1958 Gibson Explorer
This is the Explorer on which Don Preston delivered his fiery solo on "Jumpin Jack Flash," inspiring Eric Clapton to get one of his own. The Explorer was among the 'Modernistic' solidbody designs Gibson developed alongside the Flying V and Moderna in the late '50s (although it is believed no Moderna guitars ever made it into production.) Preston's guitar is from the model's first year, when Gibson shipped just 19 instruments, making it one of the most valued guitars on the vintage market.
5. Gibson Byrdland
A rental or a guitar that he owned? Nobody seems to know when Clapton picked up the Byrdland he played at the early show on August 1, but his choice of the guitar continues to be a source for discussion among guitarists.
Some believe it was a 1950s model, pointing to the rounded cutaway, which was sharper on 1960s models. Others point to the double parallelogram inlays and black pickguard, which are typical for the 1960s ES-350T thinline model. Some claim that the body looks deeper than a Byrdland or 350T, suggesting that it's an L-5 CES. But other features – including the headstock's "torch" inlay, white-outlined truss-rod cover, gold-plated tuners, f-hole bindings, multi-ply body binding and the tailpiece – strongly suggest it's a Byrdland. Even Clapton said so.
Buy the Concert for Bangladesh on CD and vinyl here.
All the latest guitar news, interviews, lessons, reviews, deals and more, direct to your inbox!