"If I Can Lift Myself With a Solo or Riff, It Can Re-Ignite Me and Save the Show": Taylor Goldsmith Talks Dawes' Latest Genre-Extending Effort and the Power of Lead Guitar
Having played alongside the likes of Blake Mills and Duane Betts, the Dawes frontman knows how great lead guitar work can give performances a powerful edge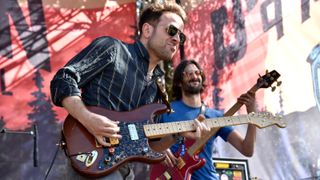 (Image credit: Tim Mosenfelder/Getty Images)
The group Dawes debuted in 2009 with North Hills, a fresh slice of Americana distinguished by its vintage vibe. The album was the product of young guys who had musical depth beyond their years. Singer/guitarist Taylor Goldsmith was 24; his drum-playing brother, Griffin, was 19; and bassist Wylie Gelber was 21. North Hills marked a left turn from the indie rock the Los Angeles natives played in the band's previous incarnation, when it was known as Simon Dawes and featured lead guitar wunderkind Blake Mills.
Over the 14 years since their debut, Dawes have expanded their palette, reaching into a variety of styles, including minimalist pop rock and '80s synth sounds. Their eighth album, last summer's Misadventures of Doomscroller (Rounder), extends the band's reach even further. Produced by Jonathan Wilson, who worked with them on their first two releases, it's a musically expansive effort on which Goldsmith takes extended solos and the compositions hint at prog rock and even fusion. The album features the band's core of the Goldsmith brothers, Gelber and keyboardist Lee Pardini, but onstage the group is augmented by Trevor Menear, who shines as lead guitarist.
Prior to Dawes' 2023 spring tour, Gelber announced that he would be leaving the band to focus on his custom instrument company, Gelber & Sons. At press time, the group had not announced a replacement. We spoke to Goldsmith from New York City, where he was living while his wife, actress Mandy Moore, filmed the Hulu show Dr. Death.
Dawes' first two albums had a very folky Americana vibe, but the group has moved away from that over the years. Why is that?
We grew up on Bowie, Elvis Costello, the Rolling Stones – pillars of rock and roll education. But right before we recorded North Hills, I began to appreciate the power of lyrics. Music like early Bob Dylan and the Band and Crosby, Stills & Nash, which I had heard my whole life, started to make sense to me, and that had a huge impact. Once I heard how far words can take a song, I really committed to being a lyricist. That really had an impact on the sound of that album.
You clearly enjoy playing lead guitar, and it seems to be an expression of you just as much as the singing or songwriting.
That's true, and if I'm having a rough night, I am always down to play guitar. And If I can lift myself with a solo or riff, it can re-ignite me and save the show. When we first started, all my solos were composed. I didn't know how to think like a soloist or improviser. I had to learn as the band went along. Being with Blake for so long, I didn't really play solos.
After your fourth album, Duane Betts, an old friend of yours, joined the road band, and you've had another guitarist ever since. What's the benefit?
We just wanted to open up and make the show bigger, and Duane is a powerhouse guitarist. He doesn't mind sinking into the notes instead of just trying to blaze. He can blow your mind with his melodies. He's so confident that he's willing to let it marinate in a way that takes a lot of maturity to be cool with. Having him, and now Trevor, onstage just gives us one more voice to pass the ball to, and while they're very different players, they both add a lot.
Griffin and Lee play a ton of L.A. sessions, and they recommended Trevor. There's something very special about him; he has a very angular jazz approach. He'll get out and open up new lines.
So much of your early music was about breakups and romance. Is it harder to write now that you're married and have a family?
It's just different. I don't want to write those kinds of songs. I have a hard time enjoying them, and I don't mean just those written by me, unless they offer some aspect of who someone is or help me reprocess an emotion.
Sometimes I hear my own older songs and think, Why am I singing about this? It felt so indiscreet. If I am going to get so personal, I want there to be a point. I'm proud that I wrote those songs, and all my favorite writers have those periods, but I thought it was essential to be able to take on a different perspective as well.
"When My Time Comes" [from North Hills] is anthemic, with a big sing-along chorus. Were you aware of that power when you wrote it?
Definitely not. It wasn't even on North Hills originally. I just had this chorus and the guitar riff. A friend of mine heard it after we had finished recording and he said, "You have to finish this and put it on your record because it's going to be a big deal." I was doubtful, but I wrote the first verse, and kept insisting on forcing words into the "woah, woah woah" part.
I finally gave up and let it be wordless, and I didn't even write the second verse until I was in the studio. That song had so many chances to not be on the record, and if it wasn't, I don't think we'd still be a band. It became such a big part of the show right away. People who had never heard it immediately started singing along by the last chorus.
When we cut North Hills, the idea of having a full-time music career was drifting away, and I was just happy to have a record to play for my friends at work. I figured we'd be a local band and play when we could. We all lived together, we toured with Incubus, and it felt like it was moving. Then that ended and I had a regular job at a home-warranty insurance place, and we played around L.A. We all quit our jobs when we got offered an opening slot on a Delta Spirit tour, and that song resonated in a short set and led us to a manager and agent. I really don't know if that would have happened without "When My Time Comes."
All the latest guitar news, interviews, lessons, reviews, deals and more, direct to your inbox!