"It's an Apocalyptic Vision of the World Crumbling Into Pieces": David Crosby Reveals How "Wooden Ships" Came to Be
In his last 'Guitar Player' interview in November 2022, the late songsmith explained how he, Stephen Stills and Paul Kantner wrote this visionary classic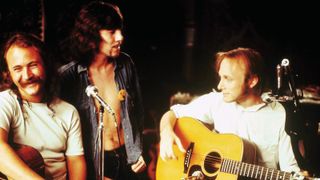 (Image credit: RB/REDFERNS/GETTY IMAGES)
"It's an apocalyptic vision of the world crumbling into pieces," David Crosby told Guitar Player of "Wooden Ships," the sometimes moody, often turbulent anti-war rocker that appeared on Crosby, Stills & Nash's self-titled debut album in 1969.
Although written at the height of the Vietnam War, it has become one of the late guitarist's most enduring numbers.
And in his last interview with us, in November 2022, he noted with irony and dismay that "everything in the song feels like it's coming true today. How weird is that?"
Three Guitarists Walk Onto a Boat…
Oddly, the visions of doomsday foretold in "Wooden Ships" ("Horror grips us as we watch you die/all we can do is echo your anguished cries") were written on the water during an idyllic period in Crosby's life. He'd just bought a boat, Mayan, and docked it in Fort Lauderdale. To christen the vessel, he invited his new bandmate Stephen Stills and Jefferson Airplane's Paul Kantner for a fun and peaceful hang.
"Stephen and I had just started CSN with Graham [Nash]," Crosby recalled. "We weren't intentionally writing material for what became our first record. But that's what happened."
The three musicians had acoustic guitars on hand – Crosby brought his Martin D-18, which had been converted to a 12-string – and spent a good chunk of time merrily strumming away in the boat's cabin.
"I already had some pieces of a song, and before you knew it, we took what I had and blew it up into 'Wooden Ships,'" Crosby says. "It was a significant moment for me, because I realized, Wow, you don't have to write this shit all by yourself; you can collaborate with other people. I found out that I really liked it."
Crosby says the bulk of the song's chord changes and the melodies are his. "Stephen added some chords, and he wrote words to the second verse," he recalls. "A lot of the stuff at the front was Kantner – it sounds like him. The guitar intro was Stills. It's a good mixture of talents. I don't work with chumps."
One thing that Crosby neglected to bring aboard was any kind of tape recorder. "I wouldn't have needed it anyway," he cavalierly attests. "The song was so fucking good, there's no way I'd forget it."
Stephen Stills: MVP
A few months later, Crosby, Stills & Nash convened at Wally Heider Studios in Hollywood to cut their debut record. "We liked working at Wally's," Crosby says. "What you played was what came back to you."
To record "Wooden Ships," he played an electric 12-string that Alembic had built for him. "That's probably the best guitar I ever had. I'm pretty sure I put it through a Fender Twin. I got a great sound."
Recording the basics with drummer Dallas Taylor went smoothly. Crosby believes they had a keeper in two or three takes. "We had fun with it. Things were new and we were excited," he says. "Those hard guitar chords in the beginning, that's me. Stephen played bass and lead guitar."
"Wooden Ships" contains multiple examples of Stills' bravura soloing. One minute, he's firing off bracing rock, the next he's in a mellow jazz-like mode. "His playing is breathtaking," Crosby marvels. "He didn't plan anything out because he didn't have to. The guy's good, man. He took a few whacks at it, and we picked the best one."
The Song Doesn't Remain the Same
Because of a messy contract dispute, Paul Kantner's name didn't appear as a co-writer of "Wooden Ships" on the original May 1969 release of Crosby, Stills & Nash. When the matter was resolved, the Airplane recorded their own chilled-out version of the song and included it on their album Volunteers.
In another strange twist, the 1969 Woodstock festival saw both bands – Crosby, Stills & Nash, joined by Neil Young, and the Jefferson Airplane – perform the song during their sets.
"I thought it was cool for the fans because they got two very different visions of the song," he enthuses. "At the end of the day, the song is really good. It's got lots of imagination and flavor. I think that's why it's lasted."
Order Crosby, Stills & Nash here.
All the latest guitar news, interviews, lessons, reviews, deals and more, direct to your inbox!
Joe is a freelance journalist who has, over the past few decades, interviewed hundreds of guitarists for Guitar World, Guitar Player, MusicRadar and Classic Rock. He is also a former editor of Guitar World, contributing writer for Guitar Aficionado and VP of A&R for Island Records. He's an enthusiastic guitarist, but he's nowhere near the likes of the people he interviews. Surprisingly, his skills are more suited to the drums. If you need a drummer for your Beatles tribute band, look him up.