50 of the best acoustic guitarists of all time
A pick of transcendent superheroes of wood, steel, and nylon.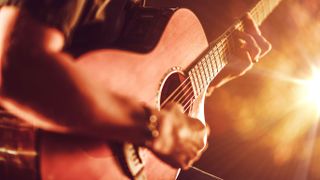 (Image credit: Getty)
By nature of the fact that acoustic guitars predated electrics by a few centuries, the list of highly influential guitar-wielding instrumentalists and singer-songwriters is huge by comparison. In that light, trying to whittle this story down to just 50 "transcendent" acoustic players was a challenge for all of us.
We haggled endlessly over the 50 candidates and ultimately did our best to present a wide swath of guitar pioneers, stylists, and innovators who have, each in their own way, pushed the envelope of guitar music for the benefit of humankind. Of course, there are many more in the genres of blues, country, classical, folk, jazz, pop, rock, and new age whose contributions to the lexicon of modern guitar music would earn them a place on any list of Top Acoustic Players.
Nevertheless, we trust the guitarists we've presented here will inspire you to check them out via all the usual media channels, and, hopefully, learn something from what they bring. We certainly did!
Muriel Anderson
Besides being a badass finger-stylist, harp guitarist, stylistic adventurer, and the first woman to win the National Fingerpicking Guitar Championship, Anderson gives back to the community through her Music for Life Alliance and her hosting of Muriel Anderson's All-Star Guitar Night.
—MM
Badi Assad
Due to her astounding technique and impassioned performances, GP readers voted Assad the Best Acoustic Finger-stylist in 1995, unaware that, three years later, focal dystonia would nearly destroy her abilities. She persevered, made a full recovery by 2003, and recorded Three Guitars with Larry Coryell and John Ambercrombie to celebrate.
—MM
Chet Atkins
Though Chester Atkins helped introduce the electric guitar into popular music, his stunning fingerpicking and counterpoint translated to the acoustic version as well. Many of his records offered a few nylon and steel flat-top tracks; while 1967's Class Guitar was performed entirely on nylon string. A Certified Guitar Player, whatever the instrument.
—MR
Pierre Bensusan
This French-Algerian guitarist is widely recognized for his ability to fuse musical influences from many cultures and present them in his compositions with uncanny skill, using his guitar to drive the melody and rhythm, while often bringing in vocal improvisations to create the impression of a "group" performance for his audiences.
—AT
Liona Boyd
Boyd entered GP's Gallery of the Greats by winning Classical Guitarist of the Year honors five times. She has always been an ambassador of the classical guitar, as well as being open to spread the word by collaborating with rock, blues, and country players. Boyd is also a focal dystonia "survivor."
—MM
Maybelle Carter
A true pioneer and originator, "Mother" Maybelle introduced the fingerstyle technique called the "Carter Scratch" (or "Carter Family Picking"). That this style is still used today is a testament to her creativity and inspiration. Certainly, country guitar wouldn't be the same without her.
—MM
Martin Carthy
Considered the father of the English folk revival of the '60s, Carthy, with his formidable talents as a guitarist/multi-instrumentalist, singer, and deep scholar of traditional folk music, influenced Bob Dylan and Paul Simon, and helped give rise to such English folk-rock groups as the Albion Band, Fairport Convention, and Steel-eye Span.
—AT
Charo
With an over-the-top charisma that was made for televisions and concert halls, it might have been easy to dismiss Charo's astounding skills as a guitarist. Happily, GP readers didn't go there, and they twice voted her Best Classical Flamenco Guitarist in the World.
—AT/MM
Elizabeth (Libba) Cotton
Not "discovered" until she was in her 60s—and by the Seeger family no less—Cotten strung her guitar upside down, played alternating bass lines with her fingers and melodies with her thumb, and invented the fingerpicking technique known as "Cotten Picking."
—MM
Peppino D'Agostino
D'Agostino's style involves open tunings and percussive effects, which come to the fore in his melodic and technically challenging compositions. An engaging solo performer, he is also an active member of the Pacific Guitar Ensemble and has collaborated and recorded with classical guitarist David Tanenbaum, drummer Jeff Campitelli, and the legendary harpist/violinist Carlos Reyes.
—AT
Paco de Lucia
A virtuosic flamenco guitarist, de Lucia brought the Spanish guitar style into the modern age, adding jazz harmonies and scales to the traditional stylistic strumming. His late-'70s collaborations with John McLaughlin, Al Di Meola and Larry Coryell in duo and trio formats remain some of the greatest guitar records ever.
—MR
Ani DiFranco
DiFranco's popularity (she's a multiple Grammy winner/nominee), social-consciousness-raising songwriting, and thrilling percussive style not only inspired a wave of singer/songwriters, but also prompted new players to explore the many open and alternate tunings she deploys. GP has certainly covered many of her tunings—which DiFranco is always happy to share.
—JL/MM
Al Di Meola
After gaining acclaim as the stunningly fast electric guitarist for '70s fusion pioneers Return to Forever, Al Di Meola again won over legions of guitar fans with Friday Night in San Francisco—the 1981 acoustic album also featuring John McLaughlin and Paco De Lucia. The record would cement Di Meola's status as perhaps the most influential acoustic alternate picker ever.
—JG
Doyle Dykes
An amazingly accomplished player, Dykes was heavily influenced by Chet Atkins, but seemingly also by everything else he heard growing up. Whether on nylon-or steel-string guitars, his magnificent chops, sweet tone, inventive arrangements, and the way he puts it together so soulfully, make him a gold standard among the world's top fingerstylists.
—AT
John Fahey
Though often categorized as a progressive folk artist, Fahey called on a variety of styles—including blues, Native American music, Indian ragas, experimental dissonance, pop, etc.—to demonstrate that the fingerpicking techniques of traditional country and blues guitar could be used to express an alternate universe of musical ideas.
—AT
Vicki Genfan
Stepping into an arena of electric guitars and shredding, Genfan won Guitar Player's 2008 Guitar Superstar competition by relying on composition, dynamics, and some very cool percussive parts. We're extremely proud she is now one of the top solo-acoustic performers on the planet, and she continues to astound and thrill audiences.
—MM
Davey Graham
Jimmy Page's "White Summer/Black Mountainside" was reportedly inspired by Graham's version of "She Moved Through the Fair," which he played in DADGAD—a guitar tuning that would become de riguer in acoustic circles. Graham had a huge impact on the 1960s British Folk Revival, inspiring such famed acoustic fingerstylists as Bert Jansch, John Renbourne, and many others.
—AT
Stefan Grossman
A fine fingerstyle blues guitarist, Grossman learned early on about the idiom by taking lessons from, and documenting the music of, Reverend Gary Davis. The '60s boom in folk and acoustic blues inspired Grossman's performing career, one that would include many album releases, the co-founding of Kicking Mule records, a lessons column in GP, and producing instructional videos.
—AT
Michael Hedges
He was the new age hero of the Windham Hill era that's become an eternal acoustic icon. Hedges pioneered and popularized the two-handed percussive approach adopted by Kaki King, Andy McKee, and countless other modern maestros. He also brought the harp guitar to prominence, and was a thrilling live entertainer.
–J L
Pete Huttlinger
Performing everything from tender chord melodies to mindboggling multi-part pop song arrangements, crowd-pleasing fingerpicker Pete Huttlinger dazzled audiences from Carnegie Hall to Eric Clapton's Crossroads festivals before succumbing to a stroke last year at age 54. Thankfully, he leaves behind a vast catalog of stellar steel-string recordings.
—JG
Sharon Isbin
Isbin is a past winner of GP's Best Classical Guitarist honors, as well as holding multiple Grammy Awards and Grammy nominations. While she founded the Guitar Department at Juilliard, Isbin has also done a lot to evangelize classical guitar to non-classical audiences by collaborating with rock and jazz musicians.
—MM
Bert Jansch
His unique fingerpicking style, incorporating blues, folk, and jazz, influenced artists as diverse as Al Stewart, Paul Simon, Johnny Marr, Ian Anderson, Nick Drake, Donovan, Neil Young, Fleet Foxes, and Devendra Banhart, assuring the Scottish guitarist a place on this list. No Jansch "Blackwaterside," no Jimmy Page "Black Mountain Side"—'nuff said.
—MR
Robert Johnson
"No Robert Johnson, no rock and roll," so the saying goes, and that's a fair assessment of the impact this masterful blues guitarist/singer-songwriter had on modern music. Think of his tunes like "I Believe I'll Dust My Broom," "Sweet Home Chicago," and "Love in Vain," and it's easy to see why so many big names in rock ran with the ball that Johnson kicked.
—AT
Laurence Juber
Paul McCartney's former Wings man is a champion fingerpicker who has created a career niche playing solo arrangements of Beatles tunes. Witnessing Juber in action simultaneously covering the melody and bass lines to classics such as "Day Tripper" is a total gas, and the cozy tone he conjures on his signature Martin OM is simply lovely.
–J L
Phil Keaggy
With a solo career spanning over 40 years and 60 albums, this gospel-oriented guitarist/vocalist has achieved—and still enjoys—incredible popularity via his albums and concert appearances. Keaggy weaves loopers, EBows, and other effects into his fingerstyle playing to create beautifully textured music that inspires audiences and fellow guitarists alike.
—AT
Kaki King
The winner of GP's Best Acoustic Guitarist honors in 2013, King has thrilled audiences with her astonishing two-handed tapping skills for more than a decade. She continues to push musical—and guitar performance—envelopes as a multi-instrumentalist, film composer, and multimedia artist.
—JL/MM
Earl Klugh
Klugh was a 17-year old guitar prodigy when he surfaced on George Benson's White Rabbit album. Following a year in Benson's group and a spin with Chick Corea's Return to Forever band, Klugh set on to a solo career in 1976. Dozen of albums on, Klugh continues to play nylon-string guitar with supreme mastery and taste, making him a living legend in contemporary jazz.
—AT
Leo Kottke
Perhaps the single most influential acoustic guitar player of the past 50 years, Leo Kottke's asymmetrical fingerpicking patterns, resonant lowered tunings, ability to weave slide and fretted melodies into seamless tapestries, and his dedication to both 6-and 12-string guitars brought the acoustic from the folk house to the concert hall.
—J L
Leadbelly
Best remembered for tunes such as "Goodnight, Irene," "Rock Island Line," and "The Midnight Special," Leadbelly (a.k.a. Huddie Ledbetter) began performing with Blind Lemon Jefferson around 1912, and played a 12-string Stella guitar for much his life. Convictions for murder and other serious crimes did not derail his career or prevent him from having a big impact on America's burgeoning folk scene.
—AT
Adrian Legg
Rife with pedal-steel-style bends and banjo rolls, the hypnotic solo pieces of British fingerstyle virtuoso Adrian Legg defy categorization—which is no surprise, because Legg advises listening "outside the guitar." "For instance," he says, "talk to banjo players. They have great tricks, and they're happy to talk, because they're really quite lonely."
—JG
Andy McKee
Wonder of the modern world, McKee is a kid from Kansas that took his cue from past two-hand tappers and percussive slappers—including Billy McLaughlin and Michael Hedges—added baritone and harp guitars to his Greenfield arsenal, and became arguably the most popular acoustic cat on the Internet via homemade videos.
–J L
John McLaughlin
A scales master and spirit conjurer, John McLaughlin has many acoustic highlights, including the legendary trio with Al Di Meola and Paco de Lucia captured on Friday Night in San Francisco, and his raga rave ups with Shakti. He's played everything from a Gibson J-200 to a Godin Multiac Fretless SA with onboard synth access.
–J L
Tony McManus
One of the premiere purveyors of Celtic music, McManus displays an incredible ability to capture the melodic nuances of that ancient genre—including the sounds of fiddles and pipes—making his solo works supremely evocative. On his latest album, Mysterious Boundaries, McManus even deploys his signature PRS on a rendition of Bach's colossal "Chaconne in D Minor." Wow!
—AT
Memphis Minnie
This self-taught blues guitarist recorded more than 200 songs, but she wasn't afraid of strutting her stuff in live performance, and fearlessly entered cutting contests with the likes of Big Bill Broonzy, Muddy Waters, and others. Minnie's guitar legacy includes elegant fingerpicking, open tunings, and a truckload of vibe and attitude.
—AT/MM
Joni Mitchell
Mitchell's boundless creativity and ever-curious spirit has led her to develop unique fingerpicking patterns, odd and beautiful tunings, and interesting capoing methods—all in the service of often transcendent songs that have evolved from folk to rock to jazz and beyond.
—JL/MM
Monte Montgomery
Pushing both the sonic and structural limits of piezo-pickup-equipped dreadnoughts, Austin guitar-slinger Monte Montgomery proves that acoustic players can also take advantage of compression, distortion, feedback, and punishing neck-bend vibrato. Part Lindsey Buckingham, part Hendrix, Montgomery is explosive on stage. Catch him live while his guitar is still in one piece.
—JG
James Nash
Whether he's shredding on a Santa Cruz acoustic or a Fender Strat, Nash is an awesome player who can rip high-energy solos on a flat-top while expressing an improvisational freedom that's part-and-parcel of his deep musical knowledge and extensive background as a bandleader, sideman, and solo performer.
—AT
Gabriela Quintero and Rodrigo Sanchez
Under the band name Rodrigo y Gabriela, Quintero and Sanchez are co-conspirators in one of the most electrifying acoustic-guitar acts on earth. Embracing flamenco, rock, metal, and jazz—as well as wah, Whammy, and distortion pedals—the two nylon-string guitarists meld blazing runs and percussive rhythms into an uplifting and mind-blowing experience.
—MM
Preston Reed
Reed's percussive, two-handed style has been hugely influential on the acoustic scene, and it's easy to understand why when listening to his multi-faceted compositions. His seemingly impossible ability to simultaneously work chords, melodies, and polyrhythmic grooves into mini orchestral presentations that cover a multitude of styles is truly something to behold.
—AT
Django Reinhardt
With a powerful picking style that let him cut through two rhythm guitarists, Gypsy guitarist Reinhardt changed the face of jazz guitar with his Macca-ferri-designed Selmer acoustic. This, despite a left hand that was burned in a fire, leaving him essentially two fingers to play blistering, passionate, jazz solos that would challenge most five-fingered players.
—MR
Tony Rice
Rice combined bluegrass with jazz to become the defining player of the newgrass era. His seminal work with the David Grisman Quintet pushed beyond bluegrass boundaries, and when the Martin D-28 tonal torchbearer ordered his first custom dreadnought from Santa Cruz Guitars, it marked the beginning of the boutique builder boom.
–J L
Lawson Rollins
Nylon string lightning! Seeing Lawson Rollins rip arpeggios and scales using the classical "picado" fingerstyle technique is a mesmerizing experience worth watching again and again, and sharing with friends. Rollins is a star on YouTube, and he continues to gain international prominence blending various Latin styles into his own amalgamation.
–J L
Don Ross
Using blues, folk, jazz, and classical influences to create a style he calls "heavy wood," Ross is a fluid and inventive player with a percussive rhythmic style that propels his music with uncanny energy. Along with 19 solo and duo albums, Ross is the only person to win the National Fingerstyle Guitar Championship twice.
—AT
Andres Segovia
For many non-guitarists, Segovia is synonymous not just with classical guitar, but with the instrument itself. In the early and mid 20th century, he helped it become recognized as a serious musical instrument, on a par with the piano and violin, and worthy of a classical repertoire of its own.
—MR
Martin Simpson
One of the finest fingerstyle and acoustic slide guitarists in the world, Simpson brings together music of the British isles, American blues and other "old-time" influences, and infuses it all with his spellbinding technique and sumptious sounds that emanate from his signature PRS acoustic. Whether performing solo or in a small group, Simpson always brings the magic.
—AT
Bryan Sutton
Bluegrass flatpicker Bryan Sutton has won the IBMA's "Guitar Player of the Year" award ten times. Sutton's dreadnought playing is always rooted in melody and tradition, yet fearlessly in the moment of inspiration during improvisation. He blazes new trails on paths pioneered by Tony Rice and Charles Sawtelle, whom he succeeded in Hot Rize.
–J L
Richard Thompson
Thompson often assays some of the same distinctive bends he employs on electric when playing his light-strung, signature Lowden acoustic. And the amazing independence of his thumb and fingers make one man playing his unique blend of jazz, Celtic folk, country, blues, and 20th century classical music sound like two.
—MR
Merle Travis
Travis picking, named after the ever-useful thumbpick-and-index-finger approach of the late, great Merle Travis, never goes out of style—just ask virtuoso Travis pickers Tommy Emmanuel and Brian Setzer. Chet Atkins vividly conveyed the enormity of Travis's influence when he said, "I'd probably be looking at the rear end of a mule if it weren't for Merle."
—JG
Doc Watson
A master flatpicker and fingerstylist with an awesome sense of melody and groove, Watson's influence on folk and bluegrass music in the early 1960s made him a legendary figure in those genres. His recordings and performances inspired legions of guitarists to delve into the intricacies of his playing, leaving little doubt that Doc Watson will forever define what bluegrass picking is all about.
—AT
Xuefei Yang
Yang's incredible talent as a classical guitarist has brought her an equally incredible series of "firsts." She was the first Chinese guitarist to enter a music school, the first Chinese musician to receive a full scholarship to London's Royal Academy of Music, and the first Chinese guitarist to become renowned across the planet.
—MM
All the latest guitar news, interviews, lessons, reviews, deals and more, direct to your inbox!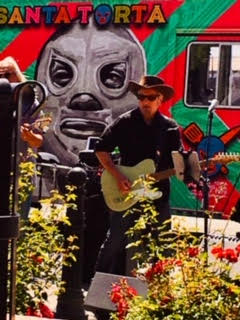 Art Thompson is Senior Editor of Guitar Player magazine. He has authored stories with numerous guitar greats including B.B. King, Prince and Scotty Moore and interviewed gear innovators such as Paul Reed Smith, Randall Smith and Gary Kramer. He also wrote the first book on vintage effects pedals, Stompbox. Art's busy performance schedule with three stylistically diverse groups provides ample opportunity to test-drive new guitars, amps and effects, many of which are featured in the pages of GP.