Save $20 On The Most Popular Pedal BOSS Ever Made: the DS-1 Distortion
By Scott Rowley published
Cyber Monday deals just got grungier: get Kurt Cobain's favourite pedal with two jumper cables at 22% off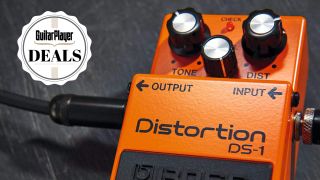 (Image credit: Future)
Since it debuted in 1979, the BOSS DS-1 has become known for its warm, tube-like growl and excellent dynamics and punch. Beloved of everyone from Steve Vai to Kurt Cobain, if you could have only one distortion box, you couldn't go wrong with a DS-1.
And, thanks to Guitar Center (opens in new tab), this Cyber Monday you can snap one up cheaper than ever, with two BIC-PC pedal jumper cables thrown in too: all for $69.99 (22% off). (opens in new tab)
BOSS DS-1 with 2 Cables: was $89.99, now $69.99 (opens in new tab)
One of the original BOSS pedals, the DS-1's saturated tone, hard clipping and touch responsiveness attracted big-name players - while the rest of us loved the affordable price tag. It's even more affordable with this 22% discount from Guitar Center, with two BIC-PC pedal jumper cables.
BOSS pedals at Guitar Center come with a 5 year parts warranty and a 90 day labor warranty. And they're as tough as tanks.
The deals can't go on for too much longer, but if you're looking for more great deals like this then check out our Cyber Monday Guitar Deals page where you can browse hot bargains on all kinds of guitar-related products.
Scott is the Content Director of Music at Future plc, which means he's responsible for the editorial strategy on online and print brands like Guitar Player, Guitar World, Total Guitar, Louder, Classic Rock, Metal Hammer, Prog, Guitarist and more. He was Editor in Chief of Classic Rock for 10 years and Editor of Total Guitar for 4 years. Scott regularly appears on Classic Rock's podcast, The 20 Million Club (opens in new tab), and was the writer/researcher on 2017's Mick Ronson documentary Beside Bowie (opens in new tab).
Over the years Scott has interviewed players like Jimmy Page, Slash, Brian May, Poison ivy (the Cramps), Lemmy, Johnny Depp (Hollywood Vampires), Mark Knopfler, Robin Guthrie (Cocteau Twins), Will Sergeant (Echo & The Bunnymen), Robert Smith (The Cure), Robbie Robertson (The Band), Jonny Greenwood (Radiohead), Joe Bonamassa, Scotty Moore (Elvis Presley), J Mascis (Dinosaur Jr), Mick Jones and Paul Simonon (The Clash), Pete Shelley (Buzzcocks) and more.
Get the latest news, reviews and product advice straight to your inbox.
Thank you for signing up to The Pick. You will receive a verification email shortly.
There was a problem. Please refresh the page and try again.