Could This Be the Last Mark Amp Randall Smith Will Design? The Mesa/Boogie Mark VII Is a Stunning Tribute to His Five Decades of Developing Ultimate Tone Tools for Guitarists
The new Mesa/Boogie Mark VII 1x12 combo is an impressive feat of engineering that puts the long-running amp maker's best-loved circuits in one compact rig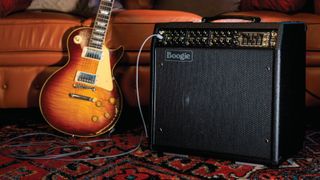 (Image credit: Gibson Brands, Inc.)
As the most comprehensive and flexible amplifier in Mesa/Boogie's line, the new Mark VII expands on the Mark V's impressive tonal capabilities to become what Mesa calls its simplest to navigate, most versatile and smallest Mark series 90-watt amp ever.
The 1x12 combo version we received for this review (also available in head and rack-mount formats) is powered by four 6L6s running in Simul-Class and features a three-channel, nine-mode preamp that is intuitive to navigate via three identical sets of controls – gain, master, presence, treble, mid and bass – and a trio of mode switches: Clean, Fat and Crunch for channel one; Fat, Crunch and Mark VII for channel two; and Mark IIB, Mark IIC and Mark IV for channel three.
Each channel also has a two-position switch labeled EQ/O/FS – the upper position selects the five-band graphic EQ; the lower position is the EQ off/foot switch – and a three-position switch that selects 90-, 45- or 25-watt operation.
Continuing across the front panel are three vertically stacked reverb-level controls (one per channel), the channel-assignable five-band graphic EQ, and another three switches: a three-position for channel-select, a two-position for the FX loop (on, off/foot switch) and another two-position for reverb (on, off/foot switch).
On the back side is the CabClone IR DI direct interface, which provides eight Boogie speaker cabinet emulations in open- and closed-back configuration that are independently assignable to the channels.
The controls here consist of three Cab Select knobs, an input control with a "clip" LED ladder and an output control. An XLR out facilitates connecting to a mixing console or recording interface, and there's a ¼-inch line out for sending a dry signal to an external IR reader, a recording interface for re-amping or any other application where cabinet simulation is not needed.
Other details include a ground-lift switch, a USB port, and a ¼-inch stereo headphone out for silent practicing or monitoring the direct feed.
The Mark VII is also MIDI controllable for channel and switching functions and sports thru/out and in jacks.
Lastly, there are two four-ohm and two eight-ohm outs to accommodate single and multiple speaker cabs ranging from four to 16 ohms, send and return jacks for the series FX loop, a bias switch for 6L6 or EL34 operation, and a five-pin jack to connect the included six-button foot switch for channel select and reverb, FX loop and graphic EQ on/off.
Now if you're curious as to why Mesa skipped over a Mark VI in the evolution of the series, they didn't. Rather, the VI existed in prototype form and became a test bed for developing two new tone circuits specifically for the Mark VII: the IIB mode in channel three and the new VII mode in channel two, which brings a high-gain British-influenced flavor into the mix, giving players more options for lead and heavy rhythm sounds.
"I dreamed that one up one morning when I designed the circuit and chassis layout back in 2018," Mesa/Boogie founder Randall Smith explains to Guitar Player. "It later became the basis for the [Rectifier] Badlander that John Marshall and Doug West did. It shifts the tone stack to the back, where it's located in Marshall, tweed Fender and Rectifier amps, and that was the inspiration for the Mark VII mode.
"Then we duplicated the Fat and Crunch modes on channels one and two, because they're so expansive by themselves. A lot of guys wanted two different settings of those modes, so now they've got the option of having, say, Fat, Fat and Mark IIB, or Clean, Crunch and any of the other high-gain modes."
The inclusion of the Mark IIB lead circuit is noteworthy because adding this oft-requested Boogie amplifier as a mode on channel three addresses players who wanted a tone circuit that allows the guitar's character to shine through more clearly on high-gain settings, as compared to the more saturated response of the Mark IIC mode. This was apparent when playing a Strat, a Les Paul Junior with a P-90 and a Les Paul '59 Historic though IIB mode with the gain cranked, as there was no masking whatsoever of those guitars' distinct sounds.
It's definitely cool for blues and rock, where its gutsy, touch-responsive grind is killer for solos and slide licks, and should be appreciated by those who might find the IIC mode's aggressive, '80s-shred demeanor a bit over-the-top in some situations.
Rounding out channel three is the Mark IV mode, a perennial favorite for its smooth distortion and easy-playing feel – although activating the graphic EQ with a "V" curve can bring it right into the shred-metal zone too.
So between the high-gain choices on channel three, plus the new Mark VII mode, there are options aplenty for finding your ideal lead and dirty rhythm tones, not to mention total flexibility to how the channels are arranged. For example, reserve channels one and two for Clean and Crunch tones, and use channel three's IIC or IV modes for a wicked lead sound; or use channel one for Clean, channel three on Mark IIB for gritty rhythm and channel two on Mark VII mode for lead. The possibilities are enormous for setting up channels and modes to suit your needs.
Something noticeable right away, no matter what mode you're running, is how clear and present the Mark VII sounds when you slather on the grind, and how responsive it is to picking attack and changes in guitar volume. Since these tend to be characteristics we attribute to relatively straightforward vintage amps, there does seem to be a "less is more" element at work in the Mark VII's reduced tube count – specifically five 12AX7s instead of the seven used in the Mark V.
As Smith explains, "I wanted to focus completely on unadulterated tonal impact, and, to that end, the output control and the Solo function [found on the Mark V], useful features as they are, did reduce that tonal impact somewhat because of the extra tube stage and the attenuation that occurs through the controls and all that. So if that feature is vitally important to someone, they can still get a Mark V and enjoy it, but I think the time was right to change it."
At just 18 ½ inches wide, 17 inches tall and 11 inches deep, the Mark VII is very compact, although its weight of 56-plus pounds – much of it due to the large transformers and ceramic-magnet Celestion Black Shadow C90 12 – makes you appreciate that casters are included for easier transport. The black covering and matching grille give the amp a clean and purposeful look, and the intuitive arrangement of the knobs and switches belies the depth of the circuitry housed within its densely packed aluminum chassis.
Mesa amps are still built largely by hand in Petaluma, California – Gibson's acquisition in 2021 didn't change that, and if anything there's been a production benefit to the partnership. "Gibson upgraded our production equipment so each component is further tested before assembly," Smith notes. "Plus, the VII's design is superior to the Mark V thanks to 12 more years of experience doing what is truly my art form.
"So in addition to our visual inspection, which we've always done, we now have optical inspection equipment that does a super-high-resolution photo comparison of each side of the circuit board. And if anything isn't right, it flags it. And apparently it's not finding anything! There are 710 parts in the circuit board, and every circuit has to be bulletproof. Now bear in mind, we've been doing this for 50 years, so the idea of a multi-mode, multi-channel amplifier isn't new to us. But with that high parts count and the new assembly machinery that measures every component prior to being stuffed into the board, that's pretty freakin' great."
Given the complexities involved in putting a selection of "greatest hits" Mesa amplifier circuits at your fingertips, the Mark VII is very easy to use. Select the modes you want to foot-switch between, adjust gain and volume levels, and tweak things for single-coils or humbuckers with the well-voiced tone controls.
The VII mode worked great for lead and dirty rhythm, so I used it constantly and just toggled between Crunch on channel one and either Mark IIB or Mark IV on channel three for a selection of tones ranging from gritty clean to super-sustaining.
It was also fun to elicit some small-amp vibe by using the 25-watt setting on channel one, which reconfigures the two inner power tubes to Class A triode. It's still plenty loud, thanks to the hefty transformers and high voltages, but this low-wattage setting sounded cool when using the Clean or Fat modes to cop a Vox or Matchless vibe. For added realism, swapping in a set of EL34s let the Mark VII sound even closer to a Matchless Chieftain combo used for comparison.
In contrast, the 45-watt setting rewires the inner power tubes to Class A pentode, yielding a brighter tone with a somewhat looser low end and more upper-midrange sparkle. It's cool for Americana, blues and roots styles, where its quick segue into clipping was reminiscent of playing through a medium-power tweed-leaning amp, like a Victoria Double Deluxe.
Overall, the 90-watt Simul-Class setting is where the Mark VII remained for most of my testing, because it just sounds good. Mesa introduced Simul-Class in the 1980s with the Mark IIB. It utilizes all four power tubes – the outside pair in Class AB and the inside pair in Class A – combining the respective efficiency and tonal advantages of these operating classes to yield a dynamic, touch-sensitive and high-headroom response that's tempting to leave on, regardless of the tones you're chasing.
The Mark VII sounds very detailed and authoritative when the volume is cranked up (credit the beefy Celestion Black Shadow for its role here), but you don't necessarily have to be that loud onstage thanks to the CabClone IR direct interface (previously available only on the Rectifier Badlander), which provides a convenient way of DI-ing amp tones via IR responses of eight closed-and open-back Mesa Rectifier and Boogie speaker cabinets, which are selected with an eight-position rotary switch for each channel.
Even better, the CabClone's built-in reactive load lets you enjoy the dynamic playing feel of the amp's full output stage (even with no speaker connected), making it handy for live use or silent recording.
The Mark VII's onboard assortment of Mesa cab IRs facilitate good tones in situations where it's not practical or desirable to plug into cabinets, and the options here are mind-blowing when you consider that each channel can be independently configured to suit your tastes – say a Recto 4x12 with Celestion V30s for lead, a Lone Star 1x12 or 2x12 with proprietary Celestion C90s for dirty rhythm, and a California Tweed 23 1x12 with a Jensen 100-watt Alnico Blackbird for a vibey clean tone.
The system also supports third-party IRs, so the sky's the limit. Manipulating files requires connecting to a computer (Mac or PC) via USB, and the processor can hold hundreds of IRs in the Cab Library that can be dragged into any of the eight preset locations on the amp's channels for a customizable set of cabinet choices.
Adding to the enjoyment of CabClone IR is the stereo headphone output, which employs all of these cabinet choices to provide a very satisfying experience. You need to unplug the speaker for silent practicing (Mesa recommends keeping the channel-master levels below 11 o' clock when speakers are disconnected), and with some delay added in the FX loop from a pedal or processor you can get lost in playing with all the tone and feel of the amp's response.
In all, the Mark VII – ironically introduced as Randall Smith himself hits 77 – is an impressive feat of engineering that delivers an astonishing array of choices for summoning pristine clean to wickedly overdriven sounds and all points in between.
Smith has hinted it's the last Mark amp he'll design, and while it's anyone's guess if that actually turns out to be the case, the Mark VII is a stunning achievement and a tribute to Smith's five decades of dedication to developing ultimate tone tools for guitarists.
Visit Mesa/Boogie for more information.
All the latest guitar news, interviews, lessons, reviews, deals and more, direct to your inbox!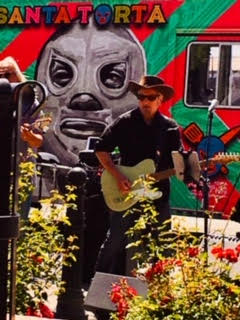 Art Thompson is Senior Editor of Guitar Player magazine. He has authored stories with numerous guitar greats including B.B. King, Prince and Scotty Moore and interviewed gear innovators such as Paul Reed Smith, Randall Smith and Gary Kramer. He also wrote the first book on vintage effects pedals, Stompbox. Art's busy performance schedule with three stylistically diverse groups provides ample opportunity to test-drive new guitars, amps and effects, many of which are featured in the pages of GP.