Malina Moye's Top Ten Tips for Guitarists
With her new album, 'Dirty,' on the way, the 'Billboard' chart-topper shares some hard-won wisdom for fellow players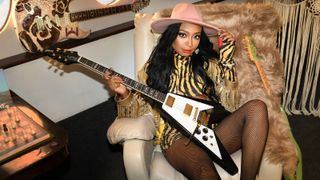 (Image credit: Isaiah Mays)
Strapped with a Fender Stratocaster or Gibson Flying V, singer-songwriter and lefty axe-slinger Malina Moye has carved out her own funk-infused guitar sound among a new breed of blues-rock artists.
Whether she's playing alongside fellow luminaries Buddy Guy, Kenny Wayne Shepherd and Eric Gales on the Experience Hendrix tour, honoring electric guitar pioneer Chuck Berry at the Rock and Roll Hall of Fame's tribute concert, or playing "The Star-Spangled Banner" at historic NBA and NFL games, Moye's jaw-dropping performances have snowballed a loyal following.
Indeed, 2018's Bad as I Wanna Be album held the number one spot on the Billboard Blues Chart for two weeks straight while copping rave reviews the world over.
With Moye's follow-up, Dirty, set for release on March 17, GP decided to catch up for a chat about all things guitar.
From tuning and string gauges to finding your signature sound and the creative process, here Moye shares ten of her best tips for guitarists…
1. Tune Up!
Step one, before anything: you've got to tune up!
I think this is true for every guitar player, at any level. Because without tuning up, you're going to be so out of key. No matter what tuning you're using, you must always tune up properly.
2. Learn From Fellow Guitarists
Get with guitar players who are better than you. This is how you grow. This is how you learn. This is, to me, one of the most important aspects of being a guitarist.
It could be your neighbor, or it could be your friend, whoever. If you love a lick they're doing, ask them to show you how they do it and break it down. Don't worry if it takes you a minute – just run it a few times slowly and then pick it up. That's how you get great. That's how you get better.
For instance, being on the Experience Hendrix tour, I was able to see certain things that Buddy Guy would do and say, "Hey, show this to me." And I would try to emulate it.
Same with Doyle Bramhall II, Kenny Wayne Shepherd and Eric Johnson. I am that person that just says, "Hey, what are you doing? Tell me. How did you do that?"
And Eric Gales. He's like my big brother. We both play lefty and upside down, so it was perfect. He showed my this little trick: watch the endings of every note, because every note you play tells a story. It's the little nuances that make your signature sound.
3. Play While Watching Television
When you're watching television, you'll hear commercials and you'll hear music in movies. Whatever you're watching, lean on your ear. Listen, and see if you can follow along in key. This is training your ear up to play.
What's crazy is sometimes you start writing songs like that. You never know where it comes from. Inspiration comes from everywhere.
4. Gauge the Situation
If the bends aren't working, if you just don't feel it, or you don't want to play as much, it might be the string gauges! As crazy as it sounds, you might just be using the wrong strings.
I think it's important to figure out which gauges work for you. I said to Billy Gibbons, "You made me look cool because you said you use .008s," and he goes, "Are you sitting? I use .007s."
It's like Albert King said: "I'm not trying to work that hard."
I really love .008s, you know, and then I'll compensate with my pickups. I have small hands, but I still like to really own my guitar and make it do what I want. So if you have trouble, figure out what works for you. It's supposed to feel good.
5. Center Yourself
When it's time to perform, a lot of the time there's just so much going – so much commotion. I would tell anybody, especially guitar players: take a space and focus, so you can gather your thoughts.
Meditate, and think of something very simple so that you know exactly what you're doing. Become centered. If you don't, that moment might get away from you and it just could be disastrous.
Relax, so that you can enjoy your moment. Because if you don't do that, you're not going to have a great show, period.
LeBron James said this to me recently: "Stay present. Relax. Focus. Center. Play."
6. Break out of the Box
Don't get so wound up in a scale to the point where it just becomes tedious with no feel, no soul.
I would say run it, and then start doing different intervals so you can start to break out of it. Do different exercises with the scale using different fingers.
Let's say you have a solo and you're doing a minor pentatonic and things are working out for you. Well, if you hit a 'bad note,' I might be beautiful. I mean if it's right, it's right. It's those things, those little nuances, that can make a record. And it's what makes your signature sound.
7. Explore the Neck
The first thing, before you turn on any effects, is to find the tone that you like with just the guitar and the amp.
Then, start utilizing different places up and down the neck of the guitar, because each place will hit differently. Go up and down until you start to hear what works.
Again, that goes towards finding your signature sound.
8. Listen to Singers
Obviously, I'm a singer as well. But I think when it comes to playing melodies it's worth listening to singers. It's about noticing the small inflections, how they end a line and the vibrato. It's those subtle things that become your signature sound.
I look at every note as being important. It's like what Eric Gales told me: "It's about how you slide off the note." Like, every time you hit a note and you hear the ending of it. You can hear it with people like Wes Montgomery and Carlos Santana and Eric Johnson.
And B.B. King: just one note can have so much soul. No matter what you're going through, hit that note and just channel everything, all the stuff you're feeling, into it.
9. Be Open-Minded
Explore different styles of guitar players and listen to music you would never play. It opens your mind. When you bring it back to what you're doing, you don't realize that subconsciously it's actually affecting what you're doing.
I think it's so important to be open and to understand that inspiration is all around you. It's everywhere. Personally, I love to take a walk no matter where I am in the world and just listen. I think the world has music in itself.
I mean, when I'm out walking and I hear the cars roaring, I hear the birds chirping, I hear the chatter from people, I start to hear that as actual music, like different notes.
I'm a student of life. For instance, with my single "Say My Name," I was literally just driving down the street and the idea came to me. Sometimes the ideas are trying to get through and it's important to honor the song, however it wants to manifest.
10. Turn Up (But Only When You're Ready!)
I'm sure we've all been through this. You know, when other guitarists are warming up on full volume? Like, turn it down!
I don't want to hear you warm up your fingers. It's the same when you're warming up vocals; nobody wants to hear it.
Instead, tune up, get your fingers running, get them working and play some licks. Get yourself together. Then turn it up!
When you're dialed in you can go kill it.
Malina Moye's new album, Dirty, is out on March 17. Pre-order it here.
Visit the Malina Moye website for more information.
All the latest guitar news, interviews, lessons, reviews, deals and more, direct to your inbox!
Rod Brakes is a music journalist with an expertise in guitars. Having spent many years at the coalface as a guitar dealer and tech, Rod's more recent work as a writer covering artists, industry pros and gear includes contributions for leading publications and websites such as Guitarist, Total Guitar, Guitar World, Guitar Player and MusicRadar in addition to specialist music books, blogs and social media. He is also a lifelong musician.