Eric Gales Reveals His Top Five Career-Defining Tracks
With nearly 20 albums to his name, the blues master says these cuts tell you the most about his journey.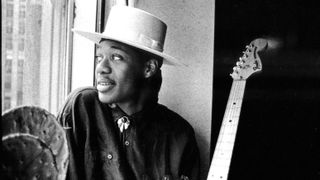 (Image credit: Catherine McGann/Getty Images)
Eric Gales exploded onto the music scene at the age of 16 with his 1991 debut album, The Eric Gales Band.
A clip on YouTube shows him winning a local battle of the bands contest in 1989, at the age of 14, with an incendiary rendition of "Spanish Castle Magic."
Inevitably, as with any Black blues guitarist adding a little rock to the mix, the "next Hendrix" tag was duly applied. Indeed, it did seem Gales was channeling a strong Hendrix vibe, not only by the way he played but also in how he looked.
Featuring his brother Eugene on bass and vocals, the performance showcases a staggeringly gifted guitarist, able to peel off face-melting Hendrix licks with ease.
Likewise, Gales' first appearance on The Arsenio Hall Show, in 1991, plugging "Sign of the Storm," from his debut album, had all the swagger of classic SRV at his best.
Gales started to learn guitar at the age of four, and, by his own admission, it came fairly easily for him. "It felt very natural," he tells Guitar Player.
"Actually, every musical instrument I've played has always felt right. I believe this was something that was cast in my life before I ever started to play."
Although right-handed, he plays left-handed on a right-handed guitar, with the bass strings at the bottom. Taught by his older brother Manuel – a lefty playing an "upside-down" axe, who achieved success under the name Little Jimmy King – Gales never questioned how he was taught.
Manuel introduced him to a whole world of great music, not only the obvious blues guitar legends but also classic rock, from the likes of Led Zeppelin and Frank Marino to mavericks like Eric Johnson, as well as the jazz guitar styles of Kenny Burrell and Wes Montgomery.
While absorbing this rich guitar gumbo, Gales was infusing the mix with the urban sounds of rap and hip-hop he heard on the radio. The result was an artist who transcended his own influences to become a significant inspiration to those who followed in his wake.
Like many musical artists, Gales has had struggles with addiction issues, and he spent 21 months in prison from 2009 for breaking probation rules after a drug conviction.
He wasn't even allowed to play guitar until a warden realized who he was and managed to provide him with an instrument. The guard also persuaded Gales to form a band while inside, to help with the rehabilitation process.
"Toward the end of my sentence, we got to play quite a few shows, festivals and things like that, which made things a lot easier to bear," Gales explains.
The guitarist is upbeat about the outcome from his experience, and feels that his personal development during that time – specifically his ability to reflect and resolve to change – was essential to breaking the chains of addiction.
"God gave me a gift, and I think I lost my way for a time," he says. "But I'm back on track and grateful for all the opportunities that a life in music has given me."
Having recorded 21 albums and appeared as a guest on considerably more, Gales – whose main guitar is his custom Magneto Sonnet RawDawg II – has a broad catalog to draw upon when selecting five key songs from his career.
Perhaps surprisingly, four of the tracks chosen are drawn from his last two albums, 2017's Middle of the Road and 2019's Bookends, both of which were recorded since he resolved his substance abuse problems. They are, in Gales' opinion, the best music he has made in his career, topped only by his most recent release, 2021's Crown.
Gales is understandably enthusiastic about the new album, given that it encompasses everything we've come to expect from him, while it shows him taking his music to a new level.
A key highlight for many will be his guitar duel with Joe Bonamassa on "I Want My Crown."
Bonamassa produced the record with Josh Smith and was determined to help Gales realize the vision that he had for the project. Consequently, there are strong statement pieces, humorous nods to the trials of Gales' own life and three short instrumental vignettes that call to mind elements of Hendrix.
Gales is fired up and ready to make sure there are no further setbacks on his path to musical redemption.
"I'm hungrier than I've ever been, man," he tells Guitar Player. "I love the process of touring and recording, and I can't wait for people to hear what I'm going to be coming up with in the future."
As for his selections for this list, he says, "A couple of these songs are pretty long, but I like to be able to stretch out and make a strong statement. Probably out of 10 songs on an album, I'll usually have a couple that are on the longer side.
"Sometimes the spirit wants to go long, so you have to allow that to happen."
1) "Freedom from My Demons" from 'Crystal Vision' (2006)
"This is the oldest song I picked for the five, and also the most traditional in style. It's a really strong pointer to my sobriety.
"For a few years I wasn't really listening to my own lyrics, but then I went back to it after a long time and I thought it was great to see the way that the ideas applied to me now, being nearly six years clean.
"I think this is a deep song with beautiful lyrics. And come on, who doesn't like the blues? I believe this track needed to be pulled out for this list.
"The real Superstrat tone was actually a Magneto going through a Fender Tweed Bassman and a Tube Screamer. I think I achieved a magnificent tone with that setup. I guess there is a hint of Stevie Ray Vaughan's version of 'Texas Flood' about the song. I was aiming for that sort of vibe and aura."
"This is one of three songs I chose from Middle of the Road, which I feel is really one of my strongest albums. I have had a long history of being known as the 'bad guy,' you know? What with being arrested, going to prison, drug addiction and everything, I thought 'Boogie Man' was a great representation of this statement that I had been labeled with.
"'Boogie Man' was originally a Freddie King song, and I love that lyrical idea that goes right back to Muddy Waters, Howlin' Wolf and Bo Diddley – that real braggadocio approach. It takes me back to those blues roots. I think it tells a story that I can relate to with my rep.
"There's a lot of humor in songs like this, which people don't often realize. These guys mean it, but they're not taking themselves too seriously.
"Gary Clark Jr. contributes some great guitar and vocals as well on this one. I like working with guests. When the chemistry is right, you can make magic happen, you know?
"You can inspire and fire each other up. Guitar-wise, it is definitely the Magneto on this song. They're a great company, their guitars play great, and it's become my go-to guitar for whatever I want."
"I play acoustic guitar on this one; I think it was a Paul Reed Smith acoustic. And I guess what I like about this song is that it goes against the grain of what people know me for or expect to hear from me.
"I think that difference helps it to really catch the listener's ear by making a very different stylistic statement. It encapsulates the beautiful relationship that I feel that I have with the acoustic guitar. I do really love to play acoustic things. I think you can get a very warm, expressive tone that enables you to make a statement with your music.
"This song was written while I was in rehab in 2016, and I think the message in the lyrics is just as applicable today, for me or anybody. There are some times and some things that you just have to let go of. It meant so much to me to be able to put a song on the record that described my journey, the route that I had to take through life at that time.
"I suppose it is also a little different because there is so little guitar on the track. I really just tried to say what needed to be said without overplaying. I think it's important to have the self-knowledge to know when to play, and when to sit back and let the song speak.
"Just a little touch here and there, then get out of the way. [laughs] Sometimes less is more, and sometimes you want to really let loose. It's all about how to serve the song in the end."
4) "I've Been Deceived" from 'Middle of the Road' (2017)
"There's a very powerful drive to this track. The lyrics are about me having a conversation about being deceived by drugs. The drugs were friends with me at the beginning, but the whole time it was a big deception.
"Musically, I would say that this is a great example of where I've tried to take the blues to a different place. There's some classic-rock stylings, obviously some blues, and elements of urban music and R&B.
"I think that combination of influences is what maybe makes my music stand out, and what gives me my own signature.
"I have influences from so many different areas and I try to incorporate all of them into my music. What made an impact on me as a listener is what has inspired me to try to re-create in my own music.
"I think it's important to let your influences filter into your music, but also, maybe even more importantly, to use them to make something new that is your own. I always want to acknowledge those who went before me though, in so many fields, not just blues.
"Who knows? Maybe what I do will influence someone else and so on, as music gets passed on."
5) "Southpaw Serenade" from 'The Bookends' (2019)
"This song is a testament to the way I play, and it's a reflection on a lot of things that happened to me in my personal life. I guess I thought, Why not do a song about playing left-handed? [laughs]
"Doyle Bramhall II appears on this track. He's someone I've been friends with for nearly 30 years, and he's a southpaw too, so it seemed like a natural fit.
"I really like the tone of my guitar on this song. It's very warm and creamy. I used my Magneto with a wah pedal, a delay and a distortion unit. I forget what brands they were, but there was nothing fancy – just standard kinds of things.
"I think the sound that I get is really about who I am, and the way that I play. I suppose what I'm saying is that I sound pretty much like me whatever I play through, which is what we're all trying to achieve in the end.
"We all have different guys that influence us, but how we turn those influences into our own style, our own statement or whatever, is what we bring to the table as musicians."
Browse the Eric Gales catalog here.
All the latest guitar news, interviews, lessons, reviews, deals and more, direct to your inbox!
Mark is a freelance writer with particular expertise in the fields of '70s glam, punk, rockabilly and classic '50s rock and roll. He sings and plays guitar in his own musical project, Star Studded Sham, which has been described as sounding like the hits of T. Rex and Slade as played by Johnny Thunders. He had several indie hits with his band, Private Sector and has worked with a host of UK punk luminaries. Mark also presents themed radio shows for Generating Steam Heat. He has just completed his first novel, The Bulletproof Truth, and is currently working on the sequel.