Clash of the Blues Titans! Watch Eric Gales Slug It Out with Joe Bonamassa
The guitar phenom returns with the album he was born to make and goes head-to-head with JoBo.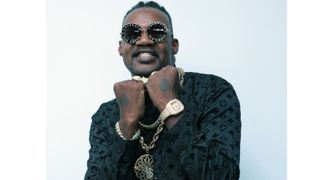 (Image credit: Jim Steinfeldt/Michael Ochs Archives/Getty Images)
Eric Gales' new album, Crown (Provogue Records), is a serious statement of intent. So is its lead-off track, "I Want My Crown," which features a showdown with blues-rock maestro Joe Bonamassa, who co-produced the record.
Some years back, Gales and Bonamassa were teen prodigies, with the kind of chops that the average guitarist could spend a lifetime trying to obtain, but their careers took a different trajectory.
Bonamassa's career has gone from strength to strength, whereas Gales lost direction during years of struggle with substance abuse.
"I had been aware of Joe's progress, and I was a little frustrated that my career hadn't kept pace, due to a lot of self-destructive behavior," Gales reflects.
"Maybe if I hadn't taken a left turn when I did, things would have been different."
Now five years clean and making the best music of his career, Gales is hungry to make up for lost ground. The idea of hooking up with his peer came to Gales after jamming with him several years ago, when Bonamassa told him he wasn't fulfilling his potential.
Gales, who says he has always followed Bonamassa's career and enjoyed his work, notes that his feelings of regret weren't tinged with bitterness but a desire to do better.
He is philosophical about the path his career has taken and the choices that he made, with a sanguine belief that perhaps whatever happens is meant to be, and is part of what makes someone who they are both as a person and an artist.
He is certain that the music he has made while clean is undoubtedly the best in his catalog, and he is justifiably proud of the new record, which certainly raises the benchmark for blues guitar in the 21st century.
Gales has taken influences ranging from Hendrix and Stevie Ray Vaughan to classic rock, R&B and rap to create a unique, urban-flavored take on blues that has the ability to capture a much wider audience than the traditional blues market.
This is a long album. I guess it would have been a double album back in the days of vinyl.
It is actually coming out as a double album on vinyl. I think it is unquestionably the best album that I have ever recorded. I like a lot of different things, and I got the chance to showcase everything that I wanted to cover. I had a lot of songs, and I thought why not just put everything on the album.
There's a lot of funk and organic sounds on the record. This could just as easily have been released in 1973. I think that makes it timeless, as those sounds never age.
That's a great comment, because there was some good shit coming down back then. I am very humbled that you picked up on that. It means a lot to me man, because that is what I really feel like I was trying to bring to the record.
The opening song, "Death of Me," lays out your sonic blueprint. It sounds a little like Hendrix playing classical music with nods to rap and R&B.
You got it exactly right. I used my Magneto custom model [Sonnet Raw Dawg] for that one. It has a real strong tone. There's also a new affordable version available, the RD3 [$1,595]. You can buy it exclusively through my website. I've got back orders out the ying-yang for them at the moment. [laughs]
The track that will draw the most attention is the lead-off single, "I Want My Crown." There's an interesting story in the lyrics about how you feel that you haven't achieved what you think you should have.
I'm grateful to God above that I'm still here. And who knows? This may have been my path anyway. I'm glad to be able to show people that you can walk through a personal hell and come back even stronger than before.
I don't resent Joe's success. I've been one of the biggest cheerleaders for what he's achieved, and he deserves all of the success because he is such a hard worker, and a real nice guy too, of course. We thought very meticulously about how to put the story down lyrically and how we wanted to portray things.
How did you and Joe trade the solos? Were you together in the studio?
We did them together face to face. All the solos were just off the cuff, with both of us really going for it. I never work out my solos. They are always just whatever comes to me when I'm ready to go. Generally, the first take is the one that I keep.
"You Don't Know the Blues" is a classic "talk the talk, walk the walk" song. And despite the subject matter, it has a great sense of humor. Personally, I managed to tick every box on your list, except going to jail.
[laughs] That's great man. It's for everyone to interpret it whatever way they want. I guess there's a line in there for everyone. It covers the whole gamut. It's going to be the second single from the album. It's got a sense of humor. I never take myself too seriously.
"Too Close to the Fire" channels the Curtis Mayfield/Hendrix "Little Wing" chordal style to great effect.
I think that Mayfield style is real expressive, and this was the perfect song for that approach. I really love the feel that Hendrix and Curtis got when they played that way. There's something real spiritual about it.
You really hold back on "My Own Best Friend," playing some great minimal solos where the temptation would be to really wail.
I'm never afraid to lay back and keep something in the tank. I've got a record with 13 songs and three vignettes on it, and I like to show variation. I've got more of an Eric Johnson vibe on the introduction, and the solo has a touch of Albert King about it. I really like to mix up my influences.
The sequencing of the album feels like a live set. The final track, "I Gotta Go," is a throwback to the kind of thing B.B. King would do at the end of a show.
Exactly. That was our whole purpose, to make it feel like you've been at a live show, and it's time to go by the end. That will be the final song in my live set from now on as well.
Your lyrics are always quite deep. You never go down the simplistic "I love you baby" route. Are you very spiritual?
I grew up with a church background. and it was kind of embedded in me, so I do have a lot of spirituality. It just carries over into everything that I do.
Are you always writing, or do you work around a planned recording project?
You never know when a groove or an idea will hit you, so I always just grab the phone and record things. Just capturing the moment is important. You can always work it up into something more later on.
You've been clean for five years. Has that carried over into a clarity of vision when it comes to your music as well?
Absolutely. I feel that the fog has lifted and I'm doing the best things I have ever done. I think that we just have to be grateful for the path we're on, and we all have to make sure that we try to keep ourselves true to who we are at all times.
There is a depth of heart and soul that comes from life experiences that we don't have when we are younger; there is a spiritual heaviness. The power of music to heal is everything.
If you keep faith in the music, it won't let you down.
Pick up a copy of Crown by Eric Gales here.
All the latest guitar news, interviews, lessons, reviews, deals and more, direct to your inbox!
Mark is a freelance writer with particular expertise in the fields of '70s glam, punk, rockabilly and classic '50s rock and roll. He sings and plays guitar in his own musical project, Star Studded Sham, which has been described as sounding like the hits of T. Rex and Slade as played by Johnny Thunders. He had several indie hits with his band, Private Sector and has worked with a host of UK punk luminaries. Mark also presents themed radio shows for Generating Steam Heat. He has just completed his first novel, The Bulletproof Truth, and is currently working on the sequel.