Kenny Wayne Shepherd Demos His New Signature Strat and More on the 'No Guitar Is Safe' Podcast
"My goal was to create an instrument that is as premium to look at as it is to play," the blues guitar great says.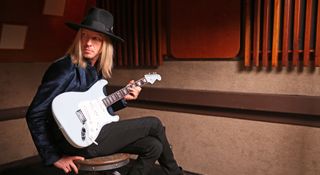 (Image credit: Fender)
Plugging into a vintage Fender Champ heavily modified (as all his stage amps are) by legendary amp guru Alexander Dumble, Kenny Wayne Shepherd demonstrates every sound and feature of his new signature Fender Stratocaster on the latest episode of my podcast, No Guitar Is Safe.
Presented by Blue Microphones, the episode also finds Shepherd detailing the sonic recipes behind newer songs such as "By My Side," which he recorded with the Rides (the blues-rock supergroup that features Shepherd, Rock-and-Roll-Hall-of-Famer Stephen Stills and keyboard legend Barry Goldberg) as well as the song that made him a platinum-selling rock star in his late teens, "Blue On Black."
Deeper in the episode, Shepherd shares a subtle Albert King bending approach that influenced him greatly when he was learning blues guitar. First though, coming to us live from the garage/man-cave that houses guitars, amps and a Dodge Demon (which is only one of his many muscle cars), Shepherd introduces us to that new 6-string quarantine buddy we referenced earlier - a guitar he has rarely put down since he got it.
"This guitar is kind of an evolution, but I really wanted it to have its own complete identity separate from the last signature Strat we did, which came out around 2008," Shepherd says.
Visually, the most obvious difference between this Shepherd Stratocaster - which will retail for $1,999 - and the previous is its neck, which, unlike most Stratocasters, is bound, features block inlays on the fretboard and has a color-matched headstock in Translucent Sonic Blue, the new hue Shepherd and Fender came up with. ("I like how the woodgrain of the Ash body can be seen through the paint," says Shepherd.)
Subtler differences include GraphTech string saddles, new pickups, a chambered body ("The chambering makes the guitar noticeably lighter and more resonant") and the fact that this new Stratocaster is made in America.
"There's really not a whole lot that's been carried over," says Shepherd. "My goal was to create an instrument that is as premium to look at as it is to play. If I'm being honest, even though this is a production guitar, I wanted it to feel and look like it came from the Fender Custom Shop.
"For example, take that binding and the block inlays - you don't commonly see those on a Strat, but I think it's beautiful, especially the way it's executed on this guitar. And it's also functional, because in a live environment the L.D. can hit you with combinations of lighting that in some situations actually renders the dots on the top of typical neck invisible. So this way, the binding on the side illuminates those dots. And in a worst-case scenario, it's pretty hard to miss those block inlays!"
The episode chronicles Shepherd's lifelong love of Fender Stratocasters, from the treasured '61 he picked up in Los Angeles as a teen, to his signature models, to the famous Stratocaster Jimi Hendrix played at Woodstock - a national treasure that, ten years ago, Shepherd was honored to play on Late Night with Jimmy Fallon.
"One memorable thing about playing that guitar was that you could see the little indentions and chips in the finish on the neck from the rings and jewelry Jimi used to wear," says Shepherd.
"For him, the marks would have been on the underside of the neck, but I was playing the guitar upside-down from how he played it, so there I was looking at all those ring marks he left, because they were, for me, on the upper side, right where my thumb was hitting the neck."
One of the final topics I get into with Shepherd on this episode is asking him to reflect on the fame and success he experienced from his teen years going forward - fame that had him, at age 19 and soon thereafter, opening for huge bands such as Van Halen and the Rolling Stones - and asking him what advice he would offer other young music stars on the rise.
"I'd tell them, 'Don't compromise your vision,'" says Shepherd, who is now 43. "'Be who you're gonna be. Don't let anyone talk you into something you don't feel good about, especially recording a song you're not into, because you might have a hit with it and then you have to play it for the rest of your life.'
"Don't forget that the reason why we play music is because we love it and it's fun. That's why. If you're able to make money at it, then that's great, too, but I've never approached music as an opportunity to make money. It's always been simply about the opportunity to make music."
Stream my interview with Shepherd, and all 120 other episodes of No Guitar Is Safe from your smartphone's Podcasts app, iTunes, Spotify, Google or wherever you get your podcasts.
All the latest guitar news, interviews, lessons, reviews, deals and more, direct to your inbox!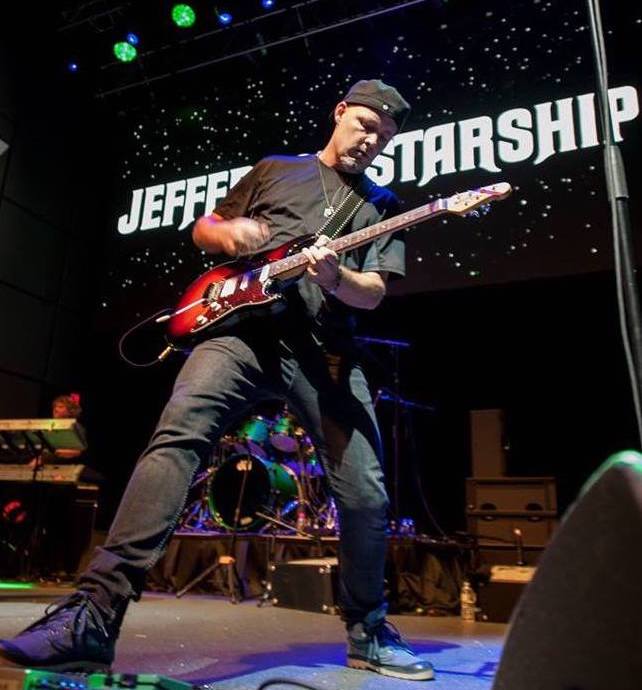 Los Angeles Editor, Guitar Player
Whether he's interviewing great guitarists for Guitar Player magazine or on his respected podcast, No Guitar Is Safe – "The guitar show where guitar heroes plug in" – Jude Gold has been a passionate guitar journalist since 2001, when he became a full-time Guitar Player staff editor. In 2012, Jude became lead guitarist for iconic rock band Jefferson Starship, yet still has, in his role as Los Angeles Editor, continued to contribute regularly to all things Guitar Player.
Watch Jude play guitar here.