Inside the Songwriters Hall of Fame 2022 with Steve Miller, St. Vincent, Isley Brothers, Eurythmics and More
The star-studded event kicks off again in style following a two-year postponement.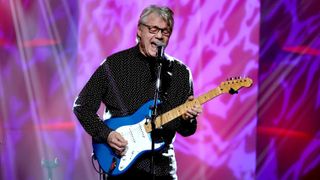 (Image credit: Theo Wargo/Getty Images for Songwriters Hall of Fame)
After a two-year postponement due to Covid concerns, guitarists Steve Miller, Ernie Isley of the Isley Brothers and Dave Stewart (with Annie Lennox of Eurythmics) were among the artists inducted into the Songwriters Hall of Fame last week at New York's Marriott Marquis.
The in-person event officially honored the class of 2020, which also includes Mariah Carey, Jimmy Jam and Terry Lewis, Pharrell Williams and Chad Hugo (the Neptunes), songwriters Paul Williams, Rick Nowels and William "Mickey" Stevenson and music executive Jody Gerson.
Performers and presenters included St. Vincent, Smokey Robinson, Jon Batiste, actor Bryan Cranston and more.
Miller performed his 1976 smash "Fly Like An Eagle," using a Stratocaster-style guitar. Prior to the ceremony, he reflected on the significance of the occasion and its elite membership.
"It's so hard to put into words. I was looking at the list and thinking 'what am I doing here?' I love Willie Dixon. He wrote so many great blues tunes.
"Paul McCartney is one of the greatest writers of all-time. I've worked with him, and I love how he writes. So those two are at the top of the list. And Joni Mitchell is special. There are so many great songwriters."
Breaking Bad star Bryan Cranston inducted Miller, noting the two hit it off immediately years ago, a relationship he characterized as "music without the music."
"His music has been a huge part of my life growing up. Whatever I happened to be going through at the time as a boy on the cusp of manhood and trying to wonder what the hell is going on, his music inserted different thoughts and ideas along the way that gave me answers or made me think about things and fantasize.
"When he starts playing you get up on your feet. Cause that's what Steve Miller does. You just get going."
The actor also humorously riffed on how his humming and whistling as the character Hal on the critically acclaimed '00s hit Malcolm in the Middle led to him joining music publisher ASCAP as a member.
When small royalty checks started flowing in, Cranston would treat his crew to food and drinks.
"It got to the point where they would come up to me and say, 'your character is fixing the dishwasher," he recalled. "It might be a good opportunity to hum!'"
The Isley Brothers performed a medley of their classics at the event.
Wielding an ornately designed Fender Custom Shop 'Zeal' Stratocaster run through a Kemper Profiler and Mesa Boogie cabinet, Ernie Isley laid down the rhythmic pulse that drives the classic "Shout."
During the song's half-time breakdown section, Isley injected fiery call and response blues guitar bends with brother lead vocalist Ron Isley.
The 70-year-old guitarist's first recorded performance with the band was as a teenager playing the funky bass line on the 1969 hit "It's Your Thing."
He cited "Summer Breeze," "That Lady," "Fight the Power" and "Voice of Atlantis" as personal highlights of his distinctive guitar style.
When asked, prior to the event, if he ever imagined his guitar playing would land him in the Songwriters Hall of Fame, Isley answered emphatically: "Absolutely yes!"
St. Vincent (Annie Clark) recalled watching MTV as a child when a "beautiful, orange-haired androgynous creature appeared wearing a suit and tie," referring to Annie Lennox's iconic visual imagery in the Eurythmics' pioneering video "Sweet Dreams (Are Made of This)."
The guitarist put her own spin on the '80s classic, coolly performing the song's signature riffs on her Ernie Ball signature model guitar.
"They were scary, they were sexy, they were smart, and they were impossibly cool. And dominate the world they did."
Stewart gave credit to his longtime partner.
"It's been a crazy, incredible journey," commented the guitarist. "But I must say, there was nobody in the world I could have done it with apart from Annie."
Lennox focused on how new musical technological advancements contributed to the pair's success. Those early songs, she said, were 'abstract' but enabled the pair to form the vision for the band's signature sound.
"We were just really excited about all the possibilities of the sounds and rhythms we could make on this new thing called a synthesizer," she highlighted.
"Dave, being a guitar player, and me being a keyboard player… we would have fun with it. He would put the guitar down and play things on the keyboard. We would be experimental.
"Every songwriter in this room understands this process. It's really hard to convey to those that don't live it, but it's a life lived. It is the artist's life. It's the road less travelled but it's the one we chose."
The duo performed an acoustic guitar-driven version of their 1985 hit "Here Comes the Rain Again," anchored by Stewart's pensive strumming on a Takamine.
Prior to the ceremony, several of the presenters and performers discussed the art of songwriting, guitar-centric songs they've created, and how musicians working together as a team produces timeless music.
Recalling one of his favorite guitar-centric sessions, Jimmy Jam said, "The guitar song that comes to my mind is "Black Cat" by Janet [Jackson].
"It was three or four different guitar parts played by three or four different guitar players. And then it was remixed by Nuno [Bettencourt].
"It was recorded directly into the board, and it was also recorded with Marshall amps. It was one of the songs where everybody jumped on board and made it happen."
"I worked with wonderful guitar players," said Motown songwriter William "Mickey" Stevenson. "Finding the Funk Brothers, the riffs came with them.
"They joined me because they believed in me. And because they believed in me, the riffs came. They were so unique.
"They got so tight as a unit that when the producers came in and gave them an idea of what the song needed, it would all fall into place. They could read each other. It was a gift.
"They were a machine!"
All the latest guitar news, interviews, lessons, reviews, deals and more, direct to your inbox!