Nuno Bettencourt, Tom Morello, and the Hard-Rock Heroes Who Kept the Guitar Flame Burning in the 1990s and 2000s
As guitar players adjusted to a new post-shred normal, the next generation of players were finding new sounds and styles.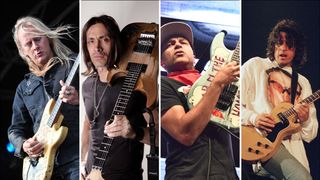 (Image credit: (Jerry Cantrell) Future/Kevin Nixon; (Nuno Bettencourt) Future/Joby Sessions; (Tom Morello) Tim Mosenfelder/Getty Images; (Dean DeLeo) Lisa Lake/Getty Images)
Having revisited the players who defined hard rock in the 1960s, documented the evolution of the art-form through the 1970s before the technical excellence put a bow on the excess of the '80s, it's time to move on to the generation who picked up the baton post-shred.
Some revived old British glam styles. Others, such as Jerry Cantrell and Mike McCready, were forging ahead, helping shape '90s rock and placing Seattle at its epicenter.
Then there were players such as Nuno Bettencourt, who arrived via the slipstream of shred, and found nuance to hard-rock guitar that hitherto had been lost in the mix. We'll pick up the story there...
Nuno Bettencourt
The funky and fearless guitar acrobat is quite possibly the truest descendent of Eddie Van Halen's wild, boundless style.
Nuno Bettencourt didn't appear on the guitar scene until the tail end of the '80s, but even then, at the height of the shred-guitar boom, he instantly stood out from the pack with his unique rhythmic approach, heightened melodic and songwriting sense, and absolutely devastating chops.
Bettencourt's playing was spiked with blistering picking runs, wildly off-kilter licks, classically influenced (but hardly neoclassical) tapping, and deep-in-the-pocket, syncopated rhythm work, and he approached it all with style, whimsy, and a sense of barely controlled chaos.
In that regard, of all the Eddie Van Halen acolytes – and by 1989, when Extreme's self-titled debut was released, there were many – Nuno is arguably the one who best reflected that same spirit, groove, and sense of high-wire bravado. More than 30 years after the fact, the lead work on tracks like "Play With Me" and "Mutha (Don't Wanna Go to School Today)" is absolutely mind-boggling.
Which doesn't even touch on Bettencourt's true tour de force, the following year's Pornograffiti, which expressed his Brian May and Queen love as much as his EVH adoration, resulting in a pomp-metal masterpiece. And while the big hit was the acoustic lighter-waver "More Than Words," which showcased his harmony vocals as much as his guitar, the six-string work on the record represents the height of the era.
For just one head-spinning example, check out the extended, unaccompanied intro to "He-Man Woman Hater," where Nuno absolutely shreds "Flight of the Bumblebee." Since then, he has recorded solo albums, launched his own bands, like Mourning Widows, played with Jane's Addiction frontman Perry Farrell in Satellite Party, and served as the lead guitarist for pop superstar Rihanna.
And he continues to play with Extreme, who have a new album scheduled for release this year. But no matter what it is, he's always had the same credo: "Be sincere... and love what you're doing."
Top Track: "He-Man Woman Hater"
Tom Morello
His inventive use of effects and his activist stance place him in a league all his own.
The importance of having an instantly recognizable style was clearly understood by guitarist, songwriter, singer, and political activist Tom Morello, who radically reshaped the sound of rock guitar in the '90s with the rap-metal band Rage Against the Machine, and later, Audioslave and Prophets of Rage.
Morello basically invented a new way of speaking guitar by infusing his crushing riff-rock style – which he says is based on '70s-era Jimmy Page, Tony Iommi, and Ritchie Blackmore – with noise-making elements of Public Enemy's Bomb Squad productions, a major influence on Morello and his use of effects like the DigiTech Whammy Pedal.
Morello typically wields a Telecaster in drop-D tuning or, for standard tuning, a customized Strat-style guitar with two humbuckers and an aftermarket hockey-stick neck.
A few years back, he took a break from his hammering rhythms and incendiary solos laced with tapping and tremolo dive-bombing (as heard on songs like "Killing in the Name" and "Know Your Enemy") to usher in a softer side via his solo acoustic work as the Nightwatchman and the Street Sweeper Social Club.
Underscoring his artistic flexibility, he's worked with artists as diverse as Wu-Tang Clan and Bruce Springsteen, and stepped in for E Street Band guitarist Stevie Van Zandt on the latter's 2013 Australian tour.
On the gear front, Fender last year released the Tom Morello Stratocaster – featuring a Floyd Rose double-locking trem, kill switch, and "Soul Power" sticker – and Morello recently co-developed a new signature Dunlop Cry Baby wah. It's bright red, of course, and inscribed with two of his sayings: "Sometimes history needs a push" and "You don't need a weapon when you were born one."
Top Track: "Bulls on Parade"
Mike McCready
His powerful leads helped make Pearl Jam one of the biggest acts to emerge from Seattle in the 1990s. Inspired by the likes of Jimi Hendrix and other blues-rock players, McCready plays by feel rather than technique.
His solos on standout tracks like "Alive" and "Yellow Ledbetter" are among the finest in the 1990s hard-rock canon. And don't forget his hand in Temple of the Dog, Mad Season, and Walking Papers.
Peter Hayes
Taking their name from Marlon Brando's bike gang in The Wild One, Black Rebel Motorcycle Club deliver blistering garage rock that harkens to hard rock's primordial rumblings.
Fueling it all is Peter Hayes' fierce but economical guitar work, played with altered tunings and stereo rigs drenched in effects. More textural than melodic, Hayes's style is powerful, dynamic, and full of rock and roll attitude.
Top Track: "Weapon of Choice"
Jerry Cantrell
The Alice in Chains guitarist's fondness for metal is obvious in his use of dissonant harmony, Sabbathian string bends, and the Phrygian mode – consider the main verse riff in "Would" as just one example of the latter.
But the fast legato and lyrical pentatonic lines he plays in tracks like "Grind" reveal his early influences, namely Hendrix and Van Halen, while songs like "Nutshell" find him fusing elements of traditional blues phrasing with hard-rock attitude.
Top Track: "Rooster"
Dean DeLeo
As Stone Temple Pilots' guitarist, Dean DeLeo has made his mark with inventive chord voicings, exquisitely layered tones, and visceral but melodic leads, creating some of the most sonically and harmonically interesting and innovative writing and playing in the rock guitar lexicon.
He's also a talented riffmeister and tasteful soloist, but DeLeo leaves his indelible mark without getting in the way of the vocals, allowing the songs to breathe by using space and chord inversions.
Top Track: "Trippin' On a Hole in a Paper Heart"
Justin & Dan Hawkins
As the guitar tandem in the Darkness, brothers Justin and Dan Hawkins lay down authentic-sounding '70s-style riffs and solos in their glam-inspired hard rock.
But look beyond their signature sense of humor and campy, larger-than-life personae and you'll find two seriously talented guitarists who, between them, can cover everything from filthy edge-of-seat rock and roll (Dan) to Angus-inspired riffing and heavily vibratoed Brian May lead lines (Justin).
Top Track: "I Believe in a Thing Called Love"
Andrew Stockdale
Wolfmother earned comparisons to Led Zeppelin, Blue Cheer, and Black Sabbath when they roared out of Sydney, Australia, in 2005. Credit for that is down to the guitar work of Andrew Stockdale, who counts Jimmy Page, Keith Richards, George Harrison, and Robby Krieger among his main influences.
"I like guitarists who don't necessarily just shred," he's said. "I'm into people who try to bring some kind of melodic structure to the solo, so it's almost like a hook."
Top Track: "Joker and the Thief"'
All the latest guitar news, interviews, lessons, reviews, deals and more, direct to your inbox!
Guitar Player is the world's most comprehensive, trusted and insightful guitar publication for passionate guitarists and active musicians of all ages. Guitar Player magazine is published 13 times a year in print and digital formats. The magazine was established in 1967 and is the world's oldest guitar magazine.
When "Guitar Player Staff" is credited as the author, it's usually because more than one author on the team has created the story.