They Came From Planet Shred: How '80s Guitar Heroes Changed Hard Rock Forever
Slash, John Sykes, Mick Mars, George Lynch, and more invaded hard rock in the '80s, moving it further from its blues-rock origins.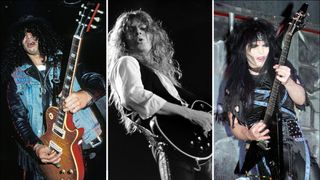 (Image credit: (Slash) Larry Marano/Getty Images; (John Sykes) Brian Rasic/Getty Images; (Mick Mars) Larry Marano/Getty Images)
Just as hard rock had splintered into glam, at the dawn of the '80s it fractured again into a new brand of metal that incorporated some of its glammiest pretensions, as practiced by emerging bands like Def Leppard and Mötley Crüe.
At the same time, established acts like Kiss and Queen skittered away from their hard-rock roots to adopt, respectively, a more metal-pop and pop-rock sound. Through it all, one artist led the way for most hard-rock guitarists: Eddie Van Halen.
The early '80s saw his band reach the heights of popularity, resulting in a wave of guitarists who raised the bar for technique, speed, and virtuoso shredding.
John Sykes, George Lynch, and Warren DeMartini were just the tip of the supersized iceberg that included guitar wizards like Steve Vai and Joe Satriani, each of whom would carve out his own place in the more progressive realms of instrumental rock. But not everyone abandoned hard-rock's origins.
Slash and Mötley Crüe's Mick Mars showed there was still a place for blues-based lead work – and stood out from the pointy-guitar-wielding pack.
John Sykes
John Sykes may not be a household name, but any fan of '80s hard rock knows his work. That's Sykes' dynamic playing – part masterful melodist, part muscular shredder – on Whitesnake mega-hits like "Still of the Night," "Is This Love," and the indomitable "Here I Go Again."
Describing his goal with the formerly pub-rocking Whitesnake – whom he joined in 1983 and exited, under acrimonious circumstances, just after recording their massive-selling 1987 self-titled album – he said he wanted to bring in a "modern, edgy guitar sound with melody, finesse, and drive," and that he did.
It's also a pretty accurate description of Sykes' guitar approach throughout his career. Sykes came on the scene in 1980 as a member of New Wave of British Heavy Metal also-rans Tygers of Pan Tang, but within a few he years hooked up with Phil Lynott in the final version of Thin Lizzy, joining the band for one album, Thunder and Lightning, and a farewell tour.
Tracks like "Thunder and Lightning" and the Lynott/Sykes co-write "Cold Sweat" showcased his massive, blues-rock-on-steroids-tone, which came courtesy of his 1978 Les Paul Custom "Black Beauty" through modded Marshalls (later Mesa/Boogies).
They also demonstrated a truly overwhelming lead style influenced by Sykes' rock and metal forebears (Page, Blackmore, Gary Moore, et al.), with the intensity increased by 10 notches.
In his hands, pentatonic runs were blistering bursts of alternate-picked lines that climaxed in screaming sustained notes and squealing artificial harmonics, spiked with tapped flurries, frantic tremolo-picked phrases, and wide, vocal-like vibratos.
Sykes later helped bring Whitesnake kicking and screaming into the shred-obsessed '80s, where they sold a bazillion units of their 1987 self-titled album. For what it's worth, Whitesnake leader David Coverdale had to hire not one but two guitarists to fill his prodigious shoes after Sykes left the band that same year.
Key Track: "Still of the Night"
Mick Mars
Like Ace Frehley, Mick Mars had the misfortune of working with bandmates whose antics, both onstage and off, effectively overshadowed him. What's more, Mars was a few years older than his '80s guitar-playing peers when he joined the band and something of a traditionalist compared to the rest of the Sunset Strip crew.
After all, he had grown up listening to the likes of Clapton, Beck, and Mike Bloomfield and playing in '70s-era blues rock bar bands, rather than woodshedding two-handed tapping and other EVH techniques in his bedroom. Which means that he came at '80s hard rock and metal from his own distinct, and less-peacocking, angle.
"My goal was always to play something that fit and something that was memorable, not just a barrage of notes," Mars said. "And because I didn't play all the scales or do this or that, people thought that I was this crap guitar player." Maybe at one time. Nowadays it's widely known that Mars was the Crüe's secret songwriting and sonic weapon.
He co-wrote '80s anthems like "Girls, Girls, Girls" and "Dr. Feelgood," and where many of his Sunset Strip peers liked trebly, overly distorted tones, his sound was flat-out massive.
Credit this in part to his decision, beginning with Mötley's 1981 debut, Too Fast for Love, to tune down a full step, as well as his attention to gear. In the band's early days, he was often seen wielding a not-insubstantial Les Paul Custom "Black Beauty," and more recently has kept an arsenal of humbucker-loaded Strats nearby.
His amp setup, meanwhile, has evolved to include a massive assortment of powerful units, from Marshall JCM800s and Soldano SLO-100s to Fryettes, Hiwatts, and Riveras. "When I'm standing in front of my amp onstage, it's putting out 124 dB," he's said. "But it doesn't hurt. It's just a really fat, warm tone."
Key track: "Girls, Girls, Girls"
Warren DeMartini
Warren DeMartini was just 19 when he joined Ratt, and it didn't take him long to achieve rock immortality. One of the first things he brought to the band was the partial-chord–specked, insanely catchy, EVH-like main riff to what would become the band's breakthrough hit, "Round and Round."
DeMartini (along with co-guitarist Robbin Crosby) remained a first-rate riff man throughout the decade, and you'd be hard pressed to find a budding '80s player who didn't log endless hours learning how to play the hard-charging six-string parts that powered arena-rock anthems like "Lay It Down," "Back for More," and You're in Love." But it was as a soloist that DeMartini truly shined and stunned.
He was part of the first wave of post-EVH hotshots who could rip through insanely intricate note flurries effortlessly. And he did it with little more than a custom-graphic emblazoned superstrat (Charvels, in DeMartini's case) loaded with a high-output humbucker (a Seymour Duncan JB) and a Floyd Rose, and plugged into a cranked amp (often a Marshall "Plexi," though he used a Fender Super Champ on Ratt's 1984 full-length debut, Out of the Cellar).
What's more, DeMartini's distinctive vibrato and use of techniques like four-notes-per-string runs and hammer-ons and pull-offs to create long, smooth legato lines added a layer of melody and finesse that many of his shred peers lacked.
He could even get super-bluesy, as on the 1988 hybrid-picked hit "Way Cool Jr." The '80s, he has said, "was an exciting time for me because I had all these techniques and patterns but had never used them exactly in that way. So there was an element of coming up with something almost while I was actually recording it."
Ratt broke up (for the first time) in the early '90s, after which DeMartini assumed the lead-guitar positions in Dokken and Whitesnake, which left him having to master the guitar parts of predecessors like George Lynch, John Sykes, and Steve Vai – no easy task! As always, he handled the riffs, licks, and solos with supremely shreddy style.
Key track: "Round and Round"
George Lynch
There were plenty of hotshot guitarists tearing it up on the Sunset Strip in the mid-to-late '70s, but three undoubtedly stood out: Eddie Van Halen, then–Quiet Riot guitarist Randy Rhoads…and George Lynch.
At the time, Lynch was playing with a band called the Boyz, who had enough clout – and Lynch enough of a rep as a supreme shredder – that, in an oft-told story, Kiss's Gene Simmons and Paul Stanley came to see them headline at the Starwood in L.A. The story ends, of course, with Simmons taking the opening band that night, Van Halen, back to New York to record a demo.
The rest, as they say, is history. Lynch, however, went on to do just fine himself, hooking up with singer Don Dokken in his namesake band, Dokken, and quickly becoming lauded as one of the most technically proficient and idiosyncratic shredders in the '80s hard-rock and metal scene.
His solos often took an "anything goes" approach, mixing pentatonics with more exotic scales and diminished tones, switching between majors and minors, and incorporating wide finger stretches, warped vibratos, whammy-bar pitch bends, tapping, string skipping, screaming harmonics, and more, all of it enacted with precision and at superhuman speeds on his custom-graphic ESP, and sometimes Charvel, superstrats. (He also made heavy use of a hand-built parts guitar that he dubbed Tiger.)
When Lynch brought it all together, as on the 1987 instrumental "Mr. Scary," he created one of the most iconic guitar songs of the era. Since the '90s, he has been in and out of Dokken as well as led his own band, Lynch Mob.
Key track: "Mr. Scary"
Slash
By the mid '80s, the hard-rock guitar landscape was overrun with pointy-guitar-wielding, Aqua Net–abusing "Shreddy" Van Halen speed demons.
Until Slash came along. The Guns N' Roses guitarist is widely credited with triggering a 180-degree turn in the guitar universe, injecting the scene with a much-needed shot of bluesy soul and classic-rock style. And while those hair-conscious guitarists didn't exactly disappear with his arrival, you could rightly argue that hard-rock guitar playing styles changed dramatically after Slash came on the scene.
Furthermore, while there was certainly still a healthy representation of custom-graphic superstrats in Sunset Strip clubs and MTV videos post-1987, when Guns N' Roses released their epochal debut, Appetite for Destruction, Slash returned the Les Paul to its iconic status – even if, as we all know now, his Appetite studio model was actually a copy built by luthier Kris Derrig.
Whether or not you buy into the mythology that's been built around him over the decades, it's hard to deny that Slash is the most influential and recognizable hard-rock guitarist of the past 35 years.
His tone is so revered that a literal cottage industry of signature gear – led by massively popular Gibson guitars and Marshall amps, but also including pickups, pedals, strings, and more – has blossomed around him, with generations of players aiming to nail his gritty, biting, and bright rhythm sound as well as his celebrated, ridiculously round, honeyed, and often wah-inflected lead tone.
As for his playing? Suffice it to say many of his riffs and solos – from "Welcome to the Jungle" and "Paradise City" to "November Rain" and "Anastasia" – are standards of the guitar repertoire, as is the opening lick to "Sweet Child o' Mine."
These days, Slash is as busy as ever, releasing albums with his own band, Slash Featuring Myles Kennedy and the Conspirators, and taking part in Guns N' Roses' Not in This Lifetime… outing, the third highest-grossing concert tour of all-time. At the dawn of his fifth decade in the public consciousness, he's still planted firmly at the top of the guitar heap.
Key Track: "Sweet Child o' Mine"
All the latest guitar news, interviews, lessons, reviews, deals and more, direct to your inbox!
Guitar Player is the world's most comprehensive, trusted and insightful guitar publication for passionate guitarists and active musicians of all ages. Guitar Player magazine is published 13 times a year in print and digital formats. The magazine was established in 1967 and is the world's oldest guitar magazine.
When "Guitar Player Staff" is credited as the author, it's usually because more than one author on the team has created the story.