Take a Guided Tour of Gibson's Slash Collection Les Pauls and Acoustics
The top-hatted guitar great goes deep on his flagship Gibson signature instruments.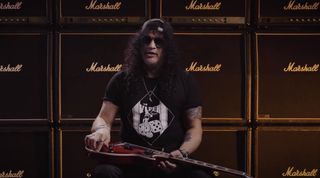 (Image credit: GibsonTV/YouTube)
One of the major product reveals of the 2020 Winter NAMM show was the announcement of Gibson's Slash Collection Les Paul Standards and acoustic guitars.
Though the top-hatted Guns N' Roses guitarist had collaborated with Gibson on a number of much-buzzed-about signature guitars in years past, the Slash Collection guitars were the first bearing his name to be part of the company's more wallet-friendly USA collection.
"It's really nice to have finally arrived at that place," Slash says in a new Gibson TV video about the guitars in the Slash Collection - their design, the inspirations behind them and what makes them unique.
You can check the video out below.
Each Slash Collection Les Paul Standard features a AAA maple top, solid mahogany body, a C-shape neck profile, signature Gibson "SlashBucker" pickups, color coordinated hardware appointments, hand-wired electronics with orange drop capacitors and a vintage style brown hardshell case.
The acoustic side of the Slash Collection is comprised of a J-45 sporting two finishes: Vermillion Burst and November Burst. The guitars both feature a custom C-neck profile and a "fatter and more modern" 16-inch fretboard radius.
"The one thing you would hope anybody picks up when they pick up one of these guitars is that same sort of excitement of, here's a guitar that is set up nicely and plays well and sounds good. Just sort of ticks all the boxes," Slash says.
For more info on the Slash Collection guitars, stop by gibson.com.
Get the latest news, reviews and product advice straight to your inbox.
Thank you for signing up to The Pick. You will receive a verification email shortly.
There was a problem. Please refresh the page and try again.