How Brian May, Joe Perry, Eddie Van Halen, and More Re-Shaped Hard-Rock Guitar in the 1970s
As hard-rock diversified and graduated from halls to arenas, these guitarists defined the sounds and styles of the '70s.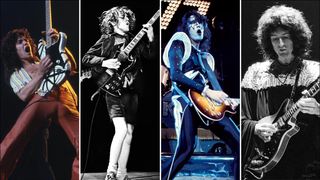 (Image credit: Eddie Van Halen: Lynn Goldsmith/Corbis/VCG via Getty Images; Angus Young: Dick Barnatt/Redferns; Ace Frehley: Fin Costello/Redferns; Brian May: Ian Dickson/Redferns)
The dawn of the '70s saw hard rock emerge as the predominant form of rock, a loud and brash style that excelled in arenas and stadiums, to which touring acts had graduated.
Next to Led Zeppelin, two of the biggest groups of the time were Deep Purple and Grand Funk Railroad. After exploring pop and prog in the late '60s, Deep Purple found their groove with their Mark II lineup in 1970, releasing In Rock, the album that broke them into the mainstream. Meanwhile, Grand Funk Railroad became massively successful with their updated power-trio format.
Despite critical denunciations and little radio airplay, the band sold millions of albums and in 1971 sold out Shea Stadium in just 72 hours, something that had taken the Beatles several weeks to do in 1965.
Hard rock remained robust throughout the decade, branching off into glam rock with groups like Queen and the New York Dolls and growing proggy in the hands of acts such as Journey and Styx.
Others, including Boston, Foreigner, and REO Speedwagon, forged a slick and radio-friendly style of songcraft with anthemic choruses and dramatic arrangements that played well in large arenas, earning it the "corporate rock" tag.
As the decade grew to a close, two new guitar heroes emerged: Eddie Van Halen and Angus Young. As the guitarist for Australia's AC/DC, Young was in many ways a throwback to an earlier era, with his Gibson SG, use of bluesy pentatonic licks, and appropriation of Chuck Berry's duck walk.
Van Halen was in every way his opposite, a blazingly fast and innovative shredder unlike any other, who played guitars he'd heavily modified to meet his playing demands. Both would give hard rock the kick it needed to remain vital into the 1980s.
Brian May
His backline of up to 15 Vox AC30s was referred to as the Wall of Death for its sheer volume. That alone might qualify Brian May for inclusion on any list of hard-rock guitarists, but there is much more to his style.
As Queen's guitarist for 50 years and, along with the late Freddie Mercury, one of its main songwriters, May expanded hard rock's stylistic palette, combining rock and roll with the theatricality of Led Zeppelin, the glammy camp of David Bowie's Ziggy Stardust era, and the musical diversity of the Beatles.
Along the way, he's made his ringing, harmonized lead work one of the most distinctive and recognizable guitar tones in all of rock.
His signature sound was nearly fully formed when Queen arrived in record shops in 1973 as a quasi–heavy metal/progressive-rock act. Their self-titled 1973 debut played to those strengths, but 1974's Queen II introduced elements of glam and found the band developing the multilayered overdubs and vocal harmonies that would become their trademark.
"Led Zeppelin and the Who are probably in Queen II somewhere, because they were among our favorite groups," May said at the time. "But what we are trying to do differently from either of those groups [is] this sort of layered sound. The Who had the open-chord guitar sound, but our sound is more based on the overdriven guitar sound. I also wanted to build up textures behind the main melody lines."
Indeed, May's fretwork was the group's distinctive second voice to Mercury's own. While he's used a number of guitars over the years, including Fender Telecasters and Gibson Les Pauls, his main axe has been his homemade Red Special, sporting three Burns Tri-Sonic pickups, each of which can be put out of phase and used singly or in combination with the others, providing a vast range of tones.
As for May's use of AC30s and a treble booster, he gives credit to his hero Rory Gallagher, whom he met in the late '60s following a gig by Gallagher's band Taste at the London Marquee.
"I said, 'How do you get the sound? What is it?'" May recalled in 2015. "And he said, 'Oh, it's very simple. I have this amp – an AC30 amp – and I have this little [Dallas] Rangemaster Treble Booster.' So I went straight out and got the AC30 and the Treble Booster, and it gave me what I wanted. It made the guitar speak."
But they were only part of the formula. May's distinctive lead tone comes from plugging his treble booster into his custom Deacy amp, built by Queen bassist John Deacon from a discarded transistor-radio amplifier circuit and a bookshelf speaker. Warm, smooth, and sustaining, the resulting tone allowed May's Red Special to sound like a violin or even a human voice.
The amp would prove especially useful starting with 1974's Sheer Heart Attack, where Queen settled into the hard-rock/pop amalgam that became their signature for much of that decade, allowing May's multi-tracked harmonized guitar lines to shine on countless Queen tracks, from "Killer Queen" and "Tie Your Mother Down" to "Stone Cold Crazy" and "Bohemian Rhapsody."
So remarkable was the sound that, for a while in the 1970s, Queen's albums carried the disclaimer "No Synthesizers!" in their sleeve notes, lest listeners mistake May's remarkable layered guitar work for keyboards.
Top Track: "Keep Yourself Alive"
Paul Kossoff
With the British blues-rock band Free, as well as his later solo project, Back Street Crawler, Paul Kossoff proved himself to be a dynamic and expressive guitarist with a blazing style that called on two of his biggest influences – Eric Clapton and Jimi Hendrix.
His tough, sinewy phrasing with a Les Paul or a Strat through Marshall 100-watt amps is captured on the two-CD set from 2006, Free: Live at the BBC. He died tragically in 1976 on a flight from L.A. to New York.
Top Track: "Songs of Yesterday"
Ronnie Montrose
He began as a journeyman guitarist, playing with Van Morrison, Herbie Hancock, and Edgar Winter, among others. But it was with his own group, Montrose, fronted by an unknown Sammy Hagar, that he established his legend as the precursor to the virtuoso likes of Eddie Van Halen.
To many fans, Montrose was America's answer to Led Zeppelin, Deep Purple, and Black Sabbath, and Ronnie had the chops to go up against any of their guitarists.
Top Track: "Rock Candy"
Buck Dharma
Blending rhythm and melody into a distinctive lead style, Dharma (born Donald Roeser) applied his memorable licks and riffs to Blue Öyster Cult's songs, many of which he penned, including the hits "Burnin' for You," "Godzilla," and "(Don't Fear) the Reaper."
Despite being lead guitarist for one of the era's most successful hard-rock acts, his playing never got the widespread acclaim it deserved, probably because he played no more than the songs required.
Top Track: "Burnin' for You"
Ace Frehley
Most guitar fans wouldn't consider Ace Frehley to be among the most technically advanced players in the hard-rock universe, and Ace would probably agree.
"I don't know shit from Shinola," he once said. "I think that's one of the reasons that I'm original – I never took lessons or had any formal training." And make no mistake, Ace is indeed an original.
To paraphrase a line commonly uttered about the Velvet Underground, a case could be made that practically every kid who heard and saw the Spaceman play in the 1970s went out and grabbed a guitar for themselves.
Which is to say that while Ace Frehley doesn't tap, sweep, or shred, he has nevertheless served as one of rock guitar's most influential and pivotal figures almost from the day in 1972 that he walked into a New York City rehearsal space wearing one red and one orange sneaker and nabbed the lead-guitar slot in Kiss.
And while his bandmates Gene Simmons and Paul Stanley did most of the visual and sonic scenery chewing throughout the '70s, it was Frehley's lead style – characterized by long pentatonic runs, wobbly vibratos, and slurred triplets – that inspired generations of future guitar heroes, including Pantera's Dimebag Darrell, Skid Row's Dave "Snake" Sabo, and Pearl Jam's Mike McCready, to pick up their guitar and play.
Of course, Frehley – armed with his arsenal of two- and three-pickup Les Pauls – knew how to make an onstage spectacle of himself as well, whether it was planting smoke bombs in the guitar's pickup cavity, shooting rockets off the headstock, or hanging his axe on a hook and having it fly up into the lighting tresses.
Since the 1980s, Ace has been in and out of Kiss, and he's launched his own band, Frehley's Comet, as well as a successful solo career. With nearly half a century invested in the music business, his influence and impact are firmly set in stone.
"It's a combination of my songwriting, my voice, my attitude, my persona," he's said. "It's the package. I know great guitar players that don't have any image or personality. You need it all."
Top Track: "Shock Me"
Joe Perry
There's a reason that, for decades now, Aerosmith singer Steven Tyler has introduced the man to his left onstage as "Mr. Joe fucking Perry." It's because the Massachusetts-bred Perry plays guitar, to put it one way, like a mutha.
Whether keeping it tight and funky on "Walk This Way," groovy and heavy on "Sweet Emotion," fast and frantic on "Toys in the Attic," or bluesy and deep-in-the-pocket on "Same Old Song and Dance," he tackles every riff, lick, and lead with unmatched cool, class, and charisma. As he's said, "It's all just attitude."
What's more, Perry is an avowed gear hound. He's brandished a mouth-watering array of guitars over the years, from classics like '59 Les Paul Standards and vintage Strats and Teles to unique examples that include his custom-built Tele-Rat, a Guild X-100 Bladerunner, a Chet Atkins Classical Electric (for the solo on "Janie's Got a Gun"), and his own signature Gibsons, among others.
But perhaps the most distinctive thing about Perry's guitar approach is how intuitive and innate it feels. His funkiness never comes off as imitative or labored (check out his hard-grooving Fender Bass VI work on "Back in the Saddle"), and his blues riffs and phrases, in comparison to many of his peers, feel less weighted down by any strict adherence to tradition.
What's more, he's also a stone-cold killer on slide, whether handling a Lucite Dan Armstrong for "Draw the Line" or a Chandler lap steel for "Rag Doll." As for his rock credentials, there's a reason Aerosmith are often called America's Greatest Rock and Roll Band. And while they're also the biggest-ever-selling hard-rock band in the U.S., as far as Perry's concerned, that's just coincidence.
"People spend their careers trying to figure out what makes a hit single," he has said. "But I learned a long time ago that you can't anticipate what people want, because it's always going to change. Play what you want to play."
Top Track: "Walk This Way"
Neal Schon
When Journey formed in the early '70s, it was a mind-blowing experience to witness this spectacular young guitarist – who as a teenager had turned down a job offer from Eric Clapton and left his gig with the Santana band – step out on his own and play with such fire, passion, and intensity.
As Journey moved away from their early fusiony sound and began transforming into the pop-rock megaband we know and love, Schon's playing remained incredibly soulful and bluesy.
He's always crafted his solos with great compositional skill that moved the music and kept the listeners wanting more. Schon wasn't labeled a "shredder" per se (which can be a good or bad thing, depending on one's perspective), but he's had a certain willful restraint in his playing that few pop-rockers have been able to display so naturally.
He's always sounded perfectly in sync with the songs, and was never one to blow solos for the sake of, well, blowing. Just listen to Schon's lead work on "I'll Be Alright Without You" or "Patiently," or when he goes all-out on "In Self Defense," and you'll hear that soaring, voice-like quality in his playing.
Top Track: "World Gone Wild"
Tom Scholz
Boston are often maligned as "corporate rock," an ironic categorization for a band whose debut album was conceived largely by one guy working alone in his wood-paneled basement after getting off work as a product design engineer for Polaroid.
That guy, guitarist and songwriter Tom Scholz, not only managed to come up with Boston's self-titled, multi-Platinum-selling 1976 debut album – he also revolutionized rock-guitar tone using little more than a goldtop 1968 Les Paul with a "neck like a log" that he recorded at extremely low volume due to his less-than-adequate studio environs.
Scholz has identified that tone – characterized by a sweetly distorted and heavily sustaining guitar sound – as the combination of his Les Paul running into an old 100-watt Marshall head and a prototype power soak that he built "because of the need to bring down the gain, but without losing the saturation of the sound."
It wasn't just the sound of Scholz's guitar that was unique, however – it was also the notes he played on it. The solos he constructed for Boston (and co-guitarist Barry Goudreau must be recognized here as well) are towering marvels that dip, soar, and mount to explosive climaxes.
Spiked with unusual harmony lines, bends, and note choices, and just the right amount of flash, they can be listened to as mini compositions in and of themselves. Despite the corporate rock tag, Scholz's influence on critic-approved artists is now widely recognized. (Consider Kurt Cobain, who put more than a little of "More Than a Feeling" into Nirvana's "Smells Like Teen Spirit.")
Scholz also changed guitar tone with his development of the Rockman, the pocket-sized headphone amp simulator used by, among others, Def Leppard on their bajillion-selling 1987 album, Hysteria.
After more than 40 years, Scholz' tone and touch remain as unique and awe-inspiring as ever. "That sound grew out of what I did naturally," he has explained. "It's that simple. Left to my own devices, with no outside interference, the sound of Boston is what I come up with."
Top Track: "Hitch a Ride"
Angus Young
Angus Young and AC/DC have been accused of making the same album over and over again for the past 45 years. But if you achieve high-voltage rock-and-roll perfection on more or less the first try, why would you change a thing?
The Aussie guitarist is certainly one of the most explosive and captivating players in rock and roll, with guitar and sartorial styles all his own.
Mixing hopped-up Chuck Berry rhythms with blues boogie, pop songcraft, and a hint of heavy-metal thunder, Angus and his late brother, rhythm guitarist Malcolm, constructed the riffs that power some of rock's most monumental and iconic songs, including "Dirty Deeds Done Dirt Cheap," "Highway to Hell," "Back in Black," and "You Shook Me All Night Long."
Regarding these riffs, Angus once said, "We always look for something that's a little bit special. And a lot of it has to do with rhythm. We tend to go for, if we can, a bit more blues, a more rhythmic thing. Our riffs transport you. We don't know where, though."
His solos and melodies are just as immediate, hook-laden, and "transporting," mixing bluesy pentatonics with repeating motifs, open-string pull-off licks (hello, "Thunderstruck"), subtle hybrid-picked figures, and teeth-rattling double-stops, among other signature touches.
What's more, he's often performed them sweaty and shirtless while convulsing on his back, duck walking across the stage, or being paraded through the audience atop his singer's shoulders.
And let's not forget that sound. Is there a more revered or sought-after tone in all of hard rock than the bright yet thick, spongy yet gritty, distorted yet somehow insanely clean sound of his Gibson SG through a 100-watt-Marshall?
It's as impressive and distinctive today, on AC/DC's brand-new Power Up album, as it was on 1975's High Voltage. And maybe there's a reason for that. "If you're playing it right," Angus once said, "it's going to sound right somehow." Perfection, indeed.
Top Track: "Let There Be Rock"
Eddie Van Halen
In almost any other case, it would be outrageous to say that rock and roll would sound entirely different were it not for one artist. But when the artist in question is Eddie Van Halen, who passed away in October 2020 at age 65 after a long battle with cancer, it's the stone-cold truth.
It took just 30 seconds of brain-scrambling, two-handed tapping in 1978's "Eruption" for Eddie to completely change guitar's vocabulary. But that was just one act in his rewiring of the electric guitar's DNA. Eddie also blurred the line between rhythm and lead playing and made every song a thrill-a-second rollercoaster ride with his screeching pick slides, dive bombs, superhuman shredding, syncopated grooving, and fiercely aggro-metal riffing.
He may not have been the first player to use any of the above techniques, but no guitarist before him had combined them to such thrilling ends. In Ed's hands, six strings not only sounded like an orchestra – they also sounded impossibly alive. Beyond his playing style and technique, Eddie changed rock tone.
His coveted "brown sound" – created by running his homemade, humbucker-equipped Frankenstein guitar into a Marshall 100-watt with the voltage dampened by a Variac – quickly became the gold standard for tone. Every '80s shredder attempted to replicate it, but no one came close.
And as much as Ed transformed the sound of guitar, he also changed its look. With a body and neck purchased for roughly $130, a PAF humbucker, a rudimentary tremolo, and some gaffer tape and spray paint, he helped birth the Fender/Gibson-style hybrid now known as the superstrat – a hot-rodded, built-for-speed, often wildly finished shred machine. The Frankenstein, as Ed's guitar became known, was only the beginning.
He continued to make gear advances later on with Kramer, Music Man, Peavey, and, finally, his own EVH brand.
In the end, it would be impossible to sum up Eddie Van Halen's contribution to rock – contribution to music, even – in a few hundred words, or even a book, although his own thoughts begin to get at the heart of his approach: "You have 12 notes, and the 13th one is the octave," Eddie said in 2016. "Do whatever you want with them. It's really that simple. There are no mistakes."
Top Track: "Eruption"
All the latest guitar news, interviews, lessons, reviews, deals and more, direct to your inbox!
Guitar Player is the world's most comprehensive, trusted and insightful guitar publication for passionate guitarists and active musicians of all ages. Guitar Player magazine is published 13 times a year in print and digital formats. The magazine was established in 1967 and is the world's oldest guitar magazine.
When "Guitar Player Staff" is credited as the author, it's usually because more than one author on the team has created the story.