Dunlop Unveils New Tom Morello Cry Baby Wah Pedal
Spec'd like a Cry Baby GCB95, this signature wah features a red enclosure adorned with two of Morello's favorite quotes.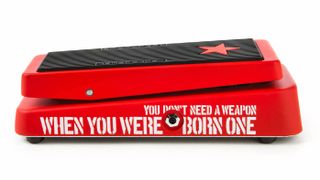 (Image credit: Dunlop)
Dunlop has teamed up with Rage Against the Machine guitarist Tom Morello for a new, limited-edition signature Cry Baby wah pedal. 
This particular wah features a red enclosure with a red star on the foot pad, and two of Morello's favorite quotes on the side: "Sometimes history needs a push" and "You don't need a weapon when you were born one."
Otherwise, the pedal is spec'd just like Morello's early-'80s-era Cry Baby GCB95, a pedal that - according to Dunlop - Morello has used on "every album and every tour through his career."
The Dunlop Tom Morello Cry Baby wah pedal will be available soon for $185.70, though it's available for preorder now at Sweetwater for $129.99.
For more info on the pedal, head on over to jimdunlop.com.
Get the latest news, reviews and product advice straight to your inbox.
Thank you for signing up to GuitarPlayer. You will receive a verification email shortly.
There was a problem. Please refresh the page and try again.