Get $50 off the Line 6 DL4 Looper, the one-stop shop for delay freaks
Get the game-changing vintage delay and echo modeler beloved of Radiohead and more in Sweetwater's pre-Black Friday sale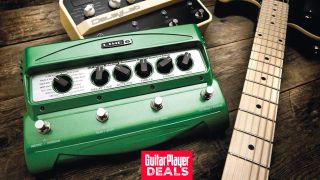 (Image credit: Future)
One of the first digital-modeling stompboxes, the Line 6 DL4 provides simulations of 15 classic analog delays and tape-echo units. With its user-friendly interface, and smart features such as tap-tempo, stereo ins and outs, and a 14-second looping function, the DL4 could credibly lay claim to having changed the sound of indie rock in the 2000s.
Sweetwater are offering up Black Friday guitar deals earlier than usual this year and have taken $50 off this ground-breaking piece of hardware (opens in new tab).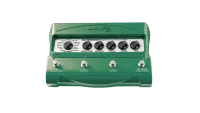 (opens in new tab)
LIne 6 DL4 Delay Modeler Pedal: was $299.99, now $249.99 at Sweetwater (opens in new tab)
The Line 6 DL4 delay modeller was a game-changer on launch – boasting models of 16 classic delay effects that you'd struggle to get hold of without a formidable overdraft – and is still hard to beat today, especially at this price. It found its way onto the pedalboards of countless pro guitarists, who loved the ability to instantly access three presets and tap tempo, not to mention the 14-second looper.
The Line 6 DL4 delay modeller shook things up on its launch in 1999. The defining tones of the Roland RE-101 Space Echo, TC Electronic 2290 and Maestro EP-1 Echoplex were all available at the twist of a knob, alongside Line 6 originals, such as sweep echo, auto-volume echo and lo-res delay.
Most importantly, the sound quality was there, too, and the DL4 quickly found its way onto the pedalboards indie-rock pioneers like Radiohead, Deerhunter, Grizzly Bear and Minus The Bear, whose guitarist Dave Knudson used a bank of DL4s to record, manipulate and trigger the legion of complicated guitar loops that can be found in almost every Minus The Bear song.
Since the DL4 was introduced, Line 6 has used its sounds as the basis for other effects units, including the Echo Pro rack delay, Echo Park compact pedal and the M series stompbox modellers, but its functionality and modelling ethos is something you'll find a tribute to in just about every digital delay pedal on the market today.
Still relevant, still great value for money – and one of the best pre-Black Friday deals around right now.
Get the latest news, reviews and product advice straight to your inbox.
Thank you for signing up to The Pick. You will receive a verification email shortly.
There was a problem. Please refresh the page and try again.