Watch the Remastered 4K Version of David Bowie's Monumental "Ziggy Stardust" Hammersmith Odeon Performance
This newly upgraded film celebrating the concert's 50th anniversary captures guitarist Mick Ronson's anthemic riff-mastery at its finest in the heyday of glam rock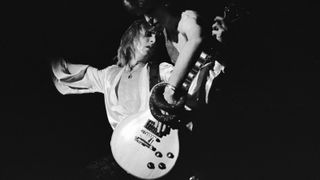 (Image credit: Debi Doss/Hulton Archive/Getty Images)
Guitarists. David Bowie could pick them. His catalog is filled with the work of greats like Earl Slick, Carlos Alomar, Robert Fripp, Reeves Gabrels, Adrian Belew, Nile Rodgers, Stevie Ray Vaughan, Peter Frampton, David Torn and Ben Monder.
But might any of those alliances have happened at all were it not for Mick Ronson?
The guitarist from Hull's impact on Bowie's career has been well documented. Ronson was the first of his collaborators whose talents were equal to his own, if different by nature.
In Ronson, Bowie had a guitarist, pianist, arranger and musical foil who could give shape, form and massive guitar tone to his musical creations, turning them into hits and, fair to say, cultural movements.
Ronno's distinctive work on Bowie's early 1970s output remains for me some of that era's most expressive and memorable guitar playing. If I could point to a favorite moment, I would choose the solo in Aladdin Sane's "Time," with its feral whammy-bar horse neighing and guitar-symphony harmonies, elements that bring to mind the work of, respectively, Eddie Van Halen and Brian May, who followed Ronson.
After Bowie split with Ronno, no guitarist would play as long and vital a role in his music for decades, until he teamed with Gabrels in Tin Machine and beyond in the 1990s.
His career suffered not at all from Ronson's absence, nor should it have. Constant reinvention was the cog that drove Bowie's career and lifetime of success.
Ronson, on the other hand, remains best known for his work with the glam-rock icon, despite making significant contributions elsewhere, including on Lou Reed's Transformer, Morrissey's Your Arsenal, and American Fool, John Mellencamp's 1982 breakthrough album.
"I owe Mick Ronson the hit song 'Jack & Diane,'" Mellencamp declared to Sound on Sound in 2008, referring to the American Fool cut that put his career on firm footing. "Mick was very instrumental in helping me arrange that song, as I'd thrown it on the junk heap… All of a sudden, for 'Jack & Diane,' Mick said, 'Johnny, you should put baby rattles on there…
"So he put the percussion on there, and then he sang the part, 'Let it rock, let it roll' as a choir‑ish‑type thing, which had never occurred to me. And that is the part everybody remembers on the song. It was Ronson's idea."
50 years ago, Ronson and Bowie played perhaps the most legendary gig of both their careers when they performed at the Hammersmith Odeon on July 3, 1973. Immortalized in the film Ziggy Stardust and the Spiders from Mars it marked the end of an era.
"Of all the shows on this tour, this particular show will remain with us the longest," declared Bowie. "Because not only is it the last show of the tour, but it's the last show that we'll ever do. Thank you."
In celebration of this historic concert's 50th anniversary a digitally restored version of the film will be screening in cinemas worldwide this month.
Running one hour and 42 minutes long, the new 4K version comprises the full performance, including Jeff Beck's celebrated "The Jean Genie" guest appearance (cut from previous releases). This golden anniversary edition also features a 5.1 mix by famed producer Tony Visconti.
Additionally, a special 50th Anniversary Edition of Ziggy Stardust and The Spiders From Mars: The Motion Picture is available to pre-order now on vinyl and CD.
Visit the David Bowie website for more information.
All the latest guitar news, interviews, lessons, reviews, deals and more, direct to your inbox!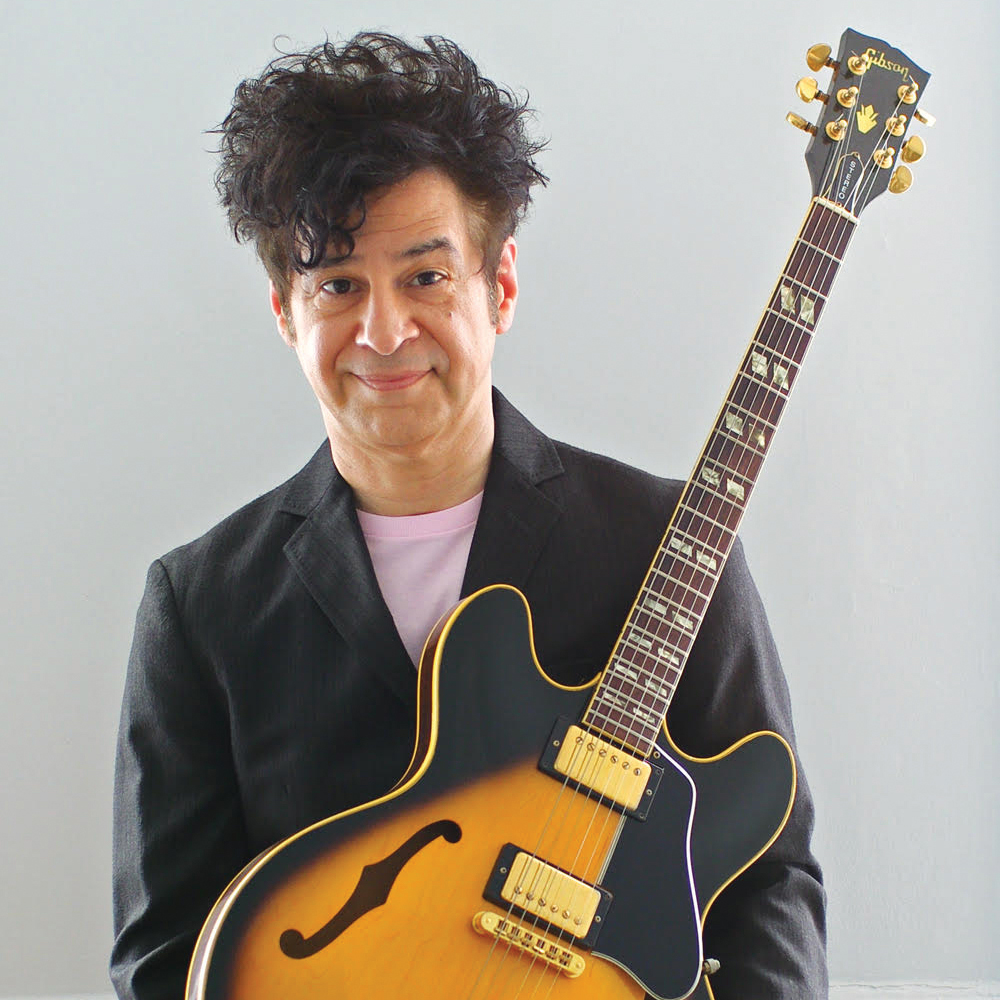 Guitar Player editor-in-chief
Christopher Scapelliti is editor-in-chief of Guitar Player magazine, the world's longest-running guitar magazine, founded in 1967. In his extensive career, he has authored in-depth interviews with such guitarists as Pete Townshend, Slash, Billy Corgan, Jack White, Elvis Costello and Todd Rundgren, and audio professionals including Beatles engineers Geoff Emerick and Ken Scott. He is the co-author of Guitar Aficionado: The Collections: The Most Famous, Rare, and Valuable Guitars in the World, a founding editor of Guitar Aficionado magazine, and a former editor with Guitar World, Guitar for the Practicing Musician and Maximum Guitar. Apart from guitars, he maintains a collection of more than 30 vintage analog synthesizers.