Nile Rodgers Relives His Spectacular Career on the 'No Guitar Is Safe' Podcast
The six-string maestro discusses the Fender Acoustasonic Stratocaster, and details his hugely influential funk guitar approaches.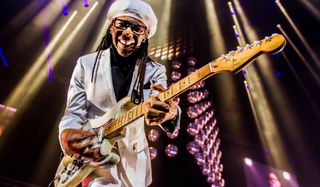 (Image credit: Paul Bergen/Redferns/Getty Images)
Globally respected for his incredibly funky guitar playing and immense success as a Grammy-winning super-producer, Nile Rodgers has been making multi-platinum albums since the late '70s, when his dance band Chic ruled radio with hit after hit. (One of Chic's famous grooves, powered by Rodgers' guitar and the late, great Bernard Edwards' bass, "Good Times," even became the basis of what was arguably the first breakthrough rap song: the Sugerhill Gang's "Rapper's Delight.")
After Chic's early success, Rodgers went on to produce Diana Ross, Madonna, David Bowie, David Lee Roth, Duran Duran, Stevie Ray and Jimmie Vaughan, Lady Gaga and other superstar acts.
Presented by Blue Microphones, Episode 125 of the No Guitar Is Safe podcast finds Rodgers with a Fender Acoustasonic Stratocaster in his hands, detailing his funk guitar approaches from Chic – a band that still releases albums and, in non-pandemic times, tours – on up through his more recent superhit, "Get Lucky" (by Daft Punk), to his new jazz/funk instrumental, "Inside the Box."
A fascinating segment of the episode comes when Rodgers plays and sings for you the early "folk" version of "Let's Dance" David Bowie first showed him, and then traces the way he transformed Bowie's song into the worldwide multi-platinum smash it became by modifying the chord progression, changing the key, adding pleasing jazz-approved voice-leading, hiring A-list session cats to track funky rhythm section parts, and giving the final guitar part extra sonic fairy dust by adding a stereo rhythmic delay during mixdown.
And, of course, Rodgers reminisces on what it was like recording a young Texas guitar virtuoso who would emerge as one of the world's most beloved guitar heroes of any genre, Stevie Ray Vaughan.
Interestingly, despite being known for dozens of chart-topping radio hits and the irresistible grooves that drive them, when Rodgers has some downtime to do a little guitar playing, he doesn't practice the funk, rock or pop approaches that made him famous.
"When I play guitar, I play jazz," reveals Rodgers early in the interview. "I play jazz because when I do that, I feel I'm learning more and more about the instrument and what I can do, what I can't do, and what I'd like to achieve."
You can check out the interview with Rodgers below. Stream all episodes of No Guitar Is Safe from your smartphone's Podcasts app, iTunes, Spotify, Google or wherever you get your podcasts.
All the latest guitar news, interviews, lessons, reviews, deals and more, direct to your inbox!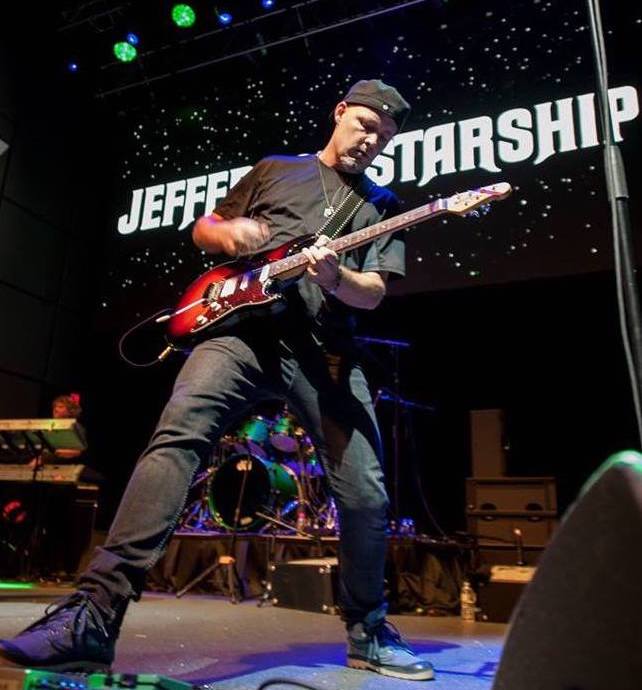 Los Angeles Editor, Guitar Player
Whether he's interviewing great guitarists for Guitar Player magazine or on his respected podcast, No Guitar Is Safe – "The guitar show where guitar heroes plug in" – Jude Gold has been a passionate guitar journalist since 2001, when he became a full-time Guitar Player staff editor. In 2012, Jude became lead guitarist for iconic rock band Jefferson Starship, yet still has, in his role as Los Angeles Editor, continued to contribute regularly to all things Guitar Player.
Watch Jude play guitar here.