Inside Peter Frampton's Gear Vault
Talk boxes, modded Marshalls, and vintage Les Pauls make Frampton's sound come alive.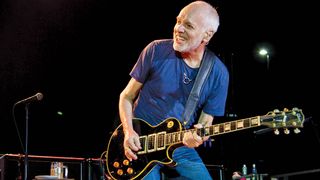 (Image credit: Amy Harris)
No one knows Peter Frampton's gear better than his longtime Nashville-based guitar tech, Darren Hurst. We'll leave it to him to give us the rundown on Peter's expansive setup from 2019's Finale: The Farewell Tour.
"Peter's rig seems really complex at first glance, but it is deceptively simple in terms of signal flow," Darren says. "It's built on the idea of the shortest and cleanest signal path at all times, and is basically a center dry/left-and-right wet system, designed and built by Mark Snyder.
"Peter's main tone is very simple: It's a Klon Centaur into a John Suhr clone of a 1970s Marshall JMP [modded by José Arredondo] into a single 4x12 cabinet loaded with Celestion Vintage 30s. There is a second Suhr Marshall clone that serves as a backup to the main head, and the proper 'José' Marshall that serves as the Talk Box amp.
"The main Marshall is electronically split so that the preamp section and power amp are separated electronically and can be used individually.
"In addition to the Marshall preamp, there's a Fender Bassman and an Egnater preamp that can be chosen, but they all hit the power section of the Marshall, and this gives the various preamp sounds a very nice common characteristic. The clean intro to 'Lines on My Face,' which uses the Bassman preamp, is a good example.
"Using a Mesa/Boogie Switch-Track amp switcher, a pair of Voodoo Lab GCX loop switchers and an Axess Electronics RX1 Router Switcher, all pedals and loop effects are only punched into the signal chain when required. The front-end effects are exactly what they sound like – they're part of the input signal chain to the main instrument input of the amps.
"They're divided into two categories: drives and boosts, and modulation. In the Drive section, you have a few other stompbox flavors to choose from in addition to the Klon Centaur. There's a Fulltone OCD, a Voodoo Lab Sparkle Drive, an Origin Effects RevivalDrive – which was a new addition for the Finale tour – and a Creation Audio Labs MK4.23 Clean Boost, which just adds a touch of lift to the Marshall.
"There's also a Foxx Tone Machine Octave Fuzz, which gets used for about 15 seconds total in the show. And there's an Origin Effects Cali76, which is basically a Universal Audio 1176–style compressor in a pedal.
"The Modulation front-end effects consist of an original MXR Phase 90 'Script' pedal and an Electro-Harmonix POG Polyphonic Generator, which sees heavy use on 'Lying.'
"Peter also has a pair of Mu-Tron pedals: a Mu-Tron Phasor II and a Mu-Tron III+ Envelope Filter/Auto-Wah, which are featured in his cover of 'Black Hole Sun.' One is set to an octave down, and the other to an octave up. The Mu-Trons are really musically expressive effects, and the filter responds to your attack and touch.
"The last few front-end effects are mounted on a pedalboard at his mic position and consist of a Digitech Whammy II, a Dunlop MC-4040 CAE Wah, and two Gig-FX pedals: a Chopper Tremolo and a Mega-Wah that is set to do auto-wah.
"Peter often uses these two pedals together, as the blend of the Mega-Wah and the Chopper create an interesting and dynamic stutter effect. On this pedalboard, there's an MXR Micro Amp, as well, to keep the signal at unity gain with the rest of the rig, and it is always on.
"The loop effects consist of three main delay/reverbs: Two T.C. Electronic M3000 Studio Reverb processors, and a Korg SDD-300 delay which is based on the classic Korg SDD-3000 rack delay. It has a really nice, warm decay that gets darker as the tails drop off. All delays are pre-programmed to the song.
"There is also a T.C. Electronic TC 1210 Spatial Expander + Stereo Chorus Flanger, and an Eventide Eclipse V4. Peter also has an Alesis Q20 20-bit processor for a vintage Shadows/Hank Marvin–style delay.
"The stereo effects are fed from the main Marshall's effects loop, but they return to a Rane mixer, and the output is sent to a Mesa/Boogie Stereo 2:100 Rectifier stereo power amp, and this feeds the left and right Marshalls.
"We've got two Leslie 147 cabinets with us that were modified by Murph at Nashville Hammond, and they accept a guitar signal from the front-end effects. The Leslie cabs are always on, and the rotary speed can be controlled by the Axess Electronics FX1 foot controller, which forms the heart of the switching system."
"There are two of these pedalboards: one onstage at Peter's mic position, and one in 'guitar world,' as I also punch various effects changes throughout the show. We created a split off the front-end effects as well that feeds a 1964 Vox AC15, which sits behind the Marshalls offstage, and they're firing backwards to keep the stage volume at a reasonable level. The Vox is always on, and it adds some nice fullness in the midrange.
"The last effect that must be mentioned, of course, is the Keeley/Framptone Talk Box which is based on the Bob Heil Talk Box that Peter used for many years. The Talk Box is fed with signal from the 'José' Marshall and is just such a signature effect of Peter's. One thing that is really important with the Talk Box, though, is to make sure all your fillings are in place before you put your mouth on that tube!"
The Electric Guitar Vault
Gibson 1954 Les Paul (the original "Phenix")
Gibson PF Les Paul Custom #2
Gibson PF Les Paul Custom #3 ("While My Guitar Gently
Weeps")
Gibson PF Les Paul Custom #4 (Spare, tuned to Eb)
Gibson 1961 SG (tuned to Drop D)
Gibson 1960 Les Paul ("Paulina")
Gibson 1964 Red ES-335
Gibson 1960 Les Paul Reissue (Tom Murphy-aged)
Gibson 1960 Les Paul Reissue
Gibson 2009 Sunburst ES
The Acoustic Guitar Vault
Epiphone 1964 Texan
Martin D-42 #2
Martin D-42 #3
Martin D-42 #4
Epiphone PF Signature "1964"
Texan #1
Maton SRS808c #1
Maton SRS808c #2
All the latest guitar news, interviews, lessons, reviews, deals and more, direct to your inbox!