"He Just Wanted Me to Go Wild on the Guitar": Adrian Belew Reveals How David Bowie Helped Him Become a More Creative Player
The guitarist recalls his "wild and unusual" approach to recording the final instalment of Bowie's Berlin Trilogy, 'Lodger'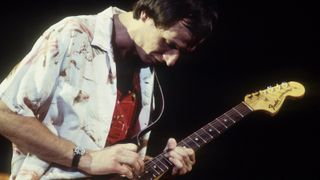 (Image credit: Larry Hulst/Michael Ochs Archives/Getty Images)
Regarded as one of the most inventive guitarists in rock, Adrian Belew has worked with a host of stellar musicians including Frank Zappa, David Bowie, Talking Heads and King Crimson.
Having toured and recorded with Zappa (Belew appears on his 1979 Sheik Yerbouti album) he was recruited by Bowie for his epic Isolar II – The 1978 World Tour, a.k.a. The Low/Heroes World Tour.
Consequently, Belew is credited as lead guitarist on Bowie's 1978 live album, Stage.
Released in 1979, Lodger is the only Bowie studio album featuring Belew. Following 1977's Low and "Heroes" LPs, it is the final instalment in Bowie's Berlin Trilogy recorded in collaboration with Brian Eno and Tony Visconti.
In 1990, Belew returned to the Bowie fold as musical director for the Sound+Vision Tour.
In this fascinating interview, the King Crimson virtuoso recalls how Bowie's encouragement "to try wild and unusual things" assisted his development as a guitar player.
Brian Eno had an unusual idea for your parts on Lodger, where you didn't get a chance to hear a song before you played on it, and he took elements of what you played and rearranged them into new composite guitar parts on the album. Do you think, with hindsight, that if you'd had the chance to hear the songs first, you could have come up with something you might have preferred, or thought was better?
I definitely think I could have come up with different things if I'd had the time to learn the songs and really work on them.
I do quite like the way that they turned out though because it was very unusual. In a way, it started me down that road of people thinking that that was how I played. So I did. [laughs]
When you heard the finished tracks played back to you, did you think it sounded like they might be a bit tricky to play?
I figured I could do it. [laughs] The funny thing is that they did something similar with [Robert] Fripp's work on "Heroes" on a couple of songs, but when I joined the band, nobody told me that.
I managed to figure out a way to play those parts which the band thought were impossible to play. [laughs]
I have a theory that Eno wasn't particularly a fan of the guitar, so he sought to undermine guitarists by taking them completely out of their comfort zones.
I don't know if that's his motivation, but he does think completely outside the box about things.
He does like to come up with ways to trick you into doing things that you wouldn't ordinarily do. I like that though.
Why didn't you do any further studio albums with David?
It was really a matter of circumstances and scheduling. I was trying to get my own record deal and then I had the offer to join Talking Heads on their world tour which took up a year anyway.
King Crimson came after that, so there really was no time to do much else. We reunited for the Sound+Vision Tour in 1990 which was a major undertaking. It was a world tour with the intention to play the massive catalog of hits for the last time.
He made me the musical director of what turned out to be a very small band, so we used a lot of samplers on that tour. We had to cover all kinds of orchestrations and line-ups, so it was a huge task. We did 108 shows which was a fantastic experience.
How long would you spend in rehearsal for a tour of that magnitude?
A lot of time was pre-rehearsal with me and Rick Fox, the keyboard player, where we had to work out how to cover all the bases on the songs with a four-piece band.
Once we actually started rehearsing, that's when David would join in. He'd maybe suggest key changes or different arrangements for some songs but mostly he was kind of standing outside looking in and cheering us on.
He let me have my way, which I think is what he wanted – someone trustworthy to make it happen.
Did working with David change the way that you played and approached music?
I think, especially in 1978 and 1979, those tours were extremely important for my development as a player.
Prior to playing with David, I was playing with Frank Zappa, and in Frank's band, you didn't need to be creative – you needed to just play his music consistently correctly.
David was quite the opposite. He wanted someone to throw lots of color at the canvas and he just turned me loose. He told me that he just wanted me to go wild on the guitar.
That gave me the impetus to do exactly that, and I carried that over into Talking Heads and King Crimson.
I think David's encouragement to try wild and unusual things really helped me to do the things that I did on the guitar.
Order David Bowie's Lodger here.
All the latest guitar news, interviews, lessons, reviews, deals and more, direct to your inbox!
Mark is a freelance writer with particular expertise in the fields of '70s glam, punk, rockabilly and classic '50s rock and roll. He sings and plays guitar in his own musical project, Star Studded Sham, which has been described as sounding like the hits of T. Rex and Slade as played by Johnny Thunders. He had several indie hits with his band, Private Sector and has worked with a host of UK punk luminaries. Mark also presents themed radio shows for Generating Steam Heat. He has just completed his first novel, The Bulletproof Truth, and is currently working on the sequel.