This Mid-1960s Victoria Mod Job Shows What You Can Do With Some Choice Spare Parts, Ingenuity and Imagination
A cool and affordable way to add a lot of mojo to your guitar palette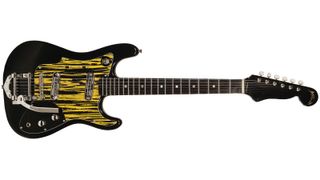 (Image credit: May Yam)
A funny thing happened as I was wrapping up this column about the modified mid-1960s Victoria guitar pictured here.
I had yet to accurately identify the pickups, so I sent a photo of the instrument to my friend Ronni Dinette asking for help.
Ronni said the pickup covers are the same as those found on an early Teisco ET-220.
As an added surprise, it turns out this whack job is an older custom axe Ronni created from the Dinette parts bin – just one more reason why I say it's fun to be a guitar-cheologist!
This particular dig began months earlier when I got a call from Gary Wineroth, who told me he had picked up a cool Victoria guitar at a local vintage guitar show. (Victoria is one of the many nameplates the Japanese Zen-on Co. used in the early to mid '60s.)
Gary couldn't tell me much about it, so I was on my own. As it turned out, I was pretty close on most points, but since Ronni did the customizing, I'm now able to fill in the blanks.
Weirdo Factor
Frankly, there's nothing too weird here past the striking custom zebra pickguard. But poke a little deeper and you'll sense that this is a player's guitar with some very cool mods.
Playability & Sound
If you've never heard the term "half a baseball bat with strings on it," then you've never played some of the less-popular Japanese guitars of the '60s.
The 20-fret, truss-rod-free neck reminds me of my Guild 12-string acoustic: It's huge, but once you get used to how it fills your palm, you'll find it's actually wide, flat and quite comfortable to play.
As for those "Teisco" pickups, it turns out that beneath the gold-foil covers are some rich-sounding Strat-style single-coils with metal shielding plates – the variety of pickup often found on cheap Strat copies.
Ronni chose them because they would fit under the Teisco covers and, better still, because they sound terrific!
With a clean amp setting, they're punchy, articulate and musical. With distortion, they sound massive and produce very little residual noise or feedback in any position, something I've rarely said about Teisco pickups.
Electronics include two pots (adorned with Fender Jazz Bass knobs) for master volume and tone, and a three-way Gibson-style pickup selector.
There are also two slide switches: a tone capacitor similar to Teisco's Rhythm/Solo switch, and a phase reverse for the center-pickup position.
Between the tone knob, three-way selector and slide switches, I was able to dial in loads of cool, distinctive sounds.
The Bigsby-style vibrato is a mod and has a fully intonatable bridge, which is much more manageable than the two-spring tremolo and plastic bridge you'll find standard on most Victorias.
But here's the kicker: Most Victorias have their big chunky neck with massive peghead mated to a somewhat miniaturized offset body. This guitar seems way more proportionate, and with good reason: It has a Squier Bullet Strat body!
Why It Rules
This instrument has all the character we love in a 1960s Japanese guitar, including unique sounds, yet it functions on the level of a reliable player's guitar.
I own other Victoria axes, and most are entry-level instruments with quirks that one has to consider while playing.
This, however, is a thoughtfully executed guitar collage featuring one exceptional and well-adjusted '60s Victoria neck fitted to a typically unloved laminated Strat body that's loaded with a rethink of modern low-end electronics.
Value
On average, Victoria guitars in stock condition are worth around $200, aside from those with unusual colors or in exceptional shape, which can fetch more.
But this guitar is an example of what can be done with some choice spare parts, ingenuity and imagination.
It's hard to pin a dollar value on it, but its intrinsic worth is that it's a great-looking guitar with a unique sound.
This is a cool and affordable way to add a lot of mojo to your guitar palette.
Better still, people will envy you.
Thanks to Gary Wineroth for the loan of this axe. Visit his store, Guitar Showcase, in San Jose, California. Thanks to Ronni Dinette for sharing the details of this cool build and for unwittingly appearing in yet another of my columns (and, for that matter, practically ghost-writing this piece).
Contact me at rtcarleton@gmail.com with questions or pictures of your whack job. Who knows? Maybe I'll even write about it.
All the latest guitar news, interviews, lessons, reviews, deals and more, direct to your inbox!