A Firm Favorite of Ry Cooder and Dan Auerbach, Here's Why the Humble Gold-Foil Pickup Can Deliver About as Much Aural Magic as Any of the A-List Coils
The cult of the gold-foil has acquired a mystique and made its place among us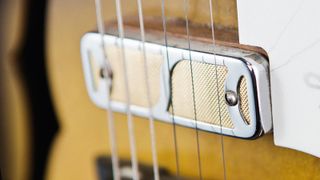 (Image credit: Future)
In recent years, enthusiasm for vintage gold-foil pickups has remained one of the most consistent micro-trends on the electric guitar scene. Thousands of players have discovered the sonic appeal of these components from B-list and catalog-grade guitars, but rarely is this pickup adequately explained and, hence, fully understood. As a result, the humble gold-foil has acquired a mystique. Meanwhile, a pair of originals are now often worth more than the entry-level guitar they came with.
Lusting after vintage pickups is nothing new. Guitarists have long paid a premium for pre-CBS single-coil Fender Stratocaster and Telecaster pickups. Early 1950s Gibson P-90s have long been prized, and a good pair of original PAFs from the late part of that decade might cost you as much as a low-mileage used car these days.
More recently, though, many players have discovered that a low-budget contemporary of these hallowed components from the '50s and '60s can deliver about as much aural magic and touchy-feely playability as any of the A-list coils. And thus the cult of the gold-foil has made its place among us.
Several different pickups from the late '50s to late '60s are generically referred to as gold-foils, but here we'll concentrate on one particular and popular type, while touching on a few others to note their similarities and differences.
These pickups get their name from a foil-like piece of gold card that covers the plastic plate above the coil and is visible through the cutouts in the metal cover. Although this material looks similar to the foil that covers the blades of an electric shaver, in most instances it isn't really foil at all but an embossed paper stock of the type that might have been used for holiday decorations or greeting cards from the era.
The perceived appearance results in the gold-foil descriptor, which today is used to describe several different makes and models of pickups, including some that are similarly constructed but otherwise different and may not even feature the decorative foil card.
Under the microscope here are the pickups made by Rowe Industries for DeArmond. These were used on many Harmony and Silvertone guitars from the late '50s through the mid '60s, on which they were often billed as Golden Tone pickups.
They are generally seen with the gold-paper top beneath a partially cut-out chromed-metal cover, often called an S cover (see above) for the wiggly piece that bisects the opening. However, some models have silver-foil tops and covers with diamond cutouts, while others feature black tops and are often referred to as blackjack pickups.
Regardless, all are constructed in the same fashion and sound the same, although theoretically, like most vintage pickups, their tone can vary quite a bit, depending on how much wire was wound onto the coil and the relative strength of the magnet.
In principle, these are extremely simple creations, but they also represent something of a lucky accident, as they sound superb in many applications.
Construction of this type of Rowe/DeArmond gold-foil involves winding several turns of thin, 44-AWG wire around a thick magnet of rubberized ferrite, a chunkier version of the type found on those semi-flexible refrigerator magnets.
These pickups have no real bobbin as such, just the wire wound around the magnet, plus bottom and top plates made of thin plastic, a metal baseplate and the decorative card and cover sitting above. Stack it all together and this gold-foil pickup is only about 1/8-inch tall, making it well suited to surface mounting on a guitar's top.
Many players who connect a multimeter to this type of gold-foil come away thinking it's a fairly hot pickup, thanks to its average DC resistance reading of roughly 9.5 to 12 k ohms. That spec is somewhat misleading, however, since the use of thinner wire results in a higher resistance reading relative to signal output.
Even so, these pickups drive an amp well for single-coils, pushing into edge-of-breakup tones more readily than the average vintage-wound Strat or Tele pickup, while retaining a lot of clarity and articulation.
There's a certain undefinable magic in a good gold-foil that has led to the craze for these things – a seemingly contradictory ability to be simultaneously clear and biting in the pick attack, while also slightly soft and compressed; to deliver thick and creamy lows and mids, as well as clear and expressive upper mids and highs that are never spiky.
Apply distortion, and a more gnarly, raw character shines through, with an admirable retention of articulation. Just call it "personality" – gold-foils have a lot of it, which simply makes them a delectable vintage tone generator by any standards.
When set up correctly, the department-store and catalog-grade guitars that carried these pickups can be genuine tone monsters, thanks in large part to the gold-foils. Unfortunately, while some Harmony and Silvertone guitars played better than others, these low-cost brands were the downfall of the pickups' reputations.
Yet, as Ry Cooder discovered several decades ago about his favored Teisco model, a good Rowe/DeArmond gold-foil can sound sublime when mounted on a better-built guitar.
For the sound of gold-foils used with original vintage guitars, check out the playing of Tom Brenneck with the Dap-Kings, or Dan Auerbach with the Black Keys, who cover the clean-to-mean spectrum, respectively. Other breeds of gold-foil pickups differed somewhat, though most have a little something in common with this architecture.
The coveted Hershey-bar pickups on late-'50s Harmony Stratotone guitars were very similar but constructed beneath an enclosed metal cover, without any gold card showing.
Rowe/DeArmond also supplied a pickup that was similar, aside from a row of adjustable pole pieces running down the center of the unit and a cover with four f-hole-like cutouts, commonly referred to as a moustache cover. These are great-sounding gold-foil pickups as well, and are wound with somewhat less wire and have lower resistance readings as a result.
Japanese makers Teisco and Guyatone also made versions of gold-foils that players have enjoyed over the years. The more popular renditions of these sport six adjustable pole pieces off to the side of the main coil, which are in fact largely for show and tend to make the pickups look a little like a mini-humbucker, although they are definitely single-coils.
The craze for gold-foils, and the scarcity and skyrocketing prices of good original vintage examples, has led many contemporary replacement-pickup makers to offer reproductions of some favorites. Other manufacturers have extrapolated from the format to produce modified renditions and even humbucking gold-foils.
Curtis Novak, Jason Lollar, the Creamery and the U.K.'s Mojo Pickups are all good sources for contemporary interpretations of various cult classics, while Lindy Fralin is a longtime maker of the custom OEM gold-foils Joe Yanuziello uses in his guitars, as reviewed here.
All the latest guitar news, interviews, lessons, reviews, deals and more, direct to your inbox!
Dave Hunter is a writer and consulting editor for Guitar Player magazine. His prolific output as author includes Fender 75 Years, The Guitar Amp Handbook, The British Amp Invasion, Ultimate Star Guitars, Guitar Effects Pedals, The Guitar Pickup Handbook, The Fender Telecaster and several other titles. Hunter is a former editor of The Guitar Magazine (UK), and a contributor to Vintage Guitar, Premier Guitar, The Connoisseur and other publications. A contributing essayist to the United States Library of Congress National Recording Preservation Board's Permanent Archive, he lives in Kittery, ME, with his wife and their two children and fronts the bands A Different Engine and The Stereo Field.