A Boutique-Built High-Roller for Lo-Fi Rock High Jinx, Meet the Stunning Yanuziello Atomic Blue Electric One
Joe Yanuziello's Atomic Blue Electric One elevates the lowly garage-rock special.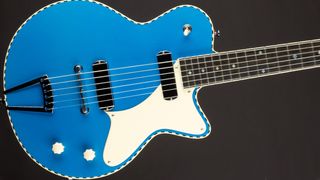 (Image credit: Future / Andy Cambria)
It might seem an odd juxtaposition of standards that a luthier known for his fine hand-made flat-top, archtop, Hawaiian and resonator acoustic guitars and mandolins would select a down-market, catalog-grade instrument as inspiration for his signature electric guitar model.
Yet, as rendered by Ontario-based Joe Yanuziello, the erstwhile pawnshop prize becomes a gorgeous but utilitarian work of art. Yanuziello was born in Toronto in 1952 and grew up in an ethnically diverse urban community, a child fascinated with the hand-hewn work of his own father, a sheet metal fabricator, carpenter and house builder.
After graduating from art college in 1975, Yanuziello took a job making custom cabinetry before his own playing drove him to build an acoustic guitar in 1979. Once bitten by the bug, it was only a matter of time before he pursued the passion full-time.
It has always been about the craftsmanship, and for Yanuziello that means working the wood and drawing something tangible and musical from the raw ingredients.
"Craftsmanship will continue to have an important role in keeping us grounded," Yanuziello says. "There has always been a healthy backlash to technology, mass production and built-in obsolescence.
"It's complicated: On the one hand, technology is allowing us to live longer, and it's hard to imagine doing business without the Internet, and whether we like it or not, we all benefit in some way from goods that are mass produced. On the other hand, we've gradually been moving away from being able to make or repair basic things that we need to sustain ourselves with some degree of independence.
"These days, the idea of craftsmanship, or being able to make something by hand, has been routinely romanticized. The reality is there's not a lot of romance in making a living as a craftsperson; it's what you do because you love to do it or you're compelled to do it, or you want to have some control over how you spend your time. It's not the path of least resistance.
"Every artist and craftsperson's intention is to produce something meaningful, with integrity, a holistic expression of who they are, and at the end of the month still be able to support themselves."
The Atomic Blue Electric One is the result of such ambition. It's a luscious confection, finished in Atomic Blue Metallic lacquer. Yanuziello tells GP he played a vintage '50s Harmony/Silvertone Stratotone, which he still owns, throughout his early adulthood.
Image 1 of 4
His love for its form and sound gave him the urge to idealize the original template, which he did when he consolidated numerous ideas into his cornerstone electric guitar model in 1995. That it's based on a frugal model is, however, deceptive, as its $6,575 price tag will inform you.
Yanuziello can't be the only skilled luthier to wonder what it would be like to take the '50s and '60s catalog-guitar concept and blast it into the stratosphere in the form of a custom-grade creation - to make it supremely playable, otherworldly of tone, and artful and bespoke in every detail. But he has very likely taken the concept further than any other maker, and the results are as far from the $95 garage-sale find of your youth as is conceivable.
Yanuziello uses a number of different woods in his building, but this Atomic Blue is constructed from a hollow body carved out of soft maple, with a hard maple cap, and joined to a bolt-on neck made from hard maple, with a bound ebony fretboard.
The 24.75-inch scale length, a comfortably full C neck profile that measures .850 inches at the first fret and .950 inches at the 12th, and a 1 11/16–inch width across the polished-bone nut combine to yield a playing feel that's far more approachable for the modern guitarist than the occasionally awkward-feeling neck of a vintage Stratotone.
The guitar is also much more resonant and sustainful than the original, and weighs in at a svelte 6.2 pounds. Still, it's the external beauty of the thing that will stop most guitarists in their tracks.
Yanuziello's artistry expresses itself in stylish touches like the ebony-and-holly purfling that rings the body's perimeter, its light and dark segments interposed to create a braided-rope effect, and in the diamond fingerboard inlays and the vintage-radio-style fluted-ivoroid control knobs.
It only enhances our appreciation to learn that Yanuziello custom-made those knobs himself in-house, which is also where the ivoroid pickguard, chrome-plated brass pickup covers, polished aluminum bridge and chrome-plated brass trapeze tailpiece were crafted.
Image 1 of 4
The pickups are Yanuziello's homage to the lauded Hershey-bar pickups, the gold foil-like units used on early Harmony and Silvertone guitars, made exclusively for him by Lindy Fralin. "The Hershey-bar pickups they were using at the time sounded fantastic," he tells us. "The tone was lively, and the notes seemed to jump out at you!"
I tested the Atomic Blue Electric One courtesy of the good folks at the Music Emporium in Boston (one of Yanuziello's two U.S. dealers, alongside C.R. Guitars in upstate New York). Played through Magnatone Twilighter and Swart Space Tone combos, the guitar impressively blended elegance and refinement with a willing down-and-dirty garage-rockability that added boatloads of edge and character to the overall experience.
Like many of the similar gold-foil pickups that have become so popular in recent years, these Yan-spec Fralin pickups marry sweetness, clarity and articulation, with just enough granularity and snarl to add texture to the notes, without ever swamping out into a muddy blur.
Loaded onto a guitar of this build quality, they deliver delightful levels of harmonic depth and a kind of three-dimensional swirl that sparkles and glitters all across the soundscape at cleaner amp settings - with the middle position proving particularly hypnotic - while adding bulk and snarl to overdriven tones, too.
My faux-jazz comps on the neck pickup were as satisfying as my Ric-like jangle in the bridge position, and adding some Tube Screamer–like gain from a JHS Bonzai overdrive transformed these respective positions into throaty blues or snarling rock and roll.
Throughout its range, the Atomic Blue Electric is musical, dynamic and extremely fun to play, not to mention a beauty to behold.
All the latest guitar news, interviews, lessons, reviews, deals and more, direct to your inbox!
Dave Hunter is a writer and consulting editor for Guitar Player magazine. His prolific output as author includes Fender 75 Years, The Guitar Amp Handbook, The British Amp Invasion, Ultimate Star Guitars, Guitar Effects Pedals, The Guitar Pickup Handbook, The Fender Telecaster and several other titles. Hunter is a former editor of The Guitar Magazine (UK), and a contributor to Vintage Guitar, Premier Guitar, The Connoisseur and other publications. A contributing essayist to the United States Library of Congress National Recording Preservation Board's Permanent Archive, he lives in Kittery, ME, with his wife and their two children and fronts the bands A Different Engine and The Stereo Field.